Ramiro is a 16-year-old teenager, blond, tall – he takes his head off his mother – and with glasses.
You have an autism spectrum disorder (ASD) and intellectual disability; And, to communicate, use pictograms, drawings, photos and single words.

Thanks to the therapies he has been doing for years, he has been developing different interests, and some of his favorite things in the world are driving, traveling by public transport, shopping, going to restaurants, supermarkets and shopping malls, meeting new people, meet acquaintances on the street, go to the home of family and friends.
Throughout his life, Ramiro's family reinforced those routines that allow him to be connected with others, add learning and gain greater autonomy. But since Argentina was declared mandatory quarantine to prevent the spread of COVID-19, this young man's life, like that of the vast majority of citizens, has turned as radical as it was unforeseen.
However, for him, as for many people with ASD, adapting to the change in routine and coping with isolation became even more difficult.

On World Autism Awareness Day, since the
Autism Spectrum Network (RedEA)

-Composed of organizations dedicated to assisting and accompanying people with this condition and their families-, they say that, in the context of the quarantine, queries by WhatsApp and social networks tripled.
Behind every message, there are the stories of boys and girls for whom physical activity and downloading outdoors is essential; that they become unregulated and break into tantrums, cries or self-harm due to not being able to go for a walk or go to their therapies;
for whom it is very difficult – in some cases, impossible – to understand the reason that turned their world around.

But also, behind each call, are the realities of fathers, mothers, grandparents and other relatives whose
stress levels skyrocketed

.
How to better cope with isolation when one of the household members has an autism spectrum condition?

What tools can be implemented at home with the available resources? How to take care of the emotional health of the whole family, while containing and accompanying yourself? These are some of the questions that NGOs have been answering for days and continuously through their different communication channels.
"This current situation, so difficult and rare, implies an enormous difficulty for our family and so many others. No one is prepared for these extreme situations, but we human beings have the ability to relax.
In people with autism spectrum condition, this is much more difficult because they naturally have a strong resistance to routine changes that are often threatening, disorganizing and deregulating.

"says Soledad Zangroniz, Ramiro's mother, co-founder and vice president of the
People with ASD have strong resistance to routine changes that are often threatening, disorganizing and deregulating.
Soledad Zangroniz
Autistic spectrum is a condition that affects one in 54 boys and girls according to the latest figures from the United States Center for Disease Control and Prevention.
In Argentina, although there are no local epidemiological data, taking as reference the international prevalence (1-2% of the population), it is estimated that there are between 400,000 and 800,000 people within the spectrum.

"This condition supposes a different development especially in three areas:
Social relations

(difficulty linking and interacting);
communication and language, and flexibility of behavior

(from repetition of movements to interest in restricted subjects), "explains Daniel Valdez, doctor of psychology and director of the diploma in Educational Needs and Inclusive Practices in Disorders of the Autistic Spectrum of Flacso."
There is no one type of autism: it is plural and diverse. That is why I prefer to say «autisms»: there are very different people who resist the uniform of the labels, in which the symptoms manifest themselves in different ways and their evolution follows different trajectories and paths

. The new perspective is dimensional and speaks of a spectrum: it is like a range of colors, a rainbow, "he says.
There is no one type of autism: it is plural and diverse. So I prefer to say "autism": there are very different people who resist the uniform of the labels
Daniel Valdez
Taking this diversity into account, the psychologist emphasizes that there are people who are affected by quarantine in a very negative way and others who are not. "
It is essential that the recommendations given are aimed at people

. For example, the pictograms or drawings that indicate that you have to wash your hands can be great for some boys and in others aggravate the symptom of the obsession with washing, "reflects Valdez.
The specialist participated in a group from Flacso Argentina and CPAL Peru that prepared the document
"I support people with autism spectrum conditions and their families in difficult times."

Valdez stresses that while people with autism are not predestined to anxiety and behavior problems, they are more vulnerable because they have
difficulties in understanding what is happening around them or what they are feeling, in facing the new and unforeseen and being flexible.

In this context of quarantine, he points out that although it is important to organize times, spaces and routines, it is also key to seek to adapt:
"It is not only necessary to maintain routines, but to generate new ones," advises the psychologist.

Zangroniz says that
the difficulty that many people with autism spectrum conditions have in expressing their feelings and the certain inflexibility before the new ones, is a combination that can lead to disruptive behaviors such as crying, screaming, tantrums or tantrums and aggressiveness

. And he adds: "These people feel safe and calm when they can anticipate what is going to happen, when they can understand the established routines and carry them out almost perfectly."
A growing demand
Until just over two weeks, Ramiro had a busy schedule, where he spent much of the day, from 9 am to 4 pm, at the therapeutic center. Later, he had swimming, physical training, and social activities.
"With compulsory isolation, at home she doesn't know what to do with her free time and that's the challenge today," describes her mother.

For Brincar's vice president, one of the biggest challenges for teens and tweens on the autism spectrum is motivating them. "In general they are apathetic and in this of being at home without peers, it deepens. Ramiro, for example, only wants to listen to music, others to be with the computer. What parents ask us the most is how to keep them active," Zangroniz describes.
Encouraging their son with "carrots" was something that helped them as a family.

"We all need small or medium goals. In the case of people with autism, what are we going to eat tonight or what are we going to do in May, can keep them happy, hopeful and motivated," she says.
Learning to connect with therapists through the screens or using technology to listen to music, relax and do activities that boys and girls did in their therapeutic centers, is another of the recommendations that Zangroniz gives.
Carina Morillo, president of Brincar and mother of Iván, a young man with an autism spectrum condition, adds that
the strategies deployed by families are varied

. "There are mothers who reinvested spaces in the house that they hardly used, such as the balcony, where they created play stations. Other families that organized expeditions to go to the storage to find games from when they were boys. Iván, for example, enjoys guard duty. all the glasses, plates and cutlery, and I occupy it with many things around the house, "says Morillo.
There are mothers who reinvested spaces in the house that they hardly used, such as the balcony, where they created play stations
Carina Morillo
Pedro is a 10-year-old boy with autism, who goes to a private special education school. "The first few days he was happy because we were all at home. Afterwards, we explained to him with a social story and pictograms that he was no longer going to school. In the afternoon he gets anxious and cries. Although he does not speak, he does understand the language and we explained to him that soon he will return to the club, to therapies and to school, "says Ángeles Calbo, her mother.
Difficulty understanding the passage of time is one of the issues that generates the most anxiety in people with ASD, for whom it is often difficult to understand that quarantine will have an end.
Sebastián Cukier, child and youth psychiatrist and co-founder of
Panaacea

, explains that during isolation, it is important for boys and girls to know how long each thing will last, "especially those that are not fun." For example, homework at school. "You can allocate a place where the task is done different from that where you play or eat; and, being there, arrange some way in which you can measure the time, such as an hourglass or a stopwatch: that they can see the Over time and they know that when they finish, they will be able to do something else.
This helps a lot to reduce uncertainty and especially loss of control.

"says the psychiatrist.
According to Cukier, it is key, in principle, to help boys and girls understand what is happening today. "In children with language, it is advisable to avoid ambiguous phrases and metaphors, using a clear, simple language, with the truth. Those who do not have language, can be invited to draw, give them time to express themselves, for example through of drawings or games. It is important to know what they feel and what they understand to tell them what is going on, "he says.
Be flexible
For Valdez it is key to attend to individual cases and that governments can be flexible.
In Spain, for example, thanks to an action by the Autism Confederation, the State allows people with ASD and other disabilities to circulate,

taking into account prevention regulations, near their homes.
Another case is that of Chile, where the families of people with ASD can process permits to drive two hours a day on public roads.

In Argentina, by a RedEA request to the National Disability Agency, on March 20 a circular was published granting people with disabilities a limited license to circulate for up to two hours and within a radius close to their homes. Intellectual "whose state is aggravated by the situation of confinement derived from the declaration of preventive social isolation".
However, the following day, it was voided by a new circular.

For Celeste Marisi, mother of Tomás, a 12-year-old boy with ASD, and a member of the group promoting
TGD-Parents-TEA,

One of the main concerns is that on March 17 the National Agency for Disability suspended, through another resolution, benefits for all people with disabilities, including day centers, therapeutic educational centers, special schools, among others.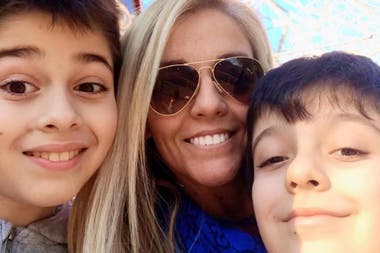 "We understand and understand the government's measures because life is being prioritized, but
It was not necessary to consider the possibility of performing therapies in a virtual way.

I think that if the quarantine is extended it is something that must be urgently rethought, of course respecting the isolation, "says Marisi.
On the other hand, he adds that people with ASD have a key need for "sensory recesses" with physical activity and that therefore isolation and confinement "are not advisable environments." "We are accommodating and providing contentment among all. We deploy different strategies to provide answers to the families that are contacted, with the help of a network of professionals specialized in the field," says Marisi.
In Tomy's case, he explains that as a family it took them a week to help him understand the quarantine situation.

. "We made social stories with pictograms, telling him that it was a virus that was on the street and we had to stay home. After that week of rearranging ourselves, what we had to do was generate a new routine with everything we could do inside the home "he concludes.
More information:

Brincar Foundation



: Today, on World Autism Awareness Day, from 4pm to 6.30pm, there will be live talks from your

Facebook

with the slogan #laplazaencasa. In addition, the organization offers videos with useful tips, activities and games for people with autism at home by Brincar's network of parents, grandparents, volunteers and its professional advisory council made up of renowned specialists. They are broadcast on Fecebook Live and are then available on that social network. On the other hand, they publish articles in their

free virtual library

and the responses to the emails that reach i were strengthened and streamlined

[email protected]

, the messages in

Facebook

. Refering to

free training

, is offered online to bring families, professionals and the entire community closer, knowledge, tools and suggestions in relation to different topics from the hands of professionals specialized in autism, both local and international.


TGD PADRES TEA Promoter Group:



Its main objective is to empower families to know the rights of their sons and daughters, influence public policies and generate awareness campaigns. All their activities are free. Through its

Instagram

, renowned health professionals give talks from Monday to Friday, from 7 to 8 pm, aimed at giving tools to families. Live questions are answered. The next talks are this Friday by Alexia Rattazzi, child and youth psychiatrist and Panaacea co-founder, on tools for caregivers, and on Monday, April 6 by Andrea Abadi, medical director of the Neurodevelopment area and CEA Cites INECO, about tools for home quarantine. Its website also informs about current resolutions, coverage of social works, inclusive education, among other issues.

FLACSO Argentina and CPAL Peru

They prepared the document "Supports for people with autism spectrum conditions and their families in difficult times". "These suggestions should always be contextualized, taking into account the diversity, the levels of understanding and the way of being of each person, their family, socio-cultural and economic situation", clarify the specialists. The complete document can be downloaded from the Instagram of
Panaacea:

On their course platform there is a free one on "Tools to implement at home". There are three half-hour classes where there are examples and explanations with video and images. In the

Facebook

There are also videos with strategies and links to pages with material on how to explain boys and girls to the current context, among other resources.

AINHEP Foundation – Ann Sullivan Argentina Center:

Argentina is an NGO that aims to improve the quality of children and youth with autism and their families. They provide assistance, support, containment and therapeutic treatments to 65 families, who can carry out treatments in their therapeutic educational center from the age of two or when they are diagnosed with autism.
Another resources:

He

Ministry of Health of the Nation

offers recommendations for children and mental health in the framework of the COVID-19 pandemic.
.


Publicado en el diario La Nación
(Visitado 17 veces, 1 visitas hoy)