The
discovery

It was made in October 2019, in Lechuguilla, which until today is considered the fifth
longest cave in the world

with its 223 kilometers, and the most
deep

throughout the continental United States.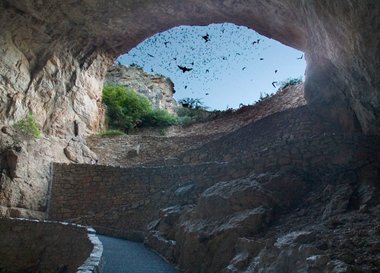 In that underground formation belonging to the state of New Mexico,
more than 200 meters deep,

explorers of the Carlsbad Cavern National Park (famous for its limestone caves) found a
stunning underground pool

whitish in color.
Judging by the first images obtained from the find at the end of last month, it would be a place
Virgin,

never assisted by humans. On the sides of this
swimming pool

you can see the edges, a bright white color. It is presumed that they are entire colonies of bacteria that evolved free from human erosion, so special precautions were taken to avoid contaminating the site.
The expedition that reached these depths obtained permission to explore after the discovery, in 1993, of a
groundwater body

which they called "the Lake of Liquid Sky".
Exploration in caves sometimes yields wondrous sights. This cave pool, found in Lechuguilla Cave, appears to be …

published by

Carlsbad Caverns National Park

in
The photo of the
underground pool

It was broadcast through the Carlsbad Caverns National Park Facebook account. "Cave exploration sometimes gives us these wonderful views," wrote researcher Max Wisshak, a marine bioerosion specialist who led the expedition.
Rodney Horrocks, Head of Natural and Cultural Resources for the national park, told the media
Kansas City Star

that in the past, microbiologists have discovered new species of microbes in the pools of Lechuguilla, so this new finding could bring more surprises.
.


Publicado en el diario La Nación
(Visitado 50 veces, 1 visitas hoy)