A psychologist, a rapper, an architecture student and a social communicator, all with different stories, but that intersect in one place. Like Carlos Tevez, they were born, raised or spent much of their day in one of the most popular and marginalized neighborhoods of Ciudadela: Army of Andes, known by many as Fuerte Apache.
They are some of the many who work tirelessly to break down prejudices and improve the reality of their neighbors.
A few days before the premiere of
Apache, the series inspired by the life of the soccer superstar,
THE NATION He spoke with four referents who share the same feeling. With the focus on drugs, crime and violent deaths, they believe that this fiction contributes – once again – to reinforce the stigmas that have fallen on their neighbors for decades. Because not being able to put in the DNI the address of where they live to get a job is a reality as everyday as having to walk to General Paz to take a bus, because none enters the neighborhood.
They do not feel represented. "I think the series sells pochoclo cheap. People are outraged. We understand that it is a fiction, but on the other side they believe it," he says
rapper Esteban el Ace (38 years old). "It's not that there is no crime or drug," he says, "but it's a small thing among many hardworking and honest people." And Grisel González (37), psychologist and project coordinator of the Franciscan Foundation, agrees: "I feel that only the most painful part is shown, but everything that the neighborhood truly is missing is a place full of life."
In Ciudadela, Tres de Febrero party, northwest of the Capital and a few blocks from that border avenue that is General Paz, the Army of the Andes neighborhood occupies 33 hectares. From the municipality they estimate that in its 5000 homes there are about 45,000 inhabitants, but the neighbors speak of 60,000. According to official figures, there are seven educational establishments, between schools and gardens. There is a health room on site – they say it will be completed in September – a headquarters of the Envión Program, a Child Development Unit and a Social Care Center, next to the Neighbor Care Center and Inclusive Portals. A police station and gendarmerie detachments surround the entrance.
The Tevez series only shows the most painful part, but everything the neighborhood really is missing: a place full of life
Grisel González, psychologist and project coordinator of the Franciscan Foundation
Eleven "knots" painted yellow, 52 "strips" gray and 22 monoblocks embroidered. Those are the buildings that make up its complex urban fabric. In addition, there are the makeshift houses that some neighbors were building where they found space. Each node consists of three 10-story towers, connected by trellised bridges.
Fuerte Apache is one of those corners of the conurbano where the streets have no name. They are baptized by common sense and the numbers of the schools, knots or strips that go through: "la 30", "la 4" and so on. It began to develop at the end of the last military government, to relocate the inhabitants of Villa 31, Retiro, as happened to Grisel's parents, and then other settlements.
"My dad was a construction worker and my mother was a domestic worker. Almost the whole family had been relocated to the neighborhood. Many of my uncles lived there and I have some cousin left," Grisel says.
The first neighbors settled in 1973 and began calling it Padre Carlos Mugica neighborhood. During the last dictatorship, the name Army of the Andes became official and, in the late eighties, it was the journalist José de Zer who, covering a shooting in the area, called it, for the first time, Fuerte Apache. The name did not take long to become popular, also becoming an icon of insecurity and giving free way to the stigmatization of its inhabitants. That is why some of its inhabitants ask that it cease to be named that way or that it is said "badly called Fuerte Apache". Others, on the other hand, like Esteban "El Ace", adopted the name.
The
Fundación Franciscana has been working there since 2015, accompanying more than 100 families through eleven programs that range from early stimulation to social economy. Grisel, who was born in the neighborhood but no longer lives there, is one of the references of the project.
"The story of Carlos Tevez shows the faces of the same coin: how a containment network can make the difference between one boy and another", it states. "From the foundation," he adds, "we go for those young people, for those boys and girls who do not have that network, who need a place of belonging to which they can genuinely go with what they are and that this encounter is transformative, not only for they but for us who received them. "
Today, Grisel is married, has two children and currently lives in Ramos Mejía, a nearby neighborhood. When he was 8 years old his parents were able to buy a house about 10 blocks from the Army of the Andes, also in Ciudadela, so he always remained connected. "I never stopped feeling it as our place of family belonging, we were always close through the neighborhood parishes and from a very young age I accompanied my mother in community work with the Franciscans," he recalls.
When he was offered to coordinate the foundation space he said: "This is for me."
"It is to work for the neighborhood that saw me being born, for a community that taught me the values ​​that I have and I am allowed to display my vocation of service in a professional way"says Grisel.
Overpopulation (in three environments, sometimes 12 people live); problematic consumption; the cuts of water and electricity (services that the neighbors pay) and the garbage that accumulates, are for Grisel some of the problems of a neighborhood crossed by the vulnerability. However, he affirms: "The one who approaches trying to defy his own prejudices and the unconscious that we all have, with a desire for transformation, falls in love with this neighborhood and the people who inhabit it."
With the young people

Gastón Leclet (44) recalls the first time that violence exploded in his face: Cristian, his friend, was 12 years old when he was shot dead. Then it was Juanito, 16. Two cases of a generation devastated by the easy trigger.
"I was naturalizing those issues. But when I started to get into the study, I realized that it was not natural: that there is a complex, political and social context that generates this violent scaffolding," reflects Gastón, who has a degree in communication and social policy, and a career in social psychology. "Violence in the neighborhood exists, but in the Tevez series they put added value to generate more impact. The constant repetition of all that does not do us good," he adds.
He says there is also another violence, just as painful. A symbolic Invisibilized: lack of job opportunities, difficulty studying, stigma, hunger, is also violence.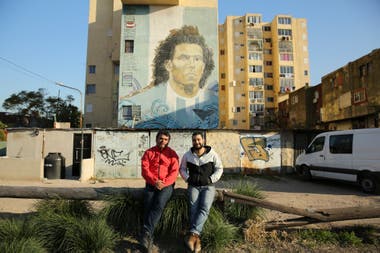 Gastón is a reference for many young people. He was born, raised and lives in strip 43. Being a preteen, he found a space of belonging in the Santa Clara de Asís Chapel and in the Franciscan friars. "There arises my social vocation. I was very quiet, very shy and stuttering. They carried me a lot," he recalls. It is hard to imagine the boy he was: today, he is an extrovert, a charlatan and participates in endless parish activities. In addition, it coordinates an introduction to work course for 90 youth in the neighborhood and nearby, which works with municipal funds.
There was a time when Gastón, like many neighbors, rejected the name of Fuerte Apache. Today he accepts it, he takes it "as a nickname".
"I remember that in the corners near the neighborhood there were painted on the walls that said: 'Be careful, so many meters from Fuerte Apache'. It was like a warning signal, like today's GPS, which affirmed stigmatization", He says.
Violence in the neighborhood exists, but in the Tevez series they add value to generate more impact. The constant repetition of all that does not do us good
Gastón Leclet, a reference for young people in the Army of the Andes neighborhood
When he entered the university, he was awarded a scholarship by the Franciscans. In addition, he began to participate in Church radio, FM Esperanza, 89.5. "We wanted to be communicators of something different: I got on that train and never got off," says Gastón and details: "The issue is not what problems you have, but who sustains you to overcome them. From the chapel we seek that, to be a support One of our main phrases is: the first territory that is inhabited is the link.If you do not build that bond, feeling empathy with the other, with your pain, to be able to build a proposal from there, there is no possibility of nothing".
Return dreams

Daniel Paniagua (24) arrived in the Army of the Andes in 2015: there, on strip 50, he rents a room to a friend of his aunt. Two years earlier, he had left his native Paraguay to settle in Buenos Aires and start the architectural career. Today is in the third year, although he doubts moving to sociology.
In 2017 he started as a catechist in the Santa Clara Chapel. Soon, the Hogar de Cristo began to take shape: a new headquarters of the community approach project to combat addictions that is already in 11 provinces and has 170 devices. It is based on "melee" work, personalized and sustained.
"Here I feel that the heart vibrates: it is not to help the one who does not have, it is to catch up," says Daniel, who is a home operator.
On his neck, he wears the cross of tau, a Franciscan symbol, on the right index, the coconut ring: "They represent love and the option for the poor," he explains. "The motto of homes is to embrace life as it comes. create a very nice bond. "
In addition, Daniel works in the Envión Program, with 35 teenagers, seeking to restore rights: from having his ID to resume his studies. For him, the indifference of the most vulnerable is not an option.
At Hogar de Cristo, every afternoon, 25 boys and girls go through addictions, the street and violations of all kinds. They take the snack and have two workshops per day, such as yoga, chess and crafts.
"I try to see that studying in the faculty is something normal, not extraordinary. Many see me coming out with the model and tell me: what do you do? I tell you that I study architecture and it is something that resonates a lot. The same thing happens to me in college when I say that I live in Fuerte Apache, "says Daniel, with a beard and charismatic.
"The mission of the home is that children do not feel alone. We seek to integrate them, who can dream, have a goal in life," he concludes.
How to help

Franciscan Foundation: They work comprehensively with more than nine programs for families in the neighborhood. They are supported by individual donations. Those who can make a monetary contribution or bring food, call: 1123302576
Santa Clara Neighborhood Center: They urgently need an industrial kitchen and gather 50,000 pesos to install a table with hot and cold water in the Hogar de Cristo; CBU: Santander Río Bank, 0720159820000001531485 / [email protected]
.



Publicado en el diario La Nación
(Visitado 1.023 veces, 1 visitas hoy)