When Monday of last week
classes in schools were suspended due to coronavirus

Vanesa Mattera, mother of three boys, felt overwhelmed. First of all, he had to take care of having the house stocked and,
Second, but not least, she had to explain to her children that compulsory isolation was not synonymous with vacation.

"At first, it was chaos: I got a lot of emails from school bombarding me with activities to do," he says. However, as the days went by, he found a way to organize himself. His great support in this situation, ended up being
a group of WhatsApp

of residents of the Banco Provincia neighborhood,
called "Study at Home", where teachers, educational psychologists and a psychologist provide free advice to parents on school assignments.

"Knowing that they are there to help me reassures me a lot," says Vanesa.
The idea of ​​the group "Study at Home" was given in community, among some of the 1800 inhabitants residing in Banco Provincia, in Francisco Álvarez (west of Greater Buenos Aires). Jorge Pandini, journalist and psychologist, was the trigger for this initiative: "The truth is that there are a lot of neighbor chats and in all these conversations negative comments about isolation arose. So, it occurred to me to try to get something positive out of this and move the joint leg, "he says. He decided
Offer via WhatsApp "free psychological support" to those who need it during the mandatory quarantine.

At the end of the message he spread to his neighbors, he added an invitation for other people to make their contribution during this period as well: "We all have something to offer, it could be an e-book, a recipe or academic help," he wrote.
We all have something to offer, it can be an Ebook, a cooking recipe or academic help
Jorge Pandini, graduate in psychology
Jorge's message immediately took everyone's congratulations and little by little the offers of others arrived. The first to join were Fernanda Menoyo, an educational psychologist who was willing to share activities with children and adults to keep the brain flexible, and Laura Lacovetta, also an educational psychologist and director of an entry-level school. As soon as he read his proposals, Jorge lit up the lamp: considering that the neighborhood boys were not having classes, it occurred to him to set up a WhatsApp group to guide parents who needed help keeping track of the school calendar. "Both agreed and we alerted the neighbors about this new idea. Surprisingly, loads of messages began to arrive from mothers who needed help and from teachers who wanted to be part of the group," recalls the psychologist.
As of today, "Study at home" is made up of 11 psycho-pedagogues and teachers from various specialties: mathematics, natural and social sciences, and English, among other subjects, to which more than 14 families have attended in one week.
The group modality is simple: the parents send a message telling them what they need help with and Pandini is in charge of speaking privately to them and asking them how many children they have and what ages, in order to provide them with the number of
a teacher according to your needs.

In addition to acting as an intermediary, the journalist also exercises his profession as a psychologist: "I try to explain to them that we are living in an unprecedented situation where it is important that we put boys into fixed class habits or routines.
You have to be firm with your breaks and try to organize them, "he recommends.

In this regard, Fernanda Menoyo, psycho-pedagogue and member of "Study at Home", adds: "The idea is not to be very demanding either because
there is to consider everything that the little ones are living

: on the one hand, they have to process what happens with the pandemic, on the other, they cannot see their friends or leave their homes and added to all this, they have to study. We have to set an agenda for them without becoming too structured and trying to understand them. "
The group offers help to children of all ages and for this reason, both primary school teachers and secondary or university teachers participate. According to Pandini, the most feared subject when studying from home is mathematics: "It is the cuckoo for boys," he says.
Parental support
Menoyo believes that this containment network provides a solution to mothers and fathers who are "overwhelmed"

for trying to keep up with the kids with their homework: "There are times when they don't know where to start or don't remember some of the contents of the subjects. And the children are also lost with school activities because they only had a week of integration this year ", describes the graduate. For this reason, it is important that parents have someone to turn to: "Knowing that there are people willing to support them, it gives them a lot of relief. They are very grateful and starting to discover a new connection with their children," he values.
In parallel,
the psycho-pedagogue created another group called "Stimulating Neurons", where she sends games, puzzles, math exercises, sayings, and songs to older adults.

"We are facing an abnormal situation and you have to try to keep your mind busy," he says. In fact, although she continues to attend to her patients by video call, having created this group where she shares the inputs of her work also serves as a distraction during the quarantine.
Maintaining mental health during isolation is essential
Fernanda Menoyo, graduate in Psychopedgogy
Organize the boys' routine
Vanesa Mattera is quarantining with her three children:
a 3-year-old girl, a 9-year-old boy and an 22-year-old adult

. Due to the diverse ages of the boys, at first it was very difficult for him to try to organize his schedules and divide himself among the three of them. "The routine had been completely changed and I was afraid to put myself in the role of teacher when there are things that I don't know," she says. It was then that when she heard of "Study at Home" from a friend, she asked to be included in the group.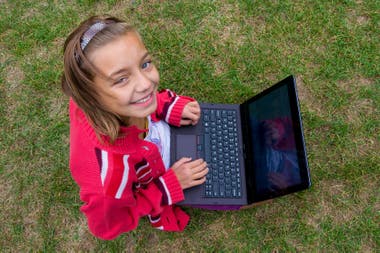 Once Pandini appointed teachers for the subjects she had requested – mathematics and science – Vanesa felt much more confident in helping her children with homework.

"The boys know that the teachers are behind and they try to make it more cool," he says. In addition, this mother of three emphasizes the treatment of the members of the group: "If they give me a hand with something, then they send a little message and ask how we continue the activity.
I greatly admire the effort and help they are providing without asking for anything in return, "he concludes.

.
I was afraid to put myself in the role of teacher when there are things that I do not know
Vanesa Mattera, mother of three boys
Multiply good deeds
Both Pandini and Menoyo hope that their actions will be replicated in many more neighborhoods.
After all, the only thing needed to put together these solidarity groups is a cell phone:

"It is very easy to replicate, but you have to have the disposition and initiative to do it," says the lawyer. Pandini agrees and adds:
"I am happy that it works here and I consider that it is within the reach of most people, I hope we can inspire them."

.


Publicado en el diario La Nación
(Visitado 20 veces, 1 visitas hoy)