Songwriter and showgirl. Freelance model. Anti-racist activist Black and Argentina. Among other things, this is how Jennifer Parker defines herself in her social networks. She is 23 years old, she is the daughter of an Afro-descendant mother and an American father. He was born and raised in San Luis, and to sum up what it was like to be a black girl and teenager in that province, he only needs two words: "Shit."
"There were girls who did not want to join me: for them, I was always the dirty one, the one with lice. If I had loose hair, they told me it was horrible, doll. If I tied it, it looked like a light bulb. No I was calm in no situation, "says Jennifer.
Beyond the generation to which they belong, the stories of Afro-Argentines are crossed by discrimination and racism. "Where are you from?" This is the question they hear hundreds of times in a society that, perceiving itself as white and European, has tended to make them invisible for more than a century. In that context, organized in community spaces or independently, Afro-descendants – and some academics – fight for the revaluation of a culture and identity that is part of the roots of our country.
How many Afro-descendants are there in Argentina today? From different sectors, they admit that the figures are insufficient. In a sampling conducted by the 2010 census, at least 150,000 people self-recognized Afro-descendants. However, the community estimates that there are around 1,500,000 Argentines and immigrants of Afro origin. The census next year will include for the first time questions about ethnic self-recognition, adding the variable of African descent.
In social networks, young voices like Jennifer's are heard louder and louder and there began to denounce more frequently practices such as cultural appropriation and blackface (the parodic personification of blacks by whites or the custom of paint the boys' faces for acts like May 25).
Some cases of cultural appropriation that ignited the debate weeks ago were those of Ángela Torres or Lali Espósito, who were seen posing with hairstyles typical of Afro culture. On the other hand, the Prime Minister of Canada, Justin Trudeau, had to apologize a few days ago when a photo was disseminated that showed him in 2001 disguised as Aladdin, with black-painted skin, conduct that he himself described as racist.
"In our country there were always and there are blacks," explains sociologist and doctor of anthropology Alejandro Frigerio. From those enslaved during the colonial era and their descendants, to Cape Verdean, African-American, Caribbean and African immigrants, and Argentine children and grandchildren of them all. "There are sixth or seventh generation Afro-Argentines," says the specialist, who has been studying Afro culture in Argentina for more than three decades. He adds that the "disappearance" of Argentine blacks was always, rather, a practice of invisibility, "almost a social conspiracy" that set out to put under the carpet "an unwanted presence in the white country."
Earlier this year, the United Nations Working Group of Experts on People of African Descent visited Argentina to study how that community lives. Its owner, Michal Balcerzak, said that "they are a vulnerable group that deserves special measures" so that they can exercise "their economic, social and cultural rights."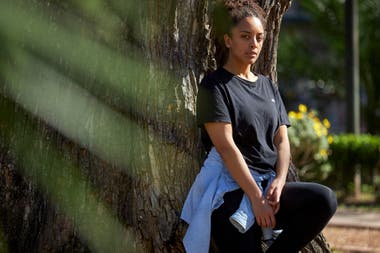 About his childhood, Jennifer recalls: "When I was 11 or 12, it happened to me that I went to a boy's house, I went to the pool and when I left he told my friend: 'I'm going to throw lavandina because he got a black'". All that discrimination was made flesh. Years later, he decided to publicize his personal history to take the banner of a collective struggle: anti-racism. Today, she is a young Afro militant with a strong social media base (on Twitter:
@jenniferpaarker)
"If you did not experience racism, if you did not suffer it, you will not see it," says the activist. "If I say to someone: 'You are being racist', I do not tell you because I am killing blacks, but because you are reproducing a racist behavior and perhaps only an apology is needed so that he doesn't do it anymore and stop naturalizing it. " In addition, he highlights how black appears in language, always, as pejorative: "black soul", "work in black", "denigrate", are just a few examples.
As for cultural appropriation, Frigerio explains that it is "to take another's culture and use it at will." "For me – and eye, that I am a white speaking -, the thoughtless appropriation is different from the reflexive, conscious and serious one," he says, adding: "The first, popularizes trivializing; the second, helps to locate something in the Cultural heritage of Humanity".
Regarding what happens when white women, for example, do typical Afro hairstyles such as braids, the specialist considers: "For a long time, black people had to adapt their hair to the forms prescribed by white women. Therefore, when white girls take what is a sign of empowerment and that cost years of struggles and do it thoughtlessly or by fashion, it is irritating. "
Faced with a sector of society that considers as "exaggerated" the allegations of cultural appropriation, Pablo Cirio, anthropologist and researcher of the National Institute of Musicology Carlos Vega, emphasizes how there was always a "cultural unevenness in favor of the European." "For example, until the end of the colonial era, there were no scruples in the appropriation of indigenous knowledge without any recognition, as happened with the pharmacopoeia, art or culinary," he says.
And he adds: "Now, non-white groups, historically denied, exterminated and impoverished, do not see with good eyes when, by snobbery or commercial speculation, traditional vernaculars like dreadlocks become fashionable, emptying them of content. It is another form, symbolic, to continue impoverishing those cultures. "
For Cirio, it is not that a person who is not Afro cannot use dredges, for example, "the issue is that he does it with respect and knowledge of what he is doing and the wisdom behind it." He believes that "those of us who are white, we really have to develop a process of empathy towards people who are not of that origin, engage in dialogue and understand them from the logic of marginalization they have suffered for centuries."
Off the map

Jennifer emphasizes how, in the social imaginary, black Argentines do not exist. "If you ask someone in the street if there are blacks, if there is black culture in the country, they say no. They do not know Josefa Tenorio or María Remedios del Valle. The changes are being achieved little by little," he explains. For her, the challenge is to ask a town that recognizes itself as Euro-white-descendant, "to accept that it has black roots, such as the chacarera and tango."
The young woman sets a daily example: how, at school, blacks appear only in acts such as May 25, when boys and girls paint their faces to sell cupcakes. "It is believed that we were only sellers of cupcakes, but we were not captains or artists. The first Argentine president, Rivadavia, was black. I was not taught that at school," he says.
When I was a child, Jennifer was looking for a way to go as unnoticed as possible. "I remember taking shade and ironing my hair: I got to burn it for looking like a white woman," he describes. It was not easy to accept: "I began to love only at 18, when I stopped comparing myself to the Argentine beauty canons and I repeated 80 times that I was pretty until I became convinced."
Frigerio points out that human "races" do not exist as a biological reality, but rather have a "concrete presence as a social construction with real consequences in people's lives." He explains that there is not a single form of racism, but that each society constitutes its own. In Argentina, one of the most widespread modes is mockery, a kind of constant vigilance that highlights the difference in a negative way. Another everyday example – especially in schools – is nicknames. "It is very common for black or darker-skinned people to be told in a way that highlights their blackness: at one time they were told Pelé, in another Sugus. Different times have their racial name that basically what they are saying is: "You are mainly a color that differentiates you from the rest." From a very young age you are getting used to being different, "he says. And he says: "This made me see an Afro-Argentine, Enrique Nadal, one of the first militants for the Afro and against the racism of the country, who told me: 'You are here, but the price to integrate is to do it as" the bold 'of the group'. That a very strong daily racism that puts you in the place of the different and inferior, because the skin color is associated with a whole series of pejorative and inferiorizing things.
The specialist marks how, when someone asks a black person where he is from, even if he does not try to be racist, he is naturalizing an Argentine centennial prejudice that there are no blacks in the country: "Those kinds of comments that happen all the time are very offensive, because the person is tired of being asked that question throughout his life countless times. "
According to Jennifer, there is a long way to go. "It is hard for me to see journalists, models, people in the media or black politicians, for example. Invisibility is also structural and institutional racism," he emphasizes. Today, he loves his hair. For her, it is a sign of resistance and the representation of "a lot of beautiful things." "Going out with my hair loose on the street is a political act, for all that I resign when I do it," he concludes.
"All the time people ask you where you are from"

Miriam Gomes is 57 years old and is an Afro-Argentinean of Cape Verdean origin, first generation of the paternal side and second of the maternal side. It is a community rooted in the country for more than a century.
Retired as a literature teacher (for more than 30 years she taught in public schools in the province of Buenos Aires), she is part of the Union of Mutual Relief Society of Caboverdeana, based in Dock Sud. There, where there is a very strong presence of the community , the society was founded to help members in situations of poverty and illness. It also works for the defense, conservation and dissemination of cultural values ​​and traditions of Cape Verde.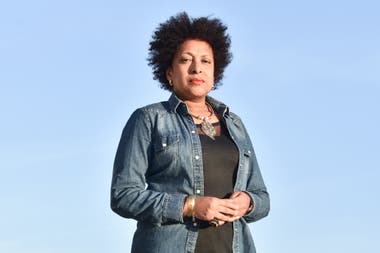 Miriam – who also integrates the Organizing Committee of November 8 and the Network of Afro-Latin American, Afro-Caribbean and Diaspora Women – tells that she took real dimension of the existence of racism was 7 years old. "It was not in Dock Sud, where there were stables in which 40 families lived in Cape Verde and it was natural, it was when we moved and I had to change schools. There I began to feel that they treated me as different," he recalls. "I began to notice that discriminatory treatment, aggressive and ill-intentioned comments, which although I did not immediately interpret as racism, I noticed other people's ill will. I grew up being very aware of this."
For her, the Afro-Argentines who arrived in the country enslaved and who are part of the country's matrix are "the best kept secret." "Africa has been in Argentina since the first day Europeans arrived, or even before. History has consistently insisted on denying its existence, not spreading its contributions to sports, science, literature, art, among others. areas, "says the activist. "Many times – he continues – they ask us where we are from: for many, the one who is black cannot be Argentine."
Regarding the young generations of Afro militants, he points out: "It is a very interesting phenomenon. Above all I see very empowered girls, very aware of their blackness and not only of their struggle against racism, but against sexism, patriarchy , binarism, flying a black feminism that is very necessary. "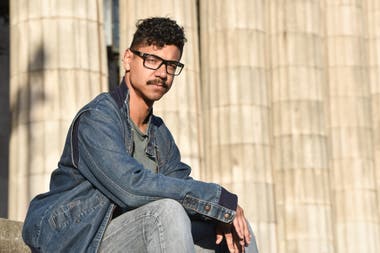 Ali Delgado, a 32-year-old Afro-Argentinean, also has Cape Verdean ancestry on his paternal side. He grew up between Adrogué and Quilmes, but currently lives and works in the city of Buenos Aires, in his General Syndicate. In addition, he studies law at the UBA (he has one year left to receive it) and integrates the Xangô Group.
"My mother is white and I grew up with my grandparents and maternal uncles, in the center of Quilmes. That mixture allowed me to study and learn English, gave me certain privileges," says Ali. And he continues: "But the part of my family in which there are no interracial couples had a hard time. It is harder for them to get a job and they have much more structural poverty. The social ascent is more elusive."
From his perspective, the racism of Argentina is institutional and structural. "Black people who say they did not suffer it is because they naturalized it. It is something that is lived all the time," says Ali. And he exemplifies: "Since the police stop you more because you're black, until the permanent use of racist language and every week someone asks you where you're from."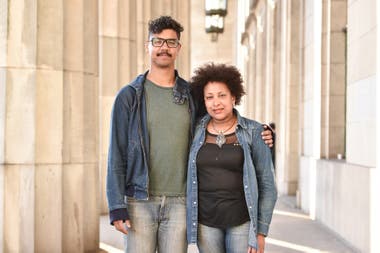 On the challenges we have as a society, Ali considers it essential that politics be anti-racist: "No party militancy that is not black, nor the most progressive, today has anti-racism as a flag and that for me is very painful. There must be people with Afro identity in places of decisions, as well as an afro and anti-racist perspective at all levels of education. We must understand that Argentina is also black. "
"With the theater, we seek to make history known"

Carmen Yannone doesn't like to say her age. But he does proudly belong to the twelfth generation of a family that descends from enslaved. "My great grandmother was a slave. My grandfather's name was Tomás Lamadrid: he had the same last name as his mother's masters," Carmen says.
She is a singer, actress and integrates Theater in Sepia, a company that since 2010 puts on the stage Afro-descent in Argentina, making visible especially the oppressions that women suffer. Currently, they are presenting the work It is not a country for blacks II.
"We want the story to be known. The pain we have is that it is believed that there are no Argentine blacks, who all died in wars or yellow fever, when it was not so," says Carmen, and emphasizes "the deliberate attempt that there was, on the part of official history, to make them invisible. "
Generation after generation, the women of his family worked in family homes: "My mother was breastfeeding, my aunt was a cook. Black women had no other chance because they did not have the opportunity to study: they sent me and my brothers until 6th grade to school. Then, we had to go to work, "Carmen says.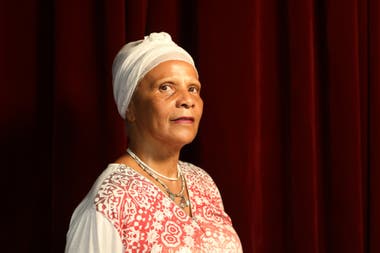 During his childhood, there was little talk about his origins in his family. "They were embarrassed. We could not ask much: it was a taboo subject. Now I understood what my ancestry was and where we came from. As a girl all this was unknown," recalls Carmen, who grew up in Villa Soldati. "We were six brothers and we lived in a cardboard house. My mother used to iron in family houses," he says.
In 2015, they decided to do a survey among Afro women from La Matanza. They interviewed 140 and Carmen highlights the common denominators: all had suffered discrimination, had not been able to finish their studies and getting a job was an odyssey. "It happened to me when I was young. When I was looking for a job I had three things against it: being black, poor and female," he explains.
He started working at 15, in a room in a gallery, as an apprentice making clothes for babies. Later, as a dancer. In 2007 he met Alejandra Egido, Cuban actress and director who had just settled in Argentina. "When she arrived in the country, she asked if there were Afro-Argentines and they said no. Until one day she crossed into another Cuban who invited her to a meeting where we were different organizations. There we met," says Carmen. With Alejandra, Carmen Platero and other women, they started doing theater together.
Generating changes in a society crossed by prejudice is an arduous work for Carmen: "You cannot erase 500 years of racism in one stroke. Non-recognition is one of the many things that happen." Although it was declared on November 8 National Afro-Argentine Day, he says: "We only know what we are fighting for, society is not aware. To this day they ask me if I am Brazilian or Uruguayan: we remain invisible."
The UN proposal

In 2014, the
United Nations declared the
Afro-descendant International Decade (2015-2024), urging member countries to carry out public policies and programs for the visibility, promotion and protection of rights of Afro-descendant communities. In Argentina, the Secretariat of Human Rights and Cultural Pluralism of the Nation was designated as the coordination unit for the actions to be carried out. From that portfolio, they report that, among other actions, they periodically conduct Afro dialogue tables between different areas of the State and social organizations of Afro-descendants.
Xangô Group

It brings together activists who promote respect for the human rights, equality and social justice of people of African descent. You can find out about their activities on Facebook or on their
Blog.
Cape Verdean Union

This
Mutual Relief Society located in Dock Sud, groups the Cape Verdeans and their descendants. Founded in 1932, it is one of the oldest in the African diaspora worldwide.
Civil Association All in Sepia

It seeks to make visible the reality of people of African descent through scenic art and also with debates. On October 19 at 9 p.m., at the Raíces Theater, Agrelo 3045, CABA, they will present It is not a country for blacks II;
[email protected]
Visible (In) Sample

Until October 27, in the
Pueyrredón Museum of San Isidro, you can visit the (In) Visibles exhibition, which brings together original documents, archaeological objects and works of art about Afro-descendant Argentina.
Founding in Diversity Foundation

This Wednesday, October 2 at 18, the
Founding in Diversity Foundation will hold a meeting on discrimination and diversity for young people in the Space for Memory and Human Rights (Ex Esma) in which thousands of students from the City and the province of Buenos Aires will participate.
Games, sports, shows, art shows and discussion tables will be held to think about the relationship between media, culture, sport, politics and diversity. Admission is free, but requires prior registration by sending an email to [email protected] or by calling +54 9 11 5377 9178.
.



Publicado en el diario La Nación
(Visitado 556 veces, 1 visitas hoy)