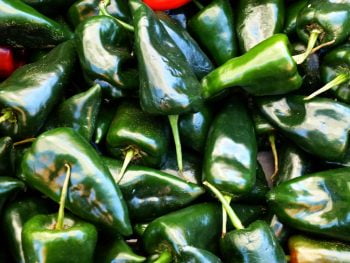 Cooking in Lockdown: Enchiladas | Spanish Language Blog
Last September, I purchased some delicious chiles poblanos to make Chile en Nogada. I had a few leftover that I have been safeguarding ever since waiting for the right recipe. My abuelita had the answer to this: enchiladas!
Enchiladas are a very versatile dish in Mexico. You can have so many variations of this dish depending on the filling you have at hand and the sauce or salsa options. This recipe uses chiles poblanos which are a mix between paprikas and chiles. You can also make more "typical" sauces like red or green or, if you don't like spicy food, you can make a bean sauce to make enfrijoladas. The recipe I am using here is my grandma's and you might find many varieties of it online and in cookbooks. Because it is an abuelita recipe, the measurements are approximations. Like all good home recipes, my grandma measures her recipe with handfuls and 'bits of.' It is an easy recipe so if you put too much of one thing, you can adjust. I will add that on the instructions. This recipe is for 2 people or 8 enchiladas.
2 chiles poblanos grandes; el tamaño de cada chile es el largo de tu mano; ajusta cantidad si los chiles son pequeños
1 puño (handful) de cacahuates sin sal
1/2 taza de leche
media cebolla
8 tortillas de maíz
1 pechuga de pollo cocida y deshebrado (cooked and shredded)
queso Oaxaca o queso Manchego
crema al gusto
cebolla picada al gusto
sal al gusto


Posteado en Spanish Articles (Facebook)