Zoe Puente is barely 10 years old, but listening to her wishes, wishes and concerns, one forgets that she is a girl. She has played soccer since she was 4 and, together with her family, she was opening doors for more girls to be included in this sport, where many prejudices and obstacles for women still persist. Besides, her. passion for soccer It led her to connect with people from all over the world and to meet children and adolescents from realities very different from hers, who could not play not only because of the lack of opportunities but because they did not even have the right footwear. This is how the idea of ​​the "Everyone can play" campaign was born, which has already collected more than 160 pairs of sports shoes.
"Since I was a baby, the ball was my favorite toy," recalls Zoe. But it all started when she accompanied her brother Tomás (14) to practice and stayed playing alone on one side. One of the coaches from the former soccer player Claudio Marangoni School in San Isidro saw her and added her to the boys' team.
The years that she played with boys, she did not stop insisting with her family that there was a need for a women's soccer team. Her wish was late, but finally came true four years later: when she was 8 years old, the club opened the first women's team. "She was very important to her. Zoe breathes and lives soccer," says Daniela, her mother.
Zoe couldn't believe it, it had been too many "NO". "I started doing double shifts, I played with the boys and with the girls," says the girl. But the coaches did not allow her to play in the same way on both teams, the indication was that with women she should be more delicate. Her mother remembers that the girl looked at her from inside the court, making her understand that she was getting bored.
Thus began the search for a more competitive club, they arrived in Rome in Tigre, and then to Platense, where they currently play in the inferiors. "I would like to dedicate myself to this, soccer is my passion and I want to get to play first," Zoe wishes.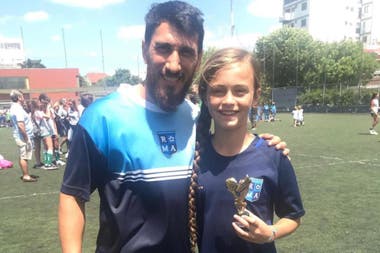 She is a fan of Alex Morgan, an American soccer player for the Orlando Pride of the National Women's Soccer League (NWSL), the highest division of women's professional soccer in the United States. And he wants to follow in her footsteps: "In every game I wear the shirt with the number 13, like her," Zoe details.
In addition, the campaign that Zoe is carrying out has already reached Alex and not only congratulated her but also gave her her support. So did Fabián Ayala, the former captain of the U17 and U15 women's soccer team.
August 21 is the Day of the Female Footballer. Zoe highlights that it is a good opportunity to celebrate the progress and make visible all that is missing so that all the girls who want to play soccer can do so. "All the girls who want to do it, because it is also a beautiful sport," he says.
See this post on Instagram

We already delivered 123 Pairs of Ankle Boots and Sneakers, now I would like to make more kids can play! Thanks to my friends who helped, and continue to help, let's go for more! That before Children's Day I want to bring them shoes and also balls and toys. Thanks for helping me help. #everyonecanplay #boots #shoes #balls #toys #thank you [R][R][R][R]
Regarding the campaign to collect sneakers and ankle boots that she started in quarantine with her family, Zoe says that the first 123 pairs were donated to the "La Cava" home, in San Isidro, and to the "Hogar de Familias Esperanza" in Boulogne two neighborhood institutions near his home in La Horqueta. And for Children's Day, another 280 pairs were delivered to the "Table for Children and Adolescents" in San Fernando, and to the "Young Sportsmen Club" in Villa Lugano.
"Being able to help others is like scoring a goal, but off the pitch," she concludes happily and enthusiastically.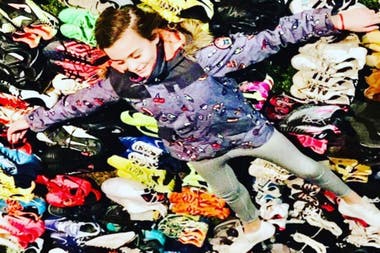 .


Publicado en el diario La Nación
(Visitado 74 veces, 1 visitas hoy)