Five years ago, the body that must control the possession and use of weapons had lost track of him. During an audit, Officials of the National Agency for Controlled Materials (ANMaC, the former Renar) discovered that they gave credentials of a legitimate user to a man with a history of psychiatric pathology.
In the last 30 days, specialists from the Arms and Explosives Division of the Argentine Federal Police (PFA) found the face of the gun user on social media. He had published videos in which he asked to bless his assault rifles, machine guns and pistols that he collected in his apartment in Forest 819, in Colegiales.
Last night, the neighbor, only identified by his initials DEMP, was arrested during an operation carried out by the PFA and officials of the Judicial Research Center (CIJ) of Public Prosecutor's OfficeHe from Buenos Aires.
Schoolboys: They arrest a man with rifles, machine guns and hundreds of ammunition
In the videos he posted on social media, the defendant claimed that he slept with the weapons. To break into the department, members of the PFA's Special Group for Federal Operations (GEOF) had to break through an armored door that the defendant had installed.
Aerial tragedy. They ask for penalties of up to 25 years in prison for former Austral officials and directors for the fall of DC9 in Uruguay
When searching the property, the police found 14 firearms and chemical precursors for the manufacture of explosives and a copy of My Fight, by Adolf Hitler.
The procedure that ended with the seizure of the arsenal had been requested by the criminal prosecutor, misconduct and misdemeanors Mauro Tereszko.
The defendant, with a history of suffering from schizophrenia, was admitted to the Tornú hospital, where they will carry out psychiatric and psychological studies to evaluate whether he can be subjected to a judicial process.
Judicial sources reported that the TereszkoNow, find out how DEMP got the weapons.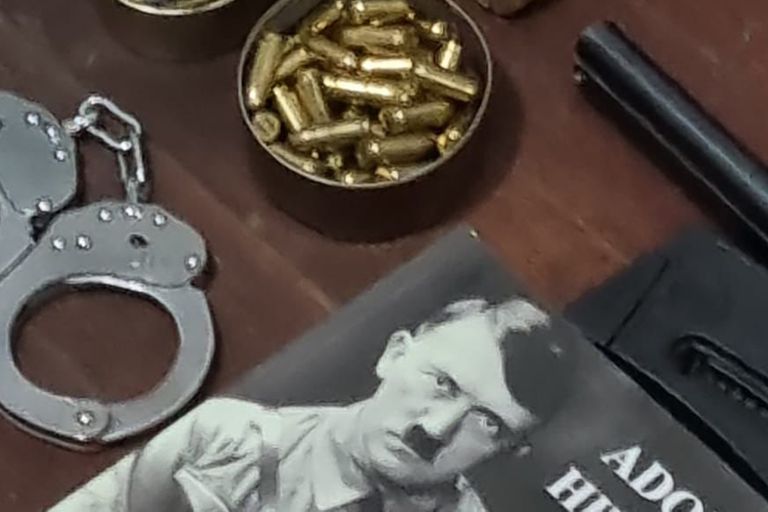 Schoolboys: They arrest a man with rifles, machine guns and hundreds of ammunition
"The immediate identification of the suspect was possible thanks to the coordinated work of the CIJ and the PFA, and the special collaboration of Homeland Security and the Regional Security Office (RSO) of the US Embassy, ​​who reported images and digital evidence obtained from the web "said the Attorney General of the City, Juan Bautista Mahiques.


Publicado en el diario La Nación
(Visitado 41 veces, 1 visitas hoy)