A hamburger? A crumb sandwich? The unsuspecting observer who, walking through Honduras in the direction of Plaza Serrano, looks into Lado V and observes Sabrina Corda and Gabriela Costa eating, can assume that they gave in to the temptation of that I don't know how greasy junk food. But no, quite the opposite. This is a 100% plant-based fast food: Sabrina enjoys a mushroom bao (stuffed steamed bread) and Gabriela a seitan (wheat-based preparation) treated like fried chicken on black bread; both dishes accompanied with nachos with a vegan cheese sauce and tap beer. "Before in a fast food you could only order hamburgers or hot dogs, today the offer is more and more extensive and almost everyone has vegan options," says Sabrina, 34 years old.
Burger, fries and soda. That was the unquestionable trinity of fast food, which, even when confronted with the Milanese sandwich or cut pizza, represented the idea of ​​"junk food". Today, fast food has reinvented itself after absorbing a good part of the trends in gastronomy. Veganism, sustainability and the different cuisines that have found shelter in Argentina reformulate food on the go, which is now diverse and healthy as well as tempting.
Valentina Camporesi in full unboxing of the Caja Canuto de Tegui (Ricardo Pristupluk /)
"I see that there are many new and different options," warns Valentina Camporesi, 17, who this week tasted the artisanal vacuum panchos from Tegui. Vegetarian, vegan and even gluten-free options were added to the menu of many fast foods ".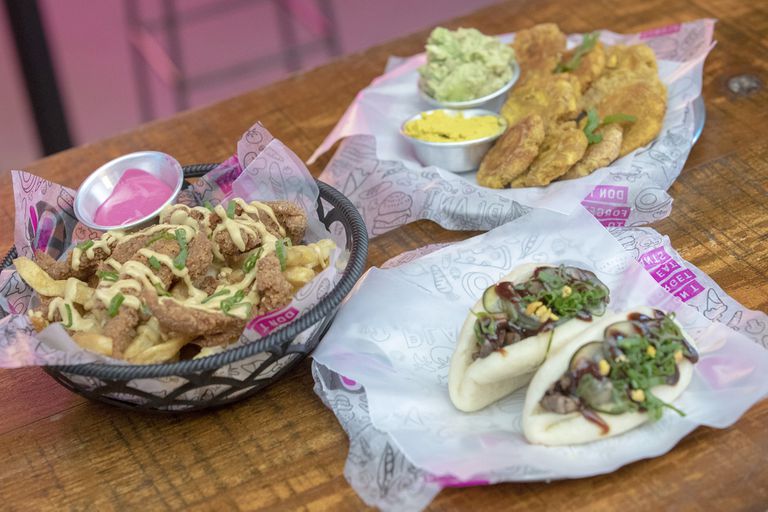 Baos and other vegan dishes in the fast food plant based Lado V (Rodrigo Nespolo /)
"The concepts and offers that nowadays fall into the fast food category have been reformulated: you can eat a vegan hot dog or a Jalanesa on the go, and that's the best summary", says Cyntia Helueni, from the Jewish kitchen stand Moisha that works in the Mercat market, in Villa Crespo, and that offers, among other proposals, its Jalanesa: a Milanese sandwich on Jalá bread (the traditional braided bread eaten on Jewish holidays). "Dishes that did not exist before or were not so developed were adapted to the fast food model," he adds.
Going through the 27 stalls of Mercat where Moisha works allows one to realize that diversity: one can choose between the baos or dumplings of Koi's Asian cuisine, the salty kurtos –a crispy stuffed dough originating in Transylvania– from Erdely's, the panchos handcrafted from Lado A or the tacos from El Diablito. Everything to eat on the go. And the same is replicated in other markets that encourage the fast food format, and that in addition to diversity offer a much more careful quality and presentation than those of yesteryear.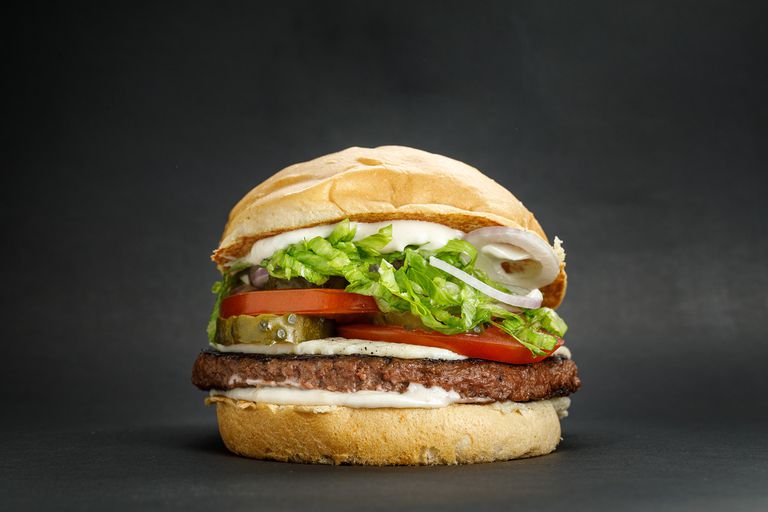 Not kevin, the burger plant based by Kevin Bacon (Patricio Parachu /)
At the recently opened Mercado Soho stores in Palermo, the variety on offer is also diverse (Southeast Asian, Italian, Syrian-Lebanese cuisine). And even in seemingly conventional premises there are unexpected options. The Kevin Bacon hamburger, for example, offers its Not Kevin, a plant based hamburger, the success of which prompted the opening of the Vegan Fox vegan hamburger: "When we presented, together with NotCo, the Not Kevin, the first 100% plant based burger in Argentina, the sales success it had led me to think that the market here needed a fast food plant based, "says Patricio Lescovich, owner and chef of Kevin Bacon and Vegan Fox.
For Patricio, the impact of veganism but also that of the search for those who want to reduce their consumption of meat are reformulating the concept of fast food: "Today there is not a hamburger restaurant in Buenos Aires that does not offer a plant-based option, and that is already marking something. Later, specialized brands like ours emerge that warn that this is changing and not because of fashion, but that it is a trend that will continue for years and years, and I even dare to say that it will replace the fast food industry that we know. until now, "he says.
The weight of the pandemic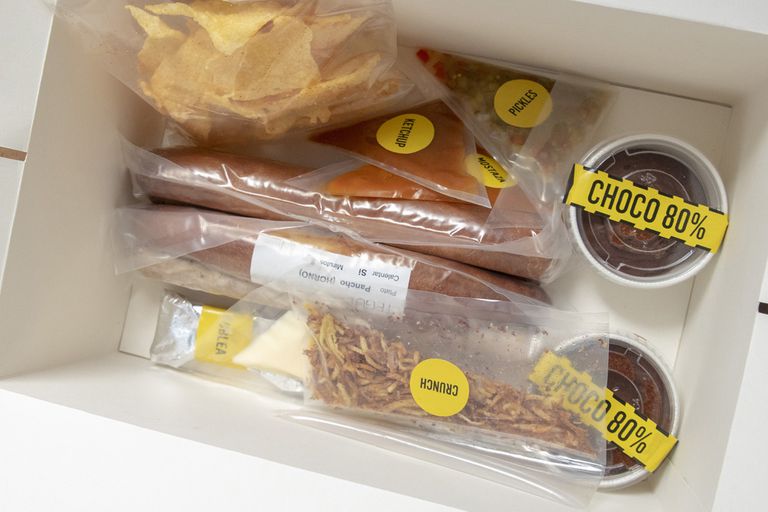 Artisan hot dogs, vacuum packed, and other premium products in the Canuto Box of the Tegui restaurant (Rodrigo Nespolo /)
But regardless of the gastronomic trends that pierce the until recently untouchable trinity of fast food, a factor that has given a twist to the food on the go has been the Covid. Or, rather, the restrictions derived from the pandemic.
"As a result of the pandemic and all the restrictions, gastronomy is being reorganized," says Santiago Olivera, partner of Lado V vegan fast food. One of the models that will be on the rise will be fast food because it is a type of food or place that requires a smaller number of personnel. I think that many stores are going to close and many others will open with smaller structures that include less staff and bet on quick service, dispatch and that also include delivery as an important feature ".
So far in the quarantine, many gastronomic establishments have lowered their blinds, but also many others have reformulated the way they operate. With their dining rooms (until not long ago) closed and forced to adapt to the idea that their consumers would enjoy their dishes on the sidewalk or at home, many haute cuisine restaurants had to change their menus and even modify the way serving your meals.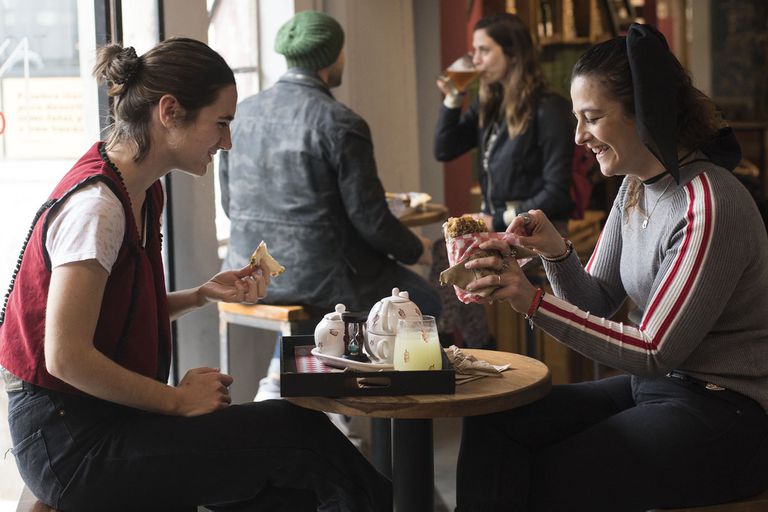 The kürdos, a specialty of Transilavania, are one of the attractions of the Villa Crespo Mercat market (Santiago Cichero / AFV /)
Can we say that a good part of haute cuisine was "fastfoodized" in the way it was served? Yes, Donato de Santis, chef creator of Cucina Paradiso and the most recent Pizza Paradiso, responds: "Perhaps we took not one but two steps ahead of what we always imagined food was going to be: something more practical. A meal designed for the storage, the regenerated, the delivery, that arrives at your semi-prepared house ".
A paradigmatic case of the adaptation of haute cuisine is that of Tegui, the multi-award-winning restaurant of chef Germán Martitegui, which closed the doors of its rooms in March 2020, and currently only works under the delivery modality.
"Haute cuisine had to adapt," agrees Germán Martitegui. First, to be closed, to keep our staff, to think again that we are a family and that the important thing is work. Each restaurant had a different way of adapting. Tegui had a fairly fast way, arriving at the houses and, defining what things define our style, we ended up thinking that ultimately it was not the price (which today is much cheaper) or the tasting menu, but a way of working with passion and be completely adaptable ".
The most complete example of this change is the Canuto Box: the Tegui box that contains hot dogs, chizitos, beer and desserts. But, where is the difference with the combo of a conventional panchería ?, readers will ask. To begin with, all the ingredients are homemade and the raw material is carefully selected, which includes everything from the sausage and bread to the chizitos (made with the Cuatro Esquinas Patagonian cheese), the different condiments (ketchup with apple and mustard with ferment of carrot, for example), the "rain of potatoes" that here is replaced by a rain of dehydrated bacon and onion, and, for dessert, 80% cocoa mousses that use raw material from Purocacao. "You may or may not know all those details, but anyway you feel like eating a 'junk food that is not such', and so you can enjoy it much better," says Martitegui, whose Caja Canuto began to reach some cities in the interior , like Mar del Plata or Córdoba.
Apps and networks
"The pandemic accelerated the process that has been going on for some years in gastronomy since the appearance of delivery apps in 2017, and further pushed the changes that these generated in the consumption habit, where the customer has available an immense offer, just two buttons from your smartphone ", says Federico Giuliano, one of the partners of Monti Bar de Pastas:" We thought it was appropriate to change the paradigm of the classic pasta factory: move from the eternal ranks of the Sunday mornings to a finished dish ordered by an App ".
There is no doubt that delivery apps are a great catalyst for the big bang of the fast food world, since what arrives in the motorcycle rider's or cyclist's backpack – the food, but also its packaging – tends to be adapted to a form more relaxed consumption, with greater savings in time and resources. More on the go (although not necessarily junk anymore).
Monti's Instagram profile shows the forks taking the ready-to-eat pasta directly from the same packaging in which it is served, and presented to be attractive. "We adapt to a renewed public, with consumption needs not only basic organoleptic, but also visual. We turn a lot to social networks, generating a constant back and forth with them ", adds Federico Giuliano.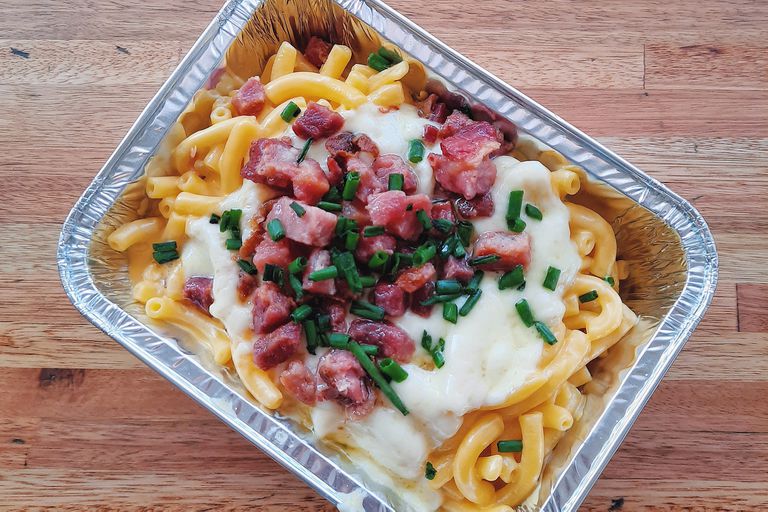 The Mac Monti de Monti Pasta Bar (courtesy /)
One of its star dishes is Mac Monti, which does not refer to the chain of golden arches but to the classic North American Mac & Cheese, which today is one of the new fast food workhorses. Ubiquitous, it is worth mentioning that in Kevin Bacon they offer a mix of Mac & Cheese and French fries as an option to the conventional fries that accompany burgers, while Vegan Fox offers its vegan version with plant-based cheese and chives, or serves it between the breads that they contain your vegan burger.
And the old school?
Attentive to the different trends in gastronomy – not to be left behind – the large global fast food chains have begun to make significant changes to their proposals. An example is that for a few days the Whopper, the Burger King chain's flagship hamburger, no longer contains preservatives, artificial colors or flavorings. "Our goal is to finish this year with at least 90% of our menu meeting these characteristics," says Nicolás Iribarne, Marketing Director of Burger King Argentina. to date we have already achieved that 70% of our products are within this category ".
Who knows. Perhaps in not long time we can order a McDumpling, a vegan Whopper or we will find pancherías in the train stations – as they are already in the Buenos Aires gastronomic poles – that offer sausages of different meats and cuts, when not vegan. If even the rain of potatoes has already reinvented itself!


Publicado en el diario La Nación
(Visitado 74 veces, 1 visitas hoy)