Four months ago, the pandemic made the reality of homeless people much more difficult, which deepened after the arrival of the cold. To lend a hand in the face of an unresolved violation, Fundación Espartanos, La Sachetera and Caminos Solidarios Argentina joined forces to transform empty milk or yogurt sachets into insulating protectors, which will be delivered to people who sleep in sidewalks, squares and other nooks of the City and Greater Buenos Aires.
Starting from the basic premise that the street is not a place to live, the Argentine Advertising Council launched the El Otro Frío campaign, which seeks to make the low temperature visible "that you cannot combat by putting on a jacket or turning on the stove", but rather which responds to a structural problem: the alarming reality of those who are below the poverty line.
Mariela Fumarola, founder of Caminos Solidarios – which for years has provided, through a network of 600 volunteers, comprehensive support to homeless people – focuses on a central issue: thermal insulation is far from being a solution, but looking for "be a stepping stone"to make visible" a painful reality. "" We suggest that whoever is saving and recycling a sachet today, maybe in a few days they will meet someone on the street and say: 'Hello, how are you? Do you need anything? ? '. Let him include it in his gaze, in his world and help him to get up. It is much more than a sachet: it is looking at the other, "says Fumarola.
The campaign invites all people to take their empty and clean sachets to their nearest newspaper and magazine kiosk: there are more than 2,500 who joined in the City and the suburbs through the collaboration of the Union of Newspaper and Magazine Sellers. the Autonomous City and Province of Buenos Aires (Sivendia) and the Society of Distributors of Newspapers, Magazines and the Like (Sddra). Also, there are other collection points (see here).
The goal is to collect 200,000 sachets and the call is until August 31. This material will be taken to the San Martín prison, where men and women deprived of their liberty that are part of the Espartanos Foundation -which promotes their social integration-, will manufacture the insulating protectors, 1.85 x 2 meters. Previously, all were trained by La Sachetera, an environmental, charitable and voluntary project that reuses sachets to make products to donate. Finally, Caminos Solidarios will distribute them on its night tours.
See this post on Instagram

The Other Cold is the one suffered by hundreds of people who live on the street [R]. For this reason, from @consejopublicitario together with @fundacionespartanos, @lasachetera and @caminossolidariosargentina we think about this campaign. A virtuous circle where each organization contributes what it does best [R]. [R] #LaSachetera has been working for years on the reuse of recycled plastics to transform them into insulating protectors for solidarity purposes. ?? #FundacionEspartanos work on the integration, socialization and accompaniment of people deprived of their freedom through rugby, although in times of Covid and without possible matches, they are learning to make insulating protectors. [R] #CaminosSolidariosArgentina accompany people living on the streets, with night tours bringing them food, shelter, medicines and help in everything they may need. [R] From the #ConsejoPublicitario the wheel is organized and bridges are built between the companies that collaborate so that this solidarity campaign grows. [R] And you are going to help us by putting together your milk or yogurt sachets, without which none of this would be possible. [R] Together we are going to reuse 200,000 sachets and manufacture 1,100 insulating protectors to help people on the streets. [R][R] Between August 13 and 23, take your empty and clean sachets to the attached points that we will report soon. There are more than 3000 points in CABA and GBA! Thanks to @fundacionlanacion its Distributors and Canillitas, @arcor and its Kiosks, the #refugios of @cerveceriaymalteriaquilmes, the premises of @ arredo.oficial and the logistics of @andreaniok for making it possible. [R][R] This campaign is promoted by @consejopublicitario and has the support of @mccannbue (creativity), @mediomundorrhh (coordination and strategy) and @panchadata (influencers marketing) #elotrofrio #aislemoselfrio #reutilizar #help #solidaridad #situaciondecalle #medioambiente #sustentabilidad #sustentabilidad #sustentabilidad Advertising Council #CaminosSolidariosArgentina #FundacionEspartanos #LaSachetera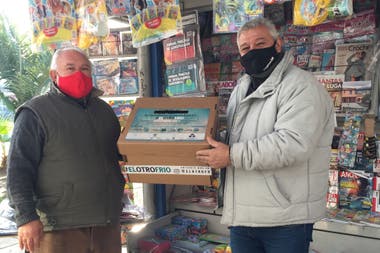 Let's do it
La Sachetera was born in 2012 in the kitchen of Goga Dodero's house, in Pacheco, Buenos Aires. Their mission is apparently as simple as it is ambitious: to ensure that thousands of sachets (recyclable polyethylene) that were going to end up in the garbage were delivered to a network of volunteers (mostly women) that transforms them into garments that are waterproof and insulating for situations emergencies, such as floods, vulnerable homes, sheltering homeless people or high mountain school students.
For the campaign The Other Cold And, thanks to the fact that the use of cell phones was authorized in the prisons (visits are suspended to prevent infections), they were able to record tutorial videos that were shared with The Spartans and The Spartans. "We really liked being able to transmit all our knowledge and experience with them, who at this moment are isolated and eager to provide service to the other," says Goga.
With the collaboration of the Buenos Aires Penitentiary Service, they received almost 30 sealing machines (all donated) that they hope to install inside the pavilions. In the San Martín prison, there are 800 inmates who will participate in this initiative. Santiago Cerruti, coordinator of Fundación Espartanos, tells about the impact that the project had on its members: "Spartans always like the idea of help others. It is part of the process of personal transformation that they are doing: many, when they regain their freedom, open picnic areas, dining rooms or popular pots in their neighborhoods. When we told them this idea, they said a resounding yes. "
What must be taken into account when donate the sachets? The essential thing is that they are cut by all their edges sealed, washed, dried and stacked as if they were sheets of paper. "If we deliver them neatly, each urn can fit about 2,000," Goga explains.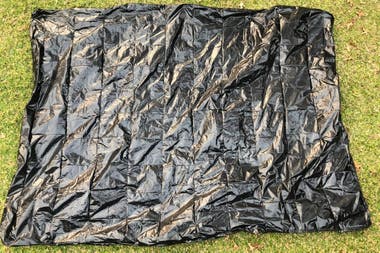 Why was insulation considered instead of, for example, blankets or sleeping bags? "The street is a complicated place and many times people feel that they can get trapped in sleeping bags. Blankets get wet when it rains or with humidity. Insulation is used a lot to protect themselves from the wind and cold, for the floor or the roofs of the ranchadas ", explains Fumarola about the dramatic conditions in which the street is inhabited.
"It is a chain where each party has a fundamental role, from the one who donates the sachet to the one who receives the box or makes the strips for the insulators. The result is a product with a lot of love", concludes Goga.
More information:
The Other Cold Campaign: The project also has the coordination of the consulting firm MedioMundo, the collaboration of Fundación La Nación, Andreani, Arcor, Quilmes, Arredo, Pancha Data, Cora Blue, Brandformance and the creativity of the McCann Buenos Aires agency.

Fundación Espartanos: seeks to lower the rate of criminal recidivism by promoting the integration, socialization and accompaniment of people deprived of their liberty through sports, education, work and spirituality. It has more than 600 volunteers and a presence in 58 units (reaching 3,500 detainees) in 21 provinces of the country.

Caminos Solidarios Argentina: accompanies hundreds of homeless people through night tours, where they provide food, personal hygiene items and attend to different needs.

La Sachetera: it is an environmental, solidarity and voluntary project by which sachets are reused to make products to donate.
.


Publicado en el diario La Nación
(Visitado 36 veces, 1 visitas hoy)