LN – "When he discriminates, many people don't realize the damage he does"
The slogan was open: to write an essay on a theme linked to discrimination, barriers and inequality in access to opportunities. Anyone. The one that seemed most urgent, everyday or close. The National Institute against Discrimination, Xenophobia and Racism (Inadi), convened adolescents from all over the country and, of the more than 1000 who submitted their writings, the majority (21%) chose physical discrimination as a topic .
The pain of being harassed by their weight or skin color, are some of the stories that are reflected in the works, where boys and girls tell their life experiences or those of acquaintances, family and friends. There, they reflect on a problem that crosses us as a society and make proposals to end discrimination, agreeing that the school occupies a key role in inclusion.
Claudio Presman, auditor of the Inadi, is not surprised that the main concern of young people has been discrimination based on physical appearance: "We learn about cases every day," he says. Although of the total of the complaints they receive in the Inadi, the main reason is discrimination based on disability (21% of the total), they were registering an increase of those that are linked to the physical: in 2017, they were 5.7% of those received; in 2018, 7%; and only during the first half of 2019, they corresponded to 4.7%.
Among the works received by the delegations that the Inadi has in the 23 provinces and the city of Buenos Aires, 72 young people between 15 and 17 years old (three from each jurisdiction) were selected to participate during this week of the fifth edition of the Federal Parliament Youth. The challenge is that they become "deputies and deputies" for a day and discuss a project on discrimination.
The second most chosen topic for the trials was sexual diversity and gender identity (17%). It was followed by racism and xenophobia (13%), bullying and discrimination in general (15%), gender violence (12%), teenage pregnancy (11%) and disability (11%).
Daniela Lanser (15 years old), who lives in Bella Vista, Corrientes, chose to talk about the harassment she suffered (and suffers) because of her thinness. "I was always very skinny. I measure 1.65 and weigh 43 kilos. But I have no disease," he says. And he adds: "Going through many places and not finding anything of my size; that they tell me 'skinny shotgun' when I wear clothes in which I never feel comfortable; that boys of my age yell at me 'stunted' in the street, or I take the doll to compare it with yours, they make me feel dissatisfied with my body. I have a very low self-esteem, "he says.
It was a teacher who, knowing what Daniela had suffered in silence, proposed that she base her essay on her personal history. "Before writing it, nobody knew what I had been accumulating, because I was always very reserved: I was crying secretly in my piece. When I wrote it, I released many things," Daniela admits. "Commenting on the bodies of others pejoratively generates in the other person low self-esteem and insecurities. We should talk at a young age about discrimination, because in adolescence it is when we suffer most."
The role of the school

To Lautaro Yampa (18), the discrimination he suffered in his childhood also marked him by fire. "I was an obese boy and, because of that and because of my dark skin, they made me a lot of bullying. They called me a black ball or a paunch and they beat me while they insulted me. The discrimination I suffered left me with traumas," says Lautaro, who lives in the town of Puesto Viejo, Jujuy. "I think there should be workshops in schools with psychologists and even parents of students on discrimination. It will not be easy to change it. But, from generation to generation, it could be improved."
Martín Caponio, like Daniela and Lautaro, is convinced that the school plays a key and irreplaceable role in building a more inclusive society.
He is 16 years old and lives in San Miguel de Tucumán. At 15, he told his friends first and then his family that he was a trans boy. Thanks to gender identity law, he was able to get his new ID. "I felt that I was born again, with a name and a treatment that I always dreamed of. I had a new life, with many inconveniences, sticks in the wheel, but in spite of everything I had achieved a great personal and collective conquest: to be Martin", he describes .
Although he points out that he moves in an "open-minded environment" and that he was lucky enough to go to a school – that of Fine Arts and Decorative and Industrial Arts Maestro Atilio Terragni that depends on the National University of Tucumán – that contained it and He accompanied him, stresses that this is not the reality of many trans boys and girls.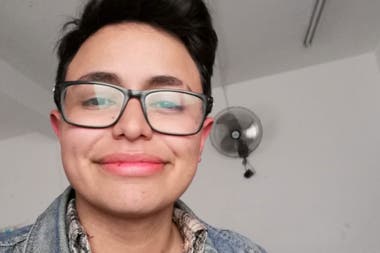 The managers even invited him to give talks and asked him for advice to accompany other cases. "I am secretary general of the student center and, together with the psychopedagogical cabinet, we are working to create a gender commission to help boys and girls who have a problem at home and need a different accompaniment," he says. "You have to give them confidence so they can express themselves: today, when someone says it is trans, it is taken as a show of value, when it should be something simple," he summarizes.
Discrimination, institutional violence, difficulty in accessing education and getting decent work; they are just some of the vulnerabilities that cross the trans population and in which Martin emphasizes. "Without the help of the State, we have a great chance of ending up on the street, of not being able to finish our studies, of not being recognized and included in society equally," he says.
Presman reflects that there is still a long way to go towards a more inclusive society: "We talk about the need to make a deep cultural change so that we really start to include all people. That's what we are in," he concludes.
. (tagsToTranslate) "When you discriminate (t) many people do not realize the damage they do" – LA NACION



Publicado en el diario La Nación