Patricia had been living on the street for months when, with her heart for the apartment, she decided to cross the door of Rivera 279, the headquarters of
Diocesan Caritas of Lomas de Zamora

. It was Saturday and, just like every weekend,
the gears of Community Showers were oiled,

an initiative that receives more than 30 people who are looking for a place to wash up, have breakfast and spend some time
.

A year after that day and in full emergency by COVID-19,
Patricia is today one of the volunteers

from this space, which is attended by people who, as happened to her, are excluded from everything: men and women for whom respecting quarantine, social distancing and hygiene measures seem impossible. At noon and at night, she
prepares and distributes viands

at the door of the cathedral of Lomas.
She still remembers the moment when she arrived at the door of the organization and a volunteer looked her in the eye and greeted her with a kiss on the cheek. That first bath of dignity, which preceded that of hot water,
it was a reminder of everything the street had ripped from him.

"At that moment, I thought: 'They treat me like this for being the first time.' But I kept going and realized that the same treatment was received by all the people," says Patricia, whose voice, due to its power and clarity, reminds that of an announcer.
For a week, in addition, every night he cooks in the
Hospedería Nuestra Señora del Valle, which depends on Cáritas and opened its doors on March 26 to shelter older adults with health problems, the most vulnerable to the pandemic.

Patricia, 36 years old and mother of four children, did not hesitate to join: "Obviously this situation scares me. But I take all the hygiene precautions that apply. My oldest daughter asked me why I continue with this and I tell her that because I feel that way, because I consider it a vocation and I think it is the right thing to do. "
Obviously this situation scares me. But I take all the hygiene precautions that apply. I consider it a vocation
Patricia, Caritas volunteer
According to a census carried out last year by the Bondi Sur collective -which integrates Cáritas and Fundación Sí, among other social organizations-, in Lomas de Zamora and Lanús,
1024 people in street situations, among whom 252 reported having health problems, such as respiratory or cardiac, and 477 were boys and girls.

"We know that it is underreporting, because there are people who were left out. With the group we created a network of alerts and we are all very pending to provide assistance," explains Laura Recabarra, social worker and director of Cáritas Lomas de Zamora.
Patricia affirms that those who live outdoors are not oblivious to the reality of the pandemic and that they are concerned.

"Most of them, the first thing they do in the morning is to go out looking for alcohol. They are managed in small groups because they do not want to be infected or be a contagion factor.
Many times, they ask us for chinstraps or gloves

"says the volunteer.
The diocese of Lomas de Zamora encompasses the municipalities of San Vicente, Presidente Perón, Almirante Brown, Ezeiza, Echeverría and Lomas. "The six are highly populated and have a high incidence of structural poverty. There are a lot of vulnerabilities that in this COVID-19 emergency are even more evident," Recabarra stresses. In recent days, calls for help have tripled.
Every day, the social worker receives more than 1,000 messages to her cell phone from people asking for food help or medical assistance, for example.

There are a lot of vulnerabilities that are even more exposed in this COVID-19 emergency
Laura Recabarra
Cáritas Lomas encompasses the work of 62 parishes and 170 canteens, day centers and organizations that they support and accompany with food assistance. In addition, they have an education, early childhood program and community projects; homes for children, the elderly and centers for people with disabilities.
In one way or another, they assist more than 200,000 people and work in coordination with municipal governments and the Nation.

For him
coronavirus

Specific actions were taken, for example, neighborhood clubs opened their doors so that people in street situations could comply with the quarantine there. About the Hospedería Nuestra Señora del Valle, Recabarra explains that he came to respond to that growing demand for people who asked for help because they did not have a roof under which to comply with the mandatory isolation.
"We prioritize the admission of elderly or health-risk adults. Some slept in hospital guards and had already been kicked out by the police," says Recabarra.

And he adds: "The municipality provided us with mattresses, dry food and fumigated, because there is dengue in the area. In addition, we coordinated with the Civil Defense and Red Cross that are training for the sanitary peak.
We are looking for volunteers by proximity and who are young

"
Live on the margins
Patricia was born in Avellaneda and raised in the city of Buenos Aires. Eight years ago, when he got together with his ex-partner, he returned to the southern area of ​​the suburbs.
Escaping from that violent husband, he was left on the street.

It was not the first time. At 13, she had left the house she shared with her family, also running away from abuse. "The first time on the street was terrifying. I went without bathing for several months. I did not understand anything. I did not know where to run. I remember starting to wake up from places where milk was given or you could have lunch," Patricia recalls.
The street is always hard. "He measures everyone with the same stick: men, women, boys and adults. It is very distressing, desperate.
The painful thing is when you adapt: ​​that's what should never happen

Patricia sums up. Because on top of everything, one has the contemptuous glances of the people when passing and that hurts. You find yourself with both sides of the coin: many caring people and little humanity. "
The street is always hard. Measure everyone with the same rod: men, women, boys and adults. It is very distressing, desperate.
Patricia, Caritas volunteer
She arrived in Cáritas when she separated from her husband. "It was a very traumatic, toxic relationship. I suffered psychological and physical violence, which was normal for me. When we separated, I fell into a depressive well, without work, without anything. I began to go out to ask, to walk the street, to stir the garbage cans, until through word of mouth I found out about Community Showers ", he details.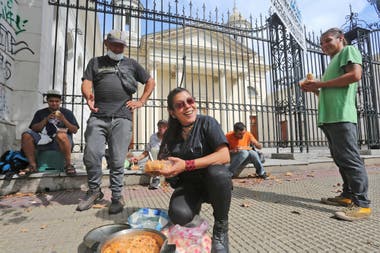 The "sincere affection" with which they received her in Cáritas was so unforeseen that she was first left speechless. They served him breakfast and asked him about his story. She said that she was going to have some job interviews and did not have what to wear. Two volunteers took her to the wardrobe and told her: 'I chose'. When she saw there was a dress shirt, pants, and shoes, she froze. She told the volunteers that if the interview went well and they took her, she wanted to come back to help. And it fulfilled. When some time later, a cut in company personnel in which she was administrative left her without a job, she continued to collaborate in Cáritas.
That commitment remains to this day.

"I came to the showers the first time in a deplorable situation and the volunteering filled me, it is beautiful," says Patricia.
He started cooking on Saturdays after showers. Today, it does it from Monday to Monday, noon and night, for between 10 and 30 people per day. "Most of the supplies are provided by Cáritas and we also ask for help in the neighborhood shops. We improvise and generally get good food," says Patricia. His days start at 5.30. After killing and taking care of the boys, he leaves them in charge of the oldest, who is 19 years old. At 11:30, he goes out to visit the businesses in the area in search of cooking donations. Now, in quarantine, Cáritas has granted him a permit to circulate. She cooks at home and Roberto, a friend, helps her carry the bags to the cathedral square, where they deliver the food and follow up on a case-by-case basis of the people they assist.
After a shower, he goes to the Hospedería Nuestra Señora del Valle to prepare the evening meal before doing the second round of business tours. Finally, he makes dinner ready for those who live on the street and goes to bed at around one in the morning.
Patricia follows all recommendations to prevent COVID-19 and to take care of the rest. He uses a chinstrap, he constantly washes his hands and disinfects everything he uses for cooking with alcohol and bleach. Also, respect the distance with the people with whom you interact.
"I take all the necessary precautions because I am aware. I think about the future, about the generations to come," he says. When she was a teenager and lived on the street, she slept with other young people and they wanted to take care of each other. Sometimes in Parque Rivadavia, in Caballito; others, under a bridge in Villa Luro or in a train car that became a depository for boys and girls deprived of everything, violated in each of their rights.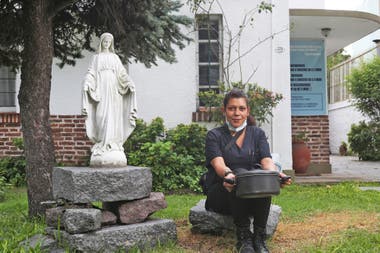 "The most painful thing in those years was not being able to get a job and blend in with the landscape. See how many were dying from hard drugs," he recalls. Today, he seeks to be an example for the people he accompanies. "Being on the street one takes so many examples of bad things, that it is good to have a positive reference.
No one can get by being alone, support is always needed. The beautiful thing is when with that help something more than a door opens, it begins to enrich the soul.

This gave me this community: the opportunity to grow as a person, "says the volunteer.
Patricia finished high school and would like to go to university, study social psychology or philosophy.
But her priority today is to find a blank job and continue her mission as a volunteer.

Currently, his family is supported by the help in merchandise and food that they offer him from Cáritas. "I would love to return to work as an administrator. I have a lot of experience in the health sector, but I would be encouraged to try new things," she dreams. And he concludes: "It feels very nice to be able to help. I don't want to sin of pride, but
I am proud to be with this community

and throw all for the same side. I can not ask for more".
How to collaborate
Caritas Diocesana Lomas de Zamora:

the Parador Descanso del Peregrino, in Burzaco, accommodates 14 adults in street situations and the Hospedería Nuestra Señora del Valle, seniors and people belonging to risk groups. In addition, Comunidad Duchas receives every Saturday more than 30 people who go to bathe and more than 40 who eat breakfast. They need donations to buy personal hygiene items and food. On the other hand, they summon volunteers, especially young people. Account details: Caritas Diocesana Lomas de Zamora, CBU: 0140023601506805037388. You must send an email to

[email protected]

, with the details of the amount and clarify that it is a donation for the Hospedería Descanso del Peregrino, for that of Nuestra Señora del Valle or for dinners of people in street situations. Those who wish to collaborate with Patricia or join as volunteers can write to the same email.
Thanks to a campaign started on March 19 by

Caritas Argentina

Throughout the country, the delivery of more than 3,000 kits with essential elements for the prevention of the coronavirus, such as bleach, alcohol, soap and insect repellent for dengue areas, has already been completed. Currently, the campaign continues to add to the cleaning supplies the purchase of basic foodstuffs, which will be distributed in bags among families with the most urgent needs. The suggested contribution for the preparation of these bags is 1100 pesos, a donation that will become kits with sugar, milk, grass, noodles, rice, polenta, oil, tomato extract, flour, bleach, detergent, white soap, among others. . To collaborate, enter

www.caritas.org.ar/emergencia

or through the bank account set up for this purpose: Current Account Banco Nación No. 35869/51, Plaza de Mayo Branch, CBU 01105995-20000035869519.
.


Publicado en el diario La Nación
(Visitado 2 veces, 1 visitas hoy)