While she arranges her long brown hair behind her ears, Valentina admits that until recently she did not dare to tie it to him: she was ashamed to see the implants she has placed to listen. Although they are two small devices that look like hearing aids, some people told him that he looked like a robot. "They even told me recently and it bothered me a little, but every time I care less about the other's gaze," reflects Valentina Wedelloft, who was born with deafness and today, aged 22, finished high school and is studying Psychology at the University of Buenos Aires (UBA).
But Valentina is not the only one who has them: when visiting the classrooms and the playground
Las Lomas Oral, a school that assists children with severe hearing loss and whom she attended from 2 to 8 years old, can be seen that many of the students use them. One of the school's teachers explains that cochlear implants stimulate the auditory nerve and, thus, allow deaf people to hear. "When I discovered that I could listen, my life changed forever," he says.
Today, despite having trouble talking on the phone or losing a bit in group conversations, you can hear and speak almost perfectly. But the way to get where he is was not easy: until 5 he used headphones, but since he did not hear anything and only communicated by signs and gestures, his parents decided to operate it and place the implant.
Intelligent, creative and eager to learn: this is how the director of Las Lomas Oral, Martina Antonini, remembers her. Listening to her words, Valentina smiles: for her, school is like her second home. "They gave me a lot of restraint, love and support, and even though I was a girl, I have the memory of being comfortable and at peace," she says.
Although she still has moments when she does not like to feel different, Valentina always tries to see the positive side. "One of the virtues my disability gave me was that, as I could not hear, I had the chance to learn to listen through my perception and intuition," he says.
Train the hearing, the key to oralization

As you walk through the corridors, remember the years you spent at school. The work in small groups of five or six students is fundamental for the development of the language. Classes go from being practical where, together with the teachers, the children learn to name objects or toy animals to acquire vocabulary, to syntax lessons.
Through its approach from an inclusive education model (understanding the value of speech as an effective instrument for social inclusion), Las Lomas Oral seeks that children can incorporate spoken language training their hearing. In addition, they do the curricula corresponding to the degree they would be studying in a common school to avoid falling behind.
"We want this to be a step school so that later they can be included in a level school," Antonini emphasizes, adding that the children receive accompaniment during the first two years and provide training and information to teachers and future classmates.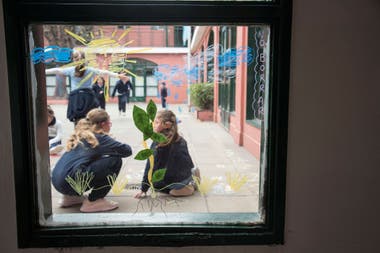 A fundamental aspect of the school is the scholarship program and, like almost 50% of the children who attended, Valentina received a scholarship. "We do not want any child who has the opportunity to be oralized to stay out for economic reasons," says Mariela Perkins, president of the institution, and states that this is part of the historic mission of the school: equal opportunities.
When she thinks about what has cost her most at an educational level, Valentina says it was the change to a common school. Between a mixture of emotions, ranging from fear to enthusiasm, she started at the new school at 8 and, although it did not cost her anything to incorporate knowledge, the lack of empathy from some teachers did not help her. "One of the teachers put music in the background during the class," he says, "but when I asked if I could turn it off because I could not pay attention to what he was saying, he replied: 'And why do not you ask for the notes of any of your companions?'".
She is currently in her second year of the course, which she chose after being invited to give motivational talks at Las Lomas Oral for the parents of the students. Seeing the families' faces of hope as he recounted his experience, he knew that his vocation was to help others.
Her mom defines her as a fighter, and she's not mistaken. Valentina says that much of what she achieved is due to her effort and drive, but she also thanks the support of her family, friends, colleagues and teachers, who accompany and contain her. "We can have hard moments, but the limits are in the head: everything is overcome," he concludes.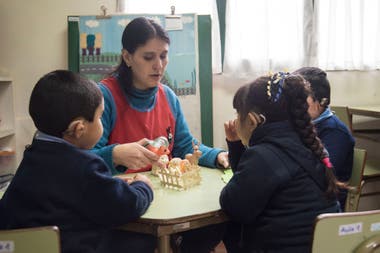 The work of the school

Since 1994,
Las Lomas Oral, in Martínez, provides specialized teaching to children with deafness through oral listening methodology, based on the curriculum developed by the Moog Center for Deaf Education in Saint Louis, United States, which seeks to help children learn to listen and to develop your oral expression.
Today, 81 children attend from newborns to ten years and most are scholars. Therefore, the great effort consists in obtaining contributions from donors that support the scholarships and allow more and more to be incorporated.
To help sponsor a child or joining as a volunteer you can contact 011 4717 2481/0895/2436 or [email protected] You can also collaborate with donations by entering
this link