In Argentina, 53% of girls, boys and adolescents are poor. Although this overwhelming data of Indec corresponds to the first half of this year, in our country poverty in childhood is a structural problem that has been moving around 40% and 50% for three decades.
It is also no coincidence that 30 years after the signing of the Convention on the Rights of the Child, one of the international human rights treaties with more accessions and that our country ratified, nobody speaks clearly about what this "other debt" means, much less commented than the IMF, which goes beyond the lack of income and includes in its long list urgent issues such as lack of access to the social protection system, low quality education, early pregnancies, malnutrition and violence, among others lacks
From this panorama, and in the electoral context in which we live,
Unicef ​​launched the # LaDeudaEsConLaNiñez campaign, involving 160 celebrities who joined the concern for the poorest girls and boys in the country through a photo on their social networks holding a "payment ticket" as a symbolic piece for the debt that we have as a society with childhood.
They also produced a document that makes visible the worrying diagnosis of the situation and positions some recommendations that should take center stage in public policies. "
We think that this debt cannot admit neither discussions nor divisions. It cannot be a supporter. It must be paid regardless of who governs. What we are doing today is a call to the candidates for president, governors and the National Congress to prioritize childhood proposals, "says Luisa Brumana and says that the six presidential candidates have already received these proposals and UNICEF is waiting for specify audiences with each of them.
Four fundamental rights

In 2018, the Committee on the Rights of the Child recommended that Argentina adopt urgent measures to restore and respect the rights violated in childhood. Many of these appear in the document prepared by UNICEF that presents eight axes focused on the four areas of law: social inclusion, education, health and protection.
They all answer the question "what is poverty?" and result in 24 concrete proposals for the future president to take the challenge. "This campaign wants to put the girls and boys at the center of the electoral debates to think about how we could return to restore their rights, improve them without a doubt by taking what is already being done well, and innovate as necessary to be respected" concludes Brumana.
With regard to the first right, poverty is not having access to the social protection system or a system of early childhood care. This implies that more than one million girls and boys do not have universal coverage and that every year about 300,000 children lose the right to AUH due to problems in certifying compliance with conditionalities. At this point, the next government faces the challenge of improving update mechanisms to ensure that all families have income to get out of poverty. Also, only 21% of boys and girls between 0 and 3 years of age access education and care services, so it is necessary to implement the National Early Childhood Strategy that expands coverage, strengthens the offer of quality services and advances in a new maternity and paternity leave law, gender-equitable.
The second area of ​​rights focuses on universal access to early education and for adolescents, on access and on effectively learning. Although the Argentine State made important progress in expanding access to the initial level, challenges remain to guarantee all children a quality initial education, in the (mandatory) coverage of room 5 and 4; and in the (optional) access of children 2 and 3 years old. On the other hand, more than 500,000 teenagers are out of school, and only one in 2 of those who enter, manage to finish it in the expected deadlines. Seven out of 10 do not reach a satisfactory level in mathematics and four out of 10 in language. It is necessary that elected governments ensure more and better conditions for teaching and learning, and deepen the development of innovative educational models to ensure that everyone accesses knowledge and key skills for their present and future.
Regarding health, poverty is being a teenager and facing inequities in access to health, and suffering from malnutrition. In this item, it is key to sustain the National Plan for the Prevention of Unintentional Pregnancy in Adolescence (ENIA Plan) and strengthen the strategy of Comprehensive Health Counseling in Secondary Schools, because today 70% of pregnancies of mothers under 19 years are not intentional and 2500 of them are girls under 15 who, with high probability, suffered sexual abuse. Regarding malnutrition, more than 1,500,000 girls and boys live in households that do not cover a basic food basket, 41.1% of the population between 5 and 17 years is overweight and obese. Therefore, reducing these indexes requires food labeling measures, fiscal policies, advertising regulation and communication campaigns.
Finally, although it does not imply an order of priorities at all, poverty is being a girl or a boy and suffering physical, psychological or emotional violence, and being a teenager and not having access to an inclusive justice system. Girls and boys suffer violence in school, in social networks, in clubs, but also in their homes where 70% of families use methods of violent upbringing, such as verbal aggression and physical punishment, even if it is not always recognized. In response, it is essential to strengthen Integral Protection Services and implement prevention campaigns, among other measures. Adolescents deprived of liberty are part of the most vulnerable sector of society: 28% lived on the street and 78% had difficulty attending school, among other problems. It is a priority to have a Juvenile Justice Law in line with international standards and that does not lower the age of imputability.
"We are trying to reverse this, that is why the campaign. The economic situation has taken center stage, something that is understandable, but in our opinion not justifiable. We must speak again what is going to be done with children," concludes Brumana.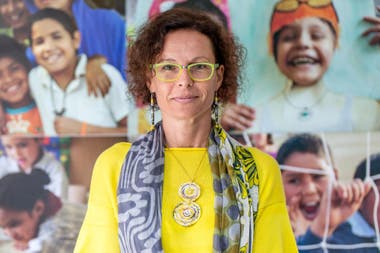 (tagsToTranslate) Unicef ​​asks candidates to prioritize children – LA NACION


Publicado en el diario La Nación