A week ago, when she least expected it, Natalia Mozzati received the news she had wanted to hear for almost eight years. That morning on Thursday, April 2, she was told she was third on the list to
receive a kidney transplant

and that it should be submitted immediately for evaluations. "I was surprised because I thought that everything was inactive due to the pandemic, and my first reaction was fear, to the point that when they asked me if I accepted, I first said no.
I was very afraid that I was more likely to get coronavirus

"recalls Natalia, four days after having been successfully transplanted in the Cardiological Center of Corrientes capital, where she is from.
His case was not exceptional. According to the Incucai,
the last week 26 patients were transplanted

: ten of kidney, two of heart, five of liver, one of pancreas and eight of corneas, many of them, in emergency situation. The interventions were made possible thanks to the fact that there were seven organ and tissue donation operations in the country in the provinces of Córdoba, Buenos Aires, Corrientes, Entre Ríos, Mendoza and Santa Fe.
It all happened while
COVID-19 proposes new work dynamics

in a task where time is never an ally. There are organs that must be reconnected in the receiver in no more than four hours and that is why everything must be calculated: the delay in conditioning them in the refrigerators, the departure from the assistance site and the logistics of designation and transfers. To this, now, one more instance is added:
to all potential donors

with the diagnosis of brain death
a PCR test is performed to rule out that you have a coronavirus

, according to the new protocol established by
the Incucai

together with the Argentine Society for Transplantation (SAT) and the Argentine Society for Infectious Diseases (SADI).
What happens if the alleged donor tests positive?

Marcial Angos, director of the Coordinating Body of Ablation and Implant of Córdoba (Ecodaic), who was in charge of two of the operations of the first days of April, explains that, as happens with any other potentially transmissible virus, that infected person it is automatically discarded as a donor. "Those who are on the waiting list have a fairly deteriorated state of health that led to the need to require a transplant. Therefore, given this contingency, we spend extra time to rule out any possibility and epidemiological link of coronavirus, but also any another active viral disease, "explains the specialist.
Angos says that since he has been a doctor for more than 30 years, this is the first time that he has experienced a situation of this nature, "where the world is practically closed." Nevertheless,
takes pride

that, despite the drawbacks, the activity of organ and tissue procurement for transplants was maintained, and that
last week they managed together with the Incucai to obtain the permits for three medical flights to remove organs in Córdoba

and take them to three different provinces, in addition to those that were used locally. They were multi-organ and multi-tissue donation processes, which allowed nine people to be recipients of organs (kidneys, pancreas, liver and heart) and four of corneal tissues.
Fears and cares
Natalia is 37 years old and since 2012 she had to have dialysis three times a week, from 6 to 10.30 in the morning. He had 70% of kidney function affected, as a consequence of silent lupus nephritis. He works in tourism and two years ago he started with an independent consultant in the field, because with dialysis it was very difficult to meet schedules.
The same Thursday they admitted her, she spent the night in the sanatorium and on Friday, April 3, at 8 in the morning, she went to surgery. "
The operation was short

It lasted three and a half hours, they tell me it was very successful, "she says, with an energetic, exultant voice. When she arrived at the clinic, she had been told that
was third on the list

But in the course of the day, while they were doing the check-ups and they were also waiting for the dengue and COVID-19 results of the alleged donor, they warned him that it could be his lucky day and receive the organ. "The first on the list was not in good health and the second had a sore throat," he explains.
That Natalia and so many others have been transplanted was possible because, despite the obligatory social isolation, the Incucai and the 24 provincial ablation and implant agencies continue to work, together with the transplant teams, the collaboration of local surgeons, airport employees and the availability of medical aircraft, in addition to all health personnel involved.
There are many people working in coordination:

it is estimated that in each procurement and transplant operation, in total, more than 100 people participate.
So far in quarantine, 10 organ donation procedures and two tissue donation procedures were carried out, which allowed 41 patients on the waiting list to receive an organ and cornea transplant.
Faced with the question about
what other aspects of the process changed with the arrival of the pandemic

, Angos details that, fundamentally, there are two central axes:
a correct selection of donors

, doing epidemiological research, and
personal protection of all equipment

, because many have to go to centers where surely there are people affected with COVID-19. In this sense, the Incucai explain that it seeks not to lose any opportunity for patients, provided that it can meet "the maximum guarantee of safety for the transplant and for the professional team involved."
Regarding the effect that compulsory isolation can have on organ and tissue procurement, Angos points out "a logical situation in reality:
with such an iron quarantine, there is much less circulation

and that means that the usual pathology that leads to having a neurocritical patient has decreased considerably:
60% of the usual donors are due to head trauma or strokes

"
Another thing that the director of Ecodaic highlights is that transplanted people, being immunosuppressed, are part of the population at risk and, naturally, have an extra concern. But the expert emphasizes that if the corresponding precautions are taken, they should not be afraid.
Natalia lived it in her own flesh: "
Many of us who were on the lists, we are very afraid of the pandemic

Luckily, her doctor knew how to convince her. "She told me: 'Now and tomorrow you will continue to be a risk patient, whether you do the transplant or not. You're going to have to take care of yourself now and always. ' That made me make the decision. "But not all cases end the same." I know there were patients who were offered and are not encouraged by the drop in defenses, "says Natalia.
Since she was transferred to the common room, beyond all the precautions of the clinic and the medical team, only one person can visit her for an hour in the morning and another in the afternoon. While her recovery continues, Natalia thinks about the day after: "When all the pandemic is over, I will be able to travel, visit places, go back to work."
In the Incucai they also highlight that their
National Registry of Hematopoietic Progenitor Cells

(CPH) continues working to support the
bone marrow transplants in Argentine patients

, both with donors from the National Registry and from other countries in the world, evaluating case by case to provide the best alternative to each patient. "Our goal is to respond to people who are on the waiting list. Let's remember that
there are almost 9000 Argentines who are waiting for an opportunity

to continue living and improve their quality of life, "concludes Angos.
"Every day before my transplant I went out on the balcony to applaud health professionals at 9 at night, and when I return home I will continue to do so, because I am extremely grateful to them," Natalia highlights.
"They gave me back my life," he summarizes, "they gave me the opportunity to dream again, the dialysis ended and that has no words, even more so in this context, which required extra effort." She was also pleased to know that her donor "was a person who wanted to be one and had left it on his ID."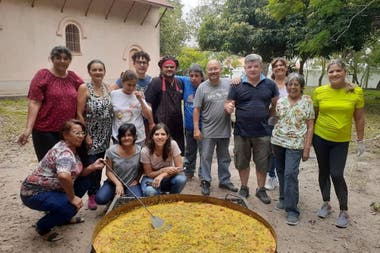 Natalia is part of the group
"Giving gives us life"

, a space for patients on the waiting list and transplant recipients in Corrientes, which works on the dissemination and importance of donation, in addition to providing support and containment. She helped her a lot and prepared her for what she has to live today. "Waiting for a transplant is very difficult, because it is not in your hands, it is in the hands of another and you have to touch that sensitivity. It is the most generous act that can exist and when it touches you, your heart explodes," he says, excited.
His case shows that, in a moment of such anguish and unease, the good news can also come.
Useful information
By COVID-19, the care in the Incucai to patients on the waiting list and transplant patients will be carried out exclusively from Monday to Friday from 10 a.m. to 4 p.m. WhatsApp: (+54 9) 112154.8518 / 112156-4910 / 112156-5667 / 116653-4136. Email:
.


Publicado en el diario La Nación
(Visitado 2 veces, 1 visitas hoy)