LN – They married to fulfill a dream: fight against child malnutrition
María Soledad and Heriberto had a common dream when in 2011 they became engaged: traveling to Africa as volunteers at the end of their university careers. She studied to be an agronomist and he, accountant. In 2014, after speaking with the parish priest of Río Cuarto, his hometown and where they both missioned, the priest suggested joining a group that was going to travel to Madagascar. Before, they had to be trained for three years and, as part of that experience, live a month in a community of extreme vulnerability. Thus, together with other young people, in 2015 they arrived in Weisburd, a town in the northwest of Santiago del Estero, with no more than 3000 inhabitants. That would change, forever, the plans and lives of María Soledad Scheurer (30) and Heriberto Roccia (29).
"The experience was simply to meet and share with families. Our task was to do activities with the children. They came close to 50," recalls Heriberto. However, after making different proposals for games and music, the hours passed and there were no answers. "They looked at us, but they didn't do anything. We told them to divide by color and they were quiet. We told them there was a prize for the winning team and they didn't respond," says Soledad. On the third day, they went to the local school and told about this situation. "They told us: 'Here children are born like that, off, they reach second or third grade and they go to a special school'," recalls Heriberto. It was a punch, but it didn't stop them, quite the opposite, it mobilized them to look for more explanations.
After a month in that community, observing situations of deep poverty, they returned to Córdoba and resumed their work routine: he, in an accounting study, and she, in an agricultural enterprise. "But we couldn't stop thinking about those children," details Heriberto. Soledad's sister, who studied nutrition, brought them the book Malnutrition, the hidden evil, by doctors Fernando Mönckeberg Barros and Abel Albino. Thus, they understood what was happening in Weisburd: the boys lived hungry, they were malnourished.
Soledad and Heriberto decided to take action. After sharing a coffee with Albino in Mendoza, they were convinced to create in that area of ​​Santiago del Estero a space to combat child malnutrition with the Conin method, which is based on the comprehensive approach, also working on the causes.
It was the beginning of a long road. "We had the information of a methodology, but we had to find a doctor, a psychopedagogue, technicians, nutritionists, space," recalls Soledad.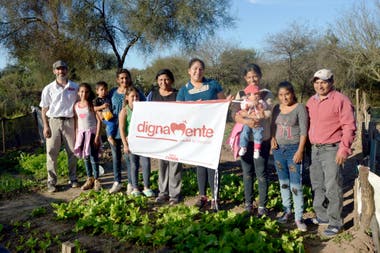 Take action

In Quimilí, the city closest to Weisburd, the bishop linked them with a doctor and gave them a place. That way, they started contacting some professionals. That was the germ of what would later be the Foundation Dignamente and the first thing they did was a survey of the problem: the result was worse than expected, since 71% of children under 5 suffered malnutrition.
Now, and urgently, they needed to get financial resources to work with the community. And since in the face of critical problems, ingenious answers are needed, it occurred to them to marry and ask their family and friends to, as a gift, become sponsors of the foundation.
It seemed crazy, but they set a date for April 29, 2017 and, to make their objective clear, the wedding invitation card was a kind of diary in which they told the story of the project, with very specific data, including the sponsorship request. "We did everything formal, with legal status and bank accounts, so that they believe in the idea and commit to contribute for a sum of money for a while," says Soledad. Anyway, there was no way to prevent his mother from giving them a washing machine as well.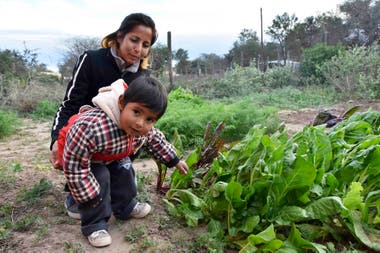 This is how, in August of that year, the Dignamente Foundation opened its first Center for Child Nutrition and Human Promotion in Quimilí, and began attending the first children. In November 2018, they opened another headquarters in Weisburd and this year, one in Campo Gallo.
The beneficiaries are girls and boys up to 5 years old, with high social and nutritional risk, and their families. The way of working is through the prevention and treatment of child malnutrition, and human promotion, understanding that the first two years are fundamental. "It is key to intervene in that period, with milk and emotional stimulation, so that the child manages to get ahead and reach its full development," explains Soledad, while holding Agustino, the couple's baby. For that, they focus their actions on three pillars: assistance, education and research.
Once a child enters the center, he attends once a week with his mother, where they come into contact, simultaneously, with an interdisciplinary team that makes a comprehensive approach to the social problem that gives rise to extreme poverty. The discharge can arrive only after a year and a half, and the mother is accompanied and educated so that she is the main health and care agent for her child.
The three centers of the Foundation, where 56 people work, are currently receiving help from the national and provincial states, as well as from volunteer donors.
In two years of intensive activity, the results are overwhelming: 305 children and pregnant mothers received nutritional treatment, 111 boys were discharged, 875 boys updated their health checks, 719 have daily vaccination schedules, 844 joined socio-educational institutions , 421 women were trained in trades and 740 households were able to make building improvements.
For Heriberto, it was key to work integrally with families. "We detected that there were other conditions, such as illiteracy, overcrowding, lack of hygiene. How could these moms be transformed if they could not read the instructions to give zinc and milk to their babies?" as an example Then, they created the Family Accompaniment program, where the family wants to design their own action plan. "From a socio-educational process, they alone realize the changes they have to make. Networking and the collective appropriation of available resources are promoted," says the founder of Dignamente. For that, they carry out different workshops of trades and integral education.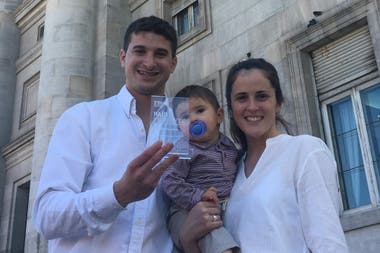 Another of the projects that they carry out successfully are the community gardens. With the support of the Experimental Agricultural Station Quimilí of INTA, they provide families with tools to produce healthy food and initiate a source of income through the production and marketing of crops. In Weisburd and Tintina, there are model orchards, and the development of the program has already allowed 154 households to have family farming plots.
"They sell the surpluses and they improved the economy of the home. There are many qualitative indicators with perseverance and union in the family", emphasizes, proud, Heriberto.
How to collaborate

It can
donate money, collaborate with products such as milk and diapers, or join as a volunteer
https://dignamente.org/landifacebook
www.dignamente.org
. (tagsToTranslate) They married to fulfill a dream: fight against child malnutrition – LA NACION


Publicado en el diario La Nación