LN – They go to hospitals and homes to accompany the end of life
Lorena lived in a settlement of Lower Boulogne. He suffered a very advanced disease and wanted to die at home. The pains did not allow him to move from bed or eat on his own. Thanks to the intervention of the priest of the neighborhood, a group of volunteers in palliative care approached with a nurse, trained the priest so he could feed her by tube and joined a neighbor who offered to help. Lorena could die in peace and as she wanted.
Weaving that net was made possible by the work of
Hospice San Camilo, an organization that provides palliative care, accompanying with tenderness and vocation to those who travel their last days, weeks, months or years. The San Camilo has the Casa de la Esperanza, located in Olivos, where they house nine patients, the average number of beds that have the 15 hospices that exist in our country.
Aware of this limitation, to transcend the walls of that space and to reach more and more people with their model of care, they promoted an articulated work with municipalities, public hospitals, parishes, primary care rooms, priests priests, Pink Ladies and others organizations Thanks to this, today they reach 30 patients per week and more than 190 a year.
Palliative care is an area of ​​medicine that works to promote well-being and reduce the suffering of people with life-threatening chronic diseases or with advanced diseases. In Argentina, although they are contemplated within the Compulsory Medical Program (PMO), the emergency program (PMOE) and in provincial legislation, only 10% of people access them, according to data from the Palliative Care Atlas in Latin America.
"If you adjust to the number of beds in a hospice, whose individual cost is 65,000 pesos per month, the scope is smaller," explains Socorro Ham, volunteer coordinator of the
San Camilo Therefore, she and the hospice members, go out daily with their blue aprons to provide their services in 29 public hospitals, in private homes – whatever the socioeconomic condition – and in primary care rooms in different corners of the Capital and province from Buenos Aires. Where they go they light up with their smile.
Integral look

Made up of two hundred volunteers between 16 and 87 years old, from the hospice they not only take care of patients to relieve pain, hold the hand of the person alone and calm the uncertainty during difficult times, but they are also a key support for families .
This care model offers personalized support with an integral look that puts the center on the dignity of the person. Cynthia Alvarado, co-director of the hospice and licensed in nursing, shares: "The doctor goes to the background and we focus on recovering the person who was lost behind the disease. We care like a family member would do."
Tisha Harrison, another volunteer, adds: "The house has a physical limitation. The love that lives in there exceeds the walls. If we have the nets, that fuel can help many more." Every week, Tisha visits a 21-year-old girl in Tigre who suffers from kidney disease. Each meeting is a reason for joy: in addition to attending and chatting, they often do crafts together.
In that sense, the tasks of the volunteers are varied, from playing cards or watching a series together to taking a bed bath or managing a medical procedure. When they visit the homes or hospitals, the goal is the same: focus on the need of each person. They look at how the patient is, talk to the doctor who follows his medical history, feed him, shave him or take his dirty clothes to wash it.
This attitude makes the health service in hospitals dye a more humanized look, becoming a support for medical teams. "For the health agents who come the volunteers is a peace of mind and support. In the interviews we do with the families of the patients, we tell them about the hospice service," says Gonzalo Sánchez Velazco, psychologist of the palliative care team at the Hospital de Vicente López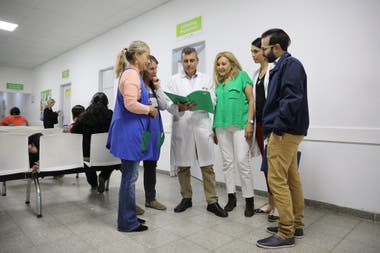 Each person they accompany raises a new and unique network of articulation. Someone who lives in a villa is not the same as in a more affluent area, one that has a social work and another that does not, or who is in the initial or final stages of the diagnosis.
"If everyone contributes what they can do and we articulate, there will be no one who feels alone," says Cynthia. As they did with Carmen who was at Casa de la Esperanza and wanted to spend the last days at home. The volunteers trained their children so that they could fulfill their desire and take care of it at home. From the hospice, they also continued to visit her.
How is the teamwork of these 200 volunteers? Organized and committed. People who wish to be part of Hospice San Camilo go through an intense training process. They are divided into 21 teams (made up of 11 people) and each group takes four hours of weekly volunteer work.
The teams have a leader, responsible for distributing the tasks of the day, for example, who stays cooking, who goes out to visit a patient or is in charge of tending clothes. Also, the leader is responsible for informing the next group about the news and the condition of the patients so that there is a continuity of care and no detail is missed, since if someone has trouble feeding or is the birthday of someone Guest.
On what volunteers value most of their work, Socorro concludes: "The people we accompany make us rethink how we can live better, for example, fulfilling our pending or prioritizing important things. Because good death we prepare every day of our life".
How can you add your help:

With a
online donation to contribute to the support of the House of Hope
Joining you as a volunteer
Collaborating with
medication and supplies that the Hospice uses and needs permanently
For more information:
www.hospicesancamilo.org.ar
(tagsToTranslate) They go to hospitals and homes to accompany them at the end of life – LA NACION


Publicado en el diario La Nación