"I am passionate about work. I focus because I love it," says Milena Querinuzzi, 25, as she stretches the dough on the large granite counter that will soon become flavored breads. At her side is Nahuel Gatica Puebla, 22, who immediately adds: "I am happy here. It is like my house. I like to cook everything and
With my money I plan to go on vacation

with my group of friends. "
The young people form part of the gastronomic venture Nos Sobra Motivos Eventos and wear the typical white chef's jackets, aprons at the waist, black gloves, hats and chinstraps.
Have down syndrome

and for both of them it is their first job, the springboard on which they are beginning to
project a future and an autonomous life

.
Between the end of last year and the beginning of this, in a corner of San Isidro, they and the rest of the members of Nos Sobran Motivos turned an old bookstore in ruins into a spacious
professional kitchen

. They are about 200 meters very bright, where boys and girls with
intellectual disability

they prepare every day
gourmet meats

which are then vacuum-packed to deliver to individuals and companies.
How is a day in the kitchen of the enterprise We have plenty of events
02:46
The earnings of Nos Sobran Motivos go directly into the pocket of young people. But, in addition, part of the proceeds has a
solidarity end

: every Tuesday, about 50 viands are prepared and delivered to Red Solidaria, whose volunteers distribute them to people on the street; while on Thursdays they make pizzas, empanadas and more viands for two dining rooms that they arrive through the organizations Damos Más and Mamis Solidarias.
For people with disabilities in Argentina,
the right to decent work

It is one of the most violated. In fact,
only 32% of this population

in working age he manages to access a job, according to the latest data from Indec. In this context and with a clear objective, Nos Sobran Motivos was born. "We seek to promote
real job inclusion

: this is our hashtag ", summarizes in the language of social networks Leandro López, co-founder of the project together with his brother Sebastián.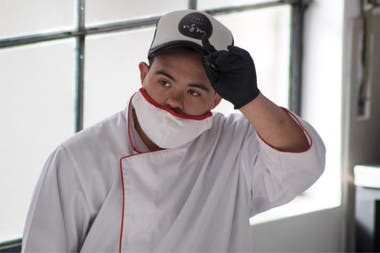 "
This work for many young people is the first

. What characterizes him is not only continuity, but here the conditions are equalized and they are paid the same as any waiter or cook who works for events, "says Leandro, who is 36 years old and specializes in disability issues since he was 21 After a pause in which she hands Milena and Nahuel two buns of dough so that they can continue working, she continues: "What we are looking for is full inclusion. This achieves, in the long term, that they can have a
economic independence

and think about a future project ".
That morning, Alan Morellini, who is 29 years old and has an intellectual disability, is also in the kitchen. His blue eyes protrude above his chinstrap and, without letting go of the spoon with which he stirs the stew that will accompany the noodles of the day's food, he tells that he lives in Beccar with his mother, her partner and his brother. Like his colleagues, it is also his first job. "With the money I help my mom," he says.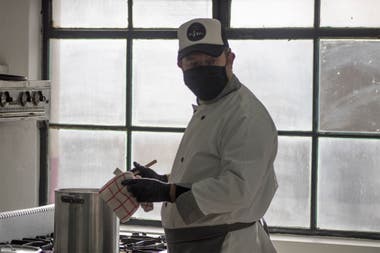 Nahuel likes, above all, to cook omelette, stew and lentils. "My favorite food is milanesas, french fries, pizza and barbecue," he clarifies. Making solidarity food, he is excited: "It is for poor people who do not have food, do not have a bathroom, do not have water, nothing," he says.
Nos Sobran Motivos began to take shape last year, when after pushing different ventures for young people with disabilities, Leandro asked his brother Sebastián (41), chef and accountant, that he wanted to do something "more gourmet". During 2019,
more than 30 young people and adults between 18 and 38 years old

, participated in different events serving a total of 1,000 people. In addition, they began to design products and services for companies and individuals.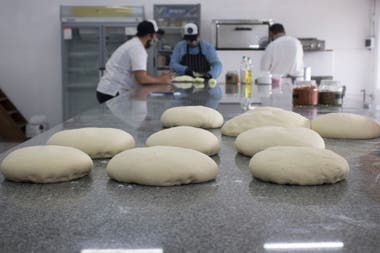 The proposal was born within Taller Sumando, a broader initiative that Leandro leads. Search
promote autonomy

of young people with disabilities from different spaces, from recreational outings to experiences of autonomous homes and work ventures.
Myths linked to disability that seek to demolish
02:18
Due to the quarantine, the members of Nos Sobran Motivos had to recalculate. On March 21, World Down syndrome day,
they were planning to open their restaurant

. Although the pandemic caused the plans to be delayed, they plan to resume them as soon as possible. It will work only with prior reservation and will have tables in the space that precedes the kitchen and a long bar where diners can see the boys and girls working live. Young people with disabilities will prepare the dishes and attend the tables.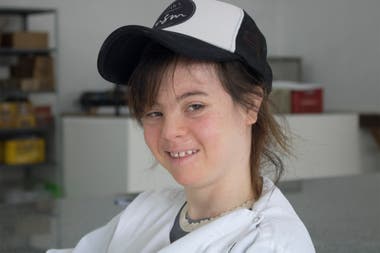 Milena specializes in sweet delicacies. She learned to make shortbread, scones and pepas, but also pizzas, empanadas, milanesas with mashed potatoes and braided bread. Before the quarantine, she worked from Monday to Friday in a sales post of Nos Sobran Motivos in a company. She says not for a minute. "Do I rest? Never. I like to do everything," he says. With what she earns, she is saving to go on a trip with her boyfriend and she dreams of having a luxury: an ice cream box to keep sodas in her room.
Debunk myths
"People with disabilities cannot work." "They cannot manage their own money or achieve autonomy." Those are just some of the myths that Taller Sumando faces daily not only in society in general, but also within many of the families of boys and girls, where
overprotection

parents play against them.
"All the time you have to knock down prejudices," sums up Leandro. Although he says that changes were generated in the workplace, as there are more and more companies willing to be included, he maintains that they are still slow. "Other things that happen is that people with disabilities are still thought about a lot since they were children.
It's hard to see them as adults who can generate their future

"he adds.
Regarding the possibility that young people have to assume responsibilities, the founder of Nos Sobran Motivos maintains that "unfortunately there are many to whom
they were not prepared to do it

, they do not even have the key to their house or they are left alone. "For this reason, he emphasizes that the team members always arrive on time and that they are extremely thorough with the rules in the context of the pandemic." The issue is to give them the tools and the possibilities of developing them. Obviously there are things where
they will need more supports

than in others ", summarizes Leandro.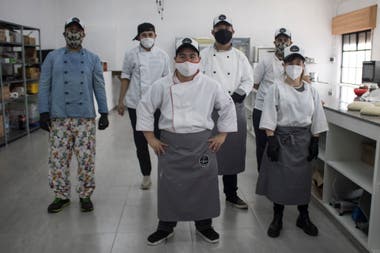 The young people not only took the space of Nos Sobran Motivos as their own, but the objective is
form a cooperative

. Regarding the use they make of what they earn, Leandro concludes: "Little by little they take on the dimension of what it means to manage their own money. Having a stable job allows them to gain autonomy, be protagonists of their lives and think about a future, which is the most important thing ".
More information
We have plenty of reasons
They offer meats with seven different dishes per week. "They can be regenerated in hot water or in the microwave, with special bags that preserve the flavor, with a very nice and efficient presentation that allows you to take better advantage of the storage space in the refrigerator or freezer," says Leandro. Currently, they are mainly supported by a company that buys about 200 meals per month. In order to continue growing and generating job opportunities for more boys and girls with disabilities, they need to add new companies committed to inclusion and individuals who want to enjoy their gourmet meals. They ship to the north, west and CABA.
Facebook and Instagram:

@nossobranmotivoseventos
Telephone:

112939-1123
ALSO
.


Publicado en el diario La Nación
(Visitado 8 veces, 1 visitas hoy)