LN – The tucumana teacher who worried about the students' health
A group of four secondary students break into a class at a Ranchillos Viejos rural area school in eastern Tucumán. They carry a drum of bottomless water, cotton, sand, stones, maps of the province and cardboards. Before the watchful eyes of the boys, they prepare to assemble a homemade water filter and alert them to the harmful effects of arsenic that they consume daily.
This scene is repeated regularly in this and other schools in the area, thanks to the educational project "An Invisible Enemy" of the Bernabé Aráoz High School, which was promoted by Professor Fernanda Galero. Due to its positive impact, the initiative made it one of the finalists of
Argentine Teachers, a call from the Ministry of Education, Culture, Science and Technology, which recognized for the first time teachers of the middle level who with their projects achieve improvements in student learning.
The project became an innovative method to investigate with children and put into practice knowledge of different subjects by creating a homemade water purifier and then became a tool to talk in rural schools about the contamination of water with arsenic and Its harmful effects on health. In addition, it is the students themselves who explain how to purify the water through this filter and pasteurizer, which they teach to manufacture in a simple and economical way.

"As a teacher it is very inspiring to see how children assume the role of solidarity educators, helping their peers and making visible a very serious problem that is practically unknown", says Galero, who last year also received the Community of Education Award from Fundación LA NACION.
The project had two stages of preparation: the first, in 2017, when the teacher successfully managed to build a homemade solar-based pasteurizer with her students. Using a wooden box, aluminum foil, black paint, a glass lid and taking advantage of the sun's rays, they managed to pasteurize up to four liters of water in less than three hours.
The second stage was when, conversing with his colleagues at the Bernabé Aráoz, the teacher Diego Lucero, who also taught at a school 75 kilometers from San Miguel, told him about the marked problem they have with arsenic in the water, mainly , because you drink a lot of water from the well.
Fernanda and his students tour rural schools of Tucumán with their homemade water filter
02:32
Arsenic is a naturally occurring metalloid present in the earth's crust and that contaminates both groundwater and surface water and, if consumed for more than 10 years, can be very harmful, resulting in gastrointestinal problems, diabetes, Chronic bronchitis, warts, skin damage and even cancer, according to the ITBA Environmental Engineering Center. Galero says that these diseases are very present in eastern Tucumán, where the level of arsenic in the water ranges between 10 to 50 micrograms per liter. Although this number fits the parameters of the National Food Code, it exceeds the value determined strictly 10 years ago by the World Health Organization (WHO) of a maximum of 10 micrograms per liter.
The challenge for Fernanda and his students was to find a way to clean solid impurities from water in an easy, effective and economical way so that students from rural institutions in the region could apply it in their homes.
After much research, they managed to find a homemade filter that, in a way, emulates what happens in nature, where water is purified naturally by going through different types of materials.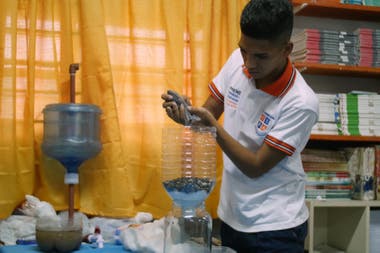 With this, the homemade filter (made with the container of a drum filled with cotton, stones, gravel, activated carbon, coarse and fine sand) and the pasteurizer, achieved that in some areas the arsenic level will drop to 2.5 micrograms per liter . "With a homemade and cheap method, we managed to make a contaminated water, a practically pure water that does not represent any health hazard. We had achieved what we were looking for," says the teacher.
Since then and throughout the school year, they made visits to rural schools and, so that the communication was more effective, they decided that it was the fourth-year students themselves who gave the talks to their peers. "We didn't want the kids to see the presentation as one more class, but we wanted to get their attention by doing something different," Fernanda clarifies.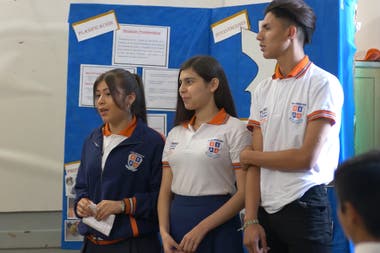 Fernanda remarks that the change that the project generated in his students does not only go through academics, but that he managed to unite the group and that they acquire values ​​such as empathy and companionship. "There are some who told me that thanks to the project they want to dedicate themselves to teaching. That is a huge pride for me," concludes the professor.
(tagsToTranslate) The tucumana teacher who worried about the health of the students – LA NACION



Publicado en el diario La Nación