Friday, ten at night, Plaza de Mayo. On the side of Avenida Rivadavia mothers with children, the elderly, single men, improvise a line, tray in hand, for a portion of mashed potatoes and a hamburger. Those who arrived earlier eat on the wooden planks. A tango singer frightens the anguish that the need provokes. It applauds and even dances. Further on, as if they were incapable of mixing, Andrea and Daniel, a couple with two children – one of two and another of six – stand still, maneuvering as they can their dinners, telling themselves without saying that this will also happen.
"We do not come very often for the boys," she says later, "it's not for nothing, but they are not used to this environment, sometimes there are fights and it's not good for them to see that." They, like many other Argentine families, are where they would not have imagined being: in line to receive a plate of food or donations of clothes, or even, sleeping in hostels or shelters.
They are part of the 2,650,000 new poor who joined in a year, according to data from Indec. As detailed in the latest UNICEF report, "the main problems in families in vulnerable situations are unemployment and the precariousness of the labor market, coupled with a housing deficit and a precipitous loss of purchasing power."
For Mariela Fumarola, from Caminos Solidarios, a network of volunteers who travel through the city of Buenos Aires to assist people living on the streets, "seeing the fall of the middle class to poverty hits very hard because it is close".
From the Ministry of Health and Social Development ensure to be aware of the difficult situation that many families today. "Our priority is to work and be close to those who need us the most so that they can go through this time in the best way possible and accompanied," they emphasize.
"Unfortunately," they continue, "poverty in Argentina is high, and we are clear that the impact of inflation and the recession of recent months added to the core of structural poverty, and this is undoubtedly reflected in the indexes ". Therefore, they explain that while they must attend the emergency, "there are no magic solutions, but they come with active policies for the medium and long term."
Andrea is 28 years old and the modes of the most favored social classes -in her clothes and her way of speaking-. Reality forces it to adapt. "My husband is out of work a couple of long months ago, he does odd jobs, pulls resumes everywhere, he has a full secondary, a tremendous desire to work, but they never call him. worries not to have for the diapers and the milk of the boys ".
It's hard to get together to pay the rent, more than anything we worry about having diapers and milk for the kids
Andrea
For María Lagos, head of Resource Development at Cáritas Argentina, "the middle class is beginning to approach timidly to ask for assistance" and she gives an example of what she sees daily in the territory: "In the educational spaces where the snacks are served to children and adolescents, they are also beginning to approach younger children, grandparents and people of different ages ".
Andrea says that she had to accept winter clothes for the boys and she is happy to show one of the girls: "Look, she is very pretty and warm". Daniel's last job was a substitute in charge of a building, "but the administrator made me resign with the promise that after I was going to take my wife again and did not do it, I was left with nothing," he explains. Since then he has been "searching" as he can: painting walls, fixing televisions, whatever it takes to survive.
"Here they give us a big hand with food," Andrea says, "I get the Universal Assignment for a Child (AUH), but it's not enough, we're in the middle of the month and we only have 1600 pesos left. "
These families have to deal with the uncertainty of not knowing if they will have diapers, milk or supplies for their children to go to school. That is what most anguishes them. Andrea and Daniel had to learn many things this last time, including circuits to ask for help.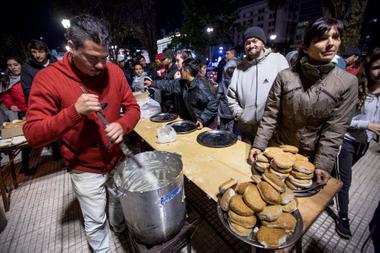 "The latest crises in Argentina have had certain peculiarities, but perhaps the current one has greater impact and extension, there has been an impoverishment of the middle and lower middle classes, especially in the suburbs," explains Agustín Salvia, director of the Observatory's Research the Argentine Social Debt of the UCA.
"The result," continues Salvia, "is an increase in inequality, a greater polarization between the upper middle class, with the capacity to accumulate wealth, and the popular sectors, which have a floor of protection covered by the State in order to avoid the outbreak. The latter are still adding sectors of the lower middle classes, who are not beneficiaries of these protection mechanisms, such as school canteens or subsidies, but from a social point of view, falling into these systems would be a stigma. try to resist. "
It was very difficult to approach a plate of food, and it still costs us
Daniel
Exactly that difficulty of recognizing their new reality and the feelings that it generates them, makes them take time to approach asking for help. "The new poor," Fumarola argues, know about the dignity of work, what it is to sleep in a covered bed, eat every day, that's why they approach us with great shame, to look for that which they do not cover and that It can be a plate of food, a coat, utensils or diapers, they are people who are just waiting for an opportunity. "
The reduction of family income -product of the lack of work or their precarization- submerges them in a vulnerability that is also reflected in other dimensions such as housing, health and clothing.
"Income is only one of the dimensions of poverty, and it is necessary to consider other factors to achieve a real and long-term transformation, such as asphalt, water, sewage," they emphasize from the Social Development portfolio. In addition, they explain that they are still working to improve the monetary income of the families, with measures such as the advancement of the mobility of the whole year for the AUH.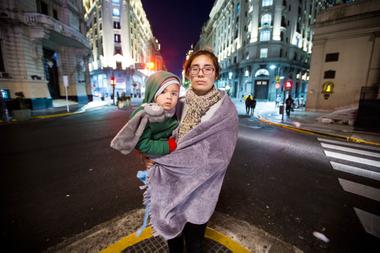 Another horizon

One good night in Mariana's life is getting a bed in the Women's Shelter of the Salvation Army. The other options are even more unfair. "To not be in the street I sleep in the Gutiérrez Hospital Guard or in the Retiro terminal, but at four in the morning they take you out," he clarifies.
Israel, barely two years old, is indifferent to the drama. He asks to get out of the arms of his mother to get closer to the lens of the camera that portrays him. Want to play. "My son has rights, I am claiming for him more than me, that someone sees a two-year-old boy sleeping on the street," he says.
According to the First Popular Census on the population in a street situation recently carried out by more than 40 social organizations, with the support of the Public Prosecutor's Office, the Ombudsman's Office and the General Audit Office, some 4394 people live and sleep in the Buenos Aires public space. Another 1490 temporarily take refuge in paradores. If the sum includes all those "at risk of street", that is, those who access hotels and pensions through subsidies or housing protection, the figure exceeds 25,000.
I do not know what will happen, but what concerns me the most is my son, he needs to have a decent house and be able to go to the garden
Mariana
Mariana believed that her 21 years assured her a place in the labor market. Until the beginning of 2019 she was a real estate agent in a reputable company, but the meteoric rise of the dollar brought down sales and, consequently, commissions. He resigned to look for a job with a fixed salary. He did not find it. The needs of a two-year-old child were consuming the savings. Too soon he stayed in the street with only the clothes on. It does not charge any type of subsidy or the AUH, "because I always lack some paper", he laments.
She is Argentine but her entire family is in Peru. She says that she separated from the father of Israel since she was pregnant because she was a violent person. "That's how I started a path without direction," says Mariana.
"There is an exponential growth of the population in the street situation and above all of people who have no experience of life on the street, who have tools, but have not been able to get up, which is why our motto began to be 'The street situation also it has to do with you ', reality changed and it can touch us all, "says Claudia Enrich, coordinator of Ciudad Sin Techo, one of the promoters of the census.
Mariana can not believe how many rights she was losing -some that she did not even question before-, like having a hot bath every day. In the Refuge, the showers are enabled on Thursdays, so that bathing became for her and her little one a weekly right. "I have to get ahead because my son needs to have a decent house and go to the garden," says the young woman. Israel asks to return to the arms of its mother. She gives him the pleasure and wraps him in a blanket.
These opportunities that Mariana expects – and many others – seem increasingly difficult to achieve. Eugenia Sconfienza and Alexandra Carballo founded Cultura de Trabajo, an organization that works so that people in unfavorable socioeconomic conditions can enter the labor market. Both emphasize that the number of hirings by employers decreased dramatically, which caused the most vulnerable population to suffer. "If before the companies hired three people, now they hire one, we really noticed that difference in demand," says Carballo.
For its part, Sconfienza underlines that "the increases in rates affect the search for jobs in the middle and low-income sectors, which generates a wheel of exclusion because if the person can not upload or pay the cell phone is made very difficult to access job opportunities. " And he concludes: "this is one of the great reasons why many people have fallen out of the system".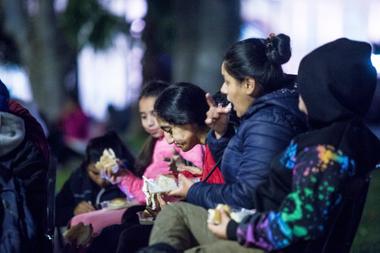 THE CHALLENGES THAT PASS THROUGH
Modification of the family economy: they are families that became part of 32% of the poor urban population, in a context shaken by inflation, especially in the price of food. Salvia explains that "perhaps many had problems of multidimensional structural deficiencies, but now added the monetary inability on issues of consumption."
Precariousness or lack of employment: Many lost their jobs or live on "jobs" or temporary jobs. According to the INDEC data corresponding to the last quarter of 2018, there is 9.1% of people without employment. This figure rises to almost 18% if one also considers those involuntary underemployed, who are willing to work more hours.
First time they ask for social help: from starting to attend meeting points of organizations to withdraw donations or community kitchens, until processing benefits such as the AUH. Many social organizations that accompany people in vulnerable situations ensure that families who previously did not approached are approached with modesty.
Difficulty to continue renting: For many families, renting a home is increasingly difficult. "Half of the tenants spends most of their income on rent," detailed a survey of the Ombudsman of the City. One of the exits for people on the street, evicted or potentially homeless, is to manage the housing subsidy.
How to collaborate with those who help

Solidarity Roads
Once a week they travel different points of the city bringing food, drinks, clothes, footwear to people like Mariana or Andrea and their families; they receive all kinds of help; [email protected]
Work Culture Foundation

They help the labor reintegration of people in a street situation or social vulnerability; they need more vacancies of jobs and money to help their assisted to load the SUBE and the cell phone, with contributions of 63 pesos per week
Caritas
They have different programs, such as scholarships for students, snacks, and they also help with specific and urgent needs of families who are in a situation of socioeconomic emergency. You can collaborate with money from $ 100 per month or with donations of clothing and food; Tel .: (011) 4342-8650
Friends on the road
They help people on the street to cover their basic needs and to leave the street, either by advising them legally or by helping them if they have addictions. At this time, they are looking for volunteers to join their visits
Bearded Villains Argentina
Every week they walk the streets of Boedo and Balvanera, in CABA, giving hot food, shelter and attention to the families in street situation. Although they are self-financing, they need donations of clothing for all ages; Facebook.com/beardedvillainsargentina
Yes Foundation
They make nocturnal tours in more than 15 cities throughout the country, to help improve the quality of life of people who sleep on the street; also in social and school reinsertion. They receive donations and seek volunteers
The "rummage through food", the cruellest face of indigence

Silvia Acum, 54 years old, five children, president of the Civil Association of Waste Pickers of Bariloche, happens to everyone: she has good and bad days. The worst are always the same, although the faces change. It can be that of a babe who can barely speak. The one of a baby unable to get a fly out of his forehead. Or the one of an old man exhausted by the effort of stirring the garbage so as not to die of hunger.
"It is the search for food – define Silvia – the most critical part, people who are in great need and came to that, we live with them because they come to the landfill every day and there are more and more. That's the saddest thing. "
According to the Unicef ​​study on the "Effects of the economic situation on children and adolescents", almost half of the children and adolescents of Argentina (48%) suffer at least one deprivation of their basic and fundamental rights ; and 8.6% of them live in households that do not cover the Basic Food Basket. And according to the latest data from the Indec, it grew from 4.8 to 6.7%, some 800,000 more destitute, bringing the figure to 2,700,000 people.
But, undoubtedly, the data that most worries about the Unicef ​​report is the one referring to the increase in the number of people who go to the municipal garbage dumps every day because of hunger. "Last year there were 50 families that came to the mantle (dump) to find food, now there are about 150," said one of the testimonies included in the document.
Silvia says that the municipal dump of Bariloche, located about seven kilometers from the Civic Center, on the way to the Bolson, trucks arrive daily from supermarkets. In general, they discard what has the package or the packaging broken. It is the most precious thing for families who go to look for food because the products "are not dirty or overdue".
"I have been in the landfill for twenty years and the last fifteen years inside the recycling plant, but before I was like them, I had come by necessity, I did not have a job and I lived alone with my children. 2001 ", concludes Silvia.