Since Sofía came into the world ten years ago, both Daniela Briñón (50) and her husband have learned to practice, perhaps as never before, flexibility, intuition and acceptance. The couple's first daughter was born premature, and after a long stay in neonatology as a result of a series of complications, the family was facing the new reality that the diagnosis of cerebral palsy imposed.
"Parents who have a son or daughter with disabilities are surfing many problems," reflects Daniela today, in the midst of a quarantine that, as in many other cases, finds people with disabilities and their families dealing with particularly complex and unexpected situations. , which for many can be "strenuous"

.
If these days they talk about how to maintain a balanced routine to cope with the extraordinary situation due to the pandemic,
in Daniela's home the challenge gave almost no truce

. "For several years now, with different adjustments, Sofi's day includes going to an educational center in the morning, doing home therapy in the afternoon and being assisted at home by three nurses who, on a rotating basis, cover from Monday to Monday basic issues ranging from feeding her, bathing her to changing her position from time to time, "says the mother.
The family, which is completed by Clara, 8 years old, also has a person for housework, since both Daniela and her husband work. But the epidemic faced them with a difficult scenario. "
Although the norm contemplates that the nurses can continue to come, with my husband we decided to reduce the possible circulation of the virus as much as possible, since due to her basic motor condition, Sofia is more vulnerable to any respiratory disease

"Of course, classes in the educational center and home sessions were also suspended; although in the first case the remote task modality was implemented, the reality is that Sofia's daily routine underwent a sudden change.
"
Sofi needs extensive supports for everything from feeding to sanitizing, and she's also a 20-pound girl. It is literally about putting the body, because it is also very important that you are not lying or sitting all the time, as well as being verbose with routines

", describes Daniela. And exemplifies:" The first few days we were a little late in bedtime and for her it was terrible, she began to cry and she found it hard to fall asleep. "Another important point is that in the case of her prepaid, they decided not cover certain benefits remotely. "It is mischief, because with some something can always be done, such as sending content or offering guidance," says Daniela and explains that among others, her daughter does music therapy, occupational therapy and hydrotherapy.
"It should not be forgotten that children work with their therapists to exercise or stimulate different aspects, and somehow this path is cut off. It is also true that one must accept the limitations that arise, because nobody can do everything," says Daniela.
From adversity to creativity
Returning to those early times of family rearrangement after the birth of Sofia, Daniela repeats a phrase: "see the glass half full." "At one point you lose the fact that this is here to stay and you have to try to be happy with what we have," he continues, adding: "Although for each family the process is very different."
Among so many changes, one of the most decisive was to rethink the job: "I always worked in companies, in a relationship of dependency, in the communication area. I was 9 or 10 hours a day away from home. When the Sofi thing happened I already there was no possibility of sustaining that scheme, "he recalls. "Of course the law does not provide for anything in these cases, which is why one of the members of the couple always stops working and the other is left in a situation of abandoning a lot of other things."
After some eventual consulting projects, her new reality as a mother inspired Daniela with a great idea, and thus she was born

, an online store of toys and technical equipment for children with disabilities and that also, from the networks and the blog, works as a meeting space for parents.

"Until then, I had never done anything like this, but I thought that if we were going through such a difficult situation, I needed to provide my daughter with a space for fun; since her birth, her life has been totally invaded by doctors and alarms," ​​reflects Briñón, who also completed a postgraduate degree in disability.
"And with this I found the meaning of my life -continues-, in addition to what we share with moms and dads"

. These days, she also published ideas and strategies regarding quarantine. For example, he proposes playing in the kitchen since it is usually "a beautiful sensory experience"; reinforce the routine of hand washing by playing to boost the habit; use technology with some apps where, in addition to having fun, the children learn, such as "José learns" or "Puzzingo Puzzles", which are free; make necklaces with noodles, draw, paint, play with balloons, make homemade dough with flour, among other ideas.
More quarantined resources
Karina Guerschberg is director of the
Civil association Trails of the Sower

, an institution that works with young adults with intellectual and mental disabilities. "Since the activities of the day center were suspended, we have accompanied families through the virtual support of services, thinking with the professional team about what strategies and accompaniments can be done."
And so
Among other initiatives, they set up a WhatsApp group with family members to facilitate interventions and send informative content and activities, from Physical Education exercises, ideas to make liquid soap with the occupational therapist or a sketch about quarantine.

, created by the theater teacher. They also put together information in an accessible format about the coronavirus, since "it was very difficult for boys and girls to understand that they could not carry out their usual activities." At that point, they already celebrated birthdays online, and in this of remote encounters, Guerschberg says that it worked very well to reconnect with brothers who live outside the house (sometimes, even, abroad). In addition, the professional team holds virtual meetings with families and offers, openly and free of charge,
all materials through your YouTube channel

and Facebook page, for use by any person or institution.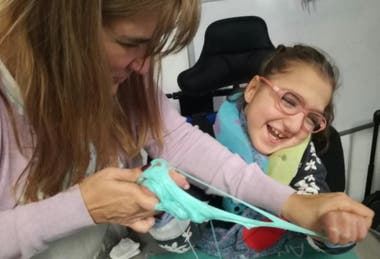 For Andrea Verando, a graduate in Psychopedagogy, "we all had to detach ourselves from our routines in quarantine, especially the boys and girls who are in special schools, day centers or who go to ordinary schools and do external treatments." For this reason, the professional provides
some basic tips to keep in mind

:
Follow a day project on an agenda in which the boys see their usual tasks of getting up, tidying up the room, doing homework, preparing food with mom and dad, etc. Move the body and discharge energy in the way that every boy possible. There are videos of yoga, gymnastics, zumba, adapted gymnastics on YouTube, networks, specialized sites, etc.
Include music moments (listen or play) that the child or the whole family likes. Cook or make crafts.
Homework should be daily and at the same time always, according to the age and availability of care for each child. You can schedule moments of 20, 30 minutes, an hour, a little in the morning or around noon and a little after eating.
Talk to therapists for guidance on specific issues or to be promptly encouraged.
Transmit to them that this is a temporary situation, but that it must be dealt with and in the best possible way.
.


Publicado en el diario La Nación
(Visitado 9 veces, 1 visitas hoy)