"Hi good day. I have a bike to donate. It is a shirt, it is in very good condition but the sprocket is missing and the chain comes off. I wanted to know if it works for them. I'm from Gonnet, La Plata. "Carolina sent this message to the WhatsApp of Voy en bici, the NGO that promotes sustainable mobility and social transportation.
It had been a few months since he had seen a publication on the networks and the idea of ​​donating a bicycle that he no longer used left him spinning. He immediately received an answer, they coordinated to remove it, and the next day he received a video of Diego, a boy from Soldati who works in a rotisserie, thanking him because now he would be able to deliver the food faster.
From Los Angeles, Mercedes learned about the initiative by word of mouth and immediately contacted them to tell them that Claudia, a 51-year-old woman who lives in a boarding house in Colegiales, had her bicycle broken and due to the pandemic It has become a risk to go by public transport to his two jobs. In the morning, Claudia works in a chain of pharmacies and in the afternoon she accompanies Marcus, an English visual artist with a disability, a friend of Mercedes, who came to spend the summer in the country and could not return due to the interruption of the flights. Almost in parallel with this message, they were contacted by Rosario, from Pilar, who found out about the bicycle donation project through a chat of women who sew chinstraps for hospitals. She immediately thought that one of the bikes that her daughters no longer used could be useful and wrote to the NGO. Three days later, Claudia received the surprise– A bike that allows you to move faster and safer to work.
Behind this solidarity project are Julio "Coco" Antuñano, a restless social entrepreneur with extensive experience; and Federico Ocampo, biologist, passionate about cycling and owner of a biotechnology startup. Although each of them had been working on a similar project, since the beginning of the year they joined forces to make this NGO scale very quickly, which seeks to install the use of bicycles as transport throughout the country, but also works like bridge between those who have a bicycle to donate and those who need it most. "Our vision is that every person who decides to use the bicycle to go to study or to work has the possibility of doing so. If there is an initiative that equates all social classes, it is get around by bike. All bicycles take you to the same place, pedaling unifies everyone ", assures Federico.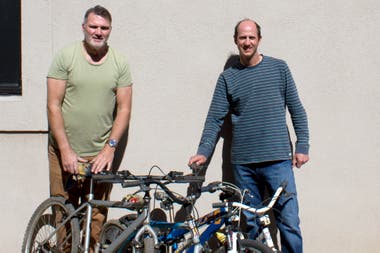 Since they started spreading already received more than 200 bikes. Usually the seats, the brakes, the pedals, the chain are broken, they need oil or a coat of paint. With a previous photo they confirm that it is possible fix them without great cost, because the idea is to have a rapid circulation, reaching those who need them as soon as possible.
Coco takes care of the logistics with her own truck, which is too small for her, and the help of other volunteers; and Federico enjoys repairing some of the bicycles that are arriving himself, he has experience because in addition to being his hobby, he worked on a farm with boys in recovery from addictions in Pergamino teaching how to repair them. The two can't wait for it to be time for take off the chinstrap to see the smile of the one who receives the bike and the one who delivers it. "We are very interested in transparency, that is why we connect the ends: your bicycle came to such a person who will use it for such a thing. This motivates people to make the initiative viral," says Coco.
Currently, they have two warehouses, one in Pilar and the other in Parque Avellaneda, but they dream of having many more close to the different vulnerable neighborhoods so people can fetch a bicycle when they need it for work, study, or even recreation. They also want these spaces to become workshops to teach the trade of fixing bicycles and so that the neighbors can go there to repair them. Coco was inspired by Rotterdam to found the first bicycle bank in Latin America and in the future she imagines them all painted the same color to be able to identify them as social bicycles.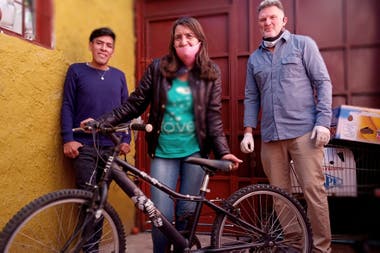 A sustainable and sustainable plan
As in many cities around the world, the Sustainable Mobility Week is held here in September to promote sustainable urban transport and encourage people to walk or use the bicycle. During this week, Voy en bici participated in Velo-City 2020, a sustainable mobility community that is part of the Cycling Federation of Europe and offers conferences on smart cycling and inclusion. One of the goals of the NGO, precisely, is that elderly or disabled people can transport themselves or go out for a ride on adapted bicycles, such as those manufactured by Sebastián Brachetta, who was distinguished as Entrepreneur of the Year in 2019, through his Lester project Bikes.
This year, the pandemic by Covid-19 it deepened the use of alternative means of transport in cities and bicycles became an option for many people. This idea is in the germ of I go by bike, that's why they also work for promote public policies, through agreements with municipalities, such as the one they have already signed with the mayor of Tinogasta, or the one they did through the Civil Association of Padrinos de Alumnos y Escuelas Rurales (Apaer) to bring 30 bicycles to Hostel School No. 474 of Paraje El Tolar, in the north of the department of Belén, Catamarca, at 3,200 meters above sea level so that children and teachers can access. Odyssey that was truncated by the pandemic, but which they hope to achieve soon. How the look is sustainable but also sustainableThey are very clear that it is useless to take dozens of bicycles to Bethlehem if they break and no one can fix them, that is why they emphasize the transfer of know-how and the need to teach the trade.
Too seek to boost connectivity of the country, through the enhancement of abandoned train tracks, which would be perfect bike paths to connect towns. This project transcends mobility to go to work or school and is a great source of recreation. "The train tracks are flat terrain, they do not flood, and you only have to throw a small paving stone over them so that they become connecting paths for cycling. There are many countries in the world that have implemented it, you do not have to build a road Again, it's done, it doesn't interfere with cars or trucks, and you're going through beautiful landscapes, "says Federico.
How to donate
Take a photo of your bike and send it along with your geolocation by WhatsApp to +54 9 11 38970475. For now, they are withdrawing in CABA and the province of Buenos Aires, but they are looking for agreements with transport companies to take the bicycles throughout the country or replicate the model in all cities or towns that wish to do so. A person from Voy en bici contacts you to coordinate the removal of the bicycle. Once the day and time have been defined, they communicate the ID number of the person who withdraws it and the vehicle's license plate. When the bike is given to whoever needs it, they send a video to thank the person who donated.
What do you need
A utility or van to fetch and deliver the bikes.
Deposits to expand the bicycle bank, repair the units and teach courses in different parts of CABA and Buenos Aires.
Simple tools to fix bikes and for workshops: oil, paint, seats, helmets, lights, pedals, etc.
Contact I go by bike: Tel .: +54 9 11 38970475; [email protected]; IG: @voy_en_bici_argentina
According to the criteria of
More information

.


Publicado en el diario La Nación
(Visitado 11 veces, 1 visitas hoy)