LN – The amusement park that got many boys from dropping out of school
"For me, the math teacher is like an older brother. Because if you have a problem, he cares about you and asks what is wrong with you? Why are you like this?" Says Zoe Galeano Oliver, who He is 17 years old and suffers from epilepsy. While touring the halls of the Technical School No. 4 "Engineer Emilio Miter", located in San Martín, province of Buenos Aires, where he is attending 5th year, he explained that it was long before because he suffered seizures and, the next day, was "exhausting " go to school. Today she smiles as she affirms that things changed for her.
"I was embarrassed because I felt that they were cutting the class because of me and I thought that my classmates were more advanced than me," says this teenager whose sensation disappeared thanks to Physimatics, a creative project promoted by her math teacher, Adrian Cristófano, to wake up in students the passion for their subject. This initiative not only positively impacted Zoe's life, but also that of many other children whose school trajectories improved significantly.
The students not only improved their performance but also achieved a personal transformation
03:18
Physimática, the project that captivated more than 120 students of different ages, consists of recreational workshops where students build the models of an amusement park, applying knowledge of mathematics and physics, two of the subjects that were generally rejected by young people and that endangered his stay in school. Thanks to this initiative, the repetition and dropout of several young people from this institution decreased, where the majority come from families in vulnerable situations.
Tweezers, screwdrivers, colored cards, wood, metals, light bulbs and even a disused microwave motor. These are some of the elements that the boys use to become the builders of different games such as the roller coaster, the flying chairs, the round the world and the pirate ship. In each case the real movement of the game is simulated by an electromechanical system that they themselves assembled. In this way, they incorporate knowledge in a playful way, putting into practice formulas and theories that they used to repeat by heart in order to pass an exam. Now, as the professor details, they find meaning and are interested in learning them.
"This creating is exciting. Instead of sitting down looking at the board, we learn in a fun way," Zoe says as he tests the electrical circuit that illuminates the amusement park. Then he adds: "In what you thought you were bad, then you realize that it was easy, you just had to practice." This feeling is shared by many of his classmates who were even encouraged to participate in the Mathematics Olympics.
The idea came more than three years ago, from a student who came up with an amusement park for a science fair. He immediately had the support of Professor Cristofano, who was enthusiastic about the proposal and put all his energy to summon teachers from other disciplines to work as a team. Thus, this 30-year-old teacher, who is also an alumnus of the school, seeks to return to the institution something of how much he received in his passage through this place where his vocation was born.
In Physimatics, children from different school years participate who are actively involved as protagonists in the assembly of the models, this includes from the elaboration of the sketches, sketches and the design of the plans to the creation of the wooden games. To do this they must study and investigate the operation and mechanics of them, identifying the physical phenomena involved – for example, free fall, forces or pulleys – and, in turn, apply mathematical concepts. Experimenting allows them to learn from "trial and error."
In this group activity, teachers ensure that "everyone learns from everyone." In the words of Adrián: "Learning is no longer unidirectional. The kids learn from each other, the older ones teach the little ones. Even the teachers also learn in tandem with the contributions and ideas of our students."
The benefits of this methodology are visible. "When you explain it to another classmate, you realize that you really understood it because you could teach it to someone else," says Zoe, who is proud today to pass the math and physics exams with great grades.
All students who are part of Physimatics agree that, in this workshop, teachers become guides to learning. "Teachers at no time down the line of what needs to be done, the 'hands on work' is a collective construction. Our role is to accompany and conduct the activity," says Adrian for whom "there are no difficult things but this depends of how they explain them to us ".
Through this project, boys not only learn mathematics and physics, but also find something much more important: a containment space to share their stories. This consequence of the spirit that Adrián seeks to convey. "As teachers we have to get involved in each of the singularities of our students because our profession does not only mean transmitting knowledge," he says.
Like the story of Nicolás Iñigo, 17 years old, 4th year, who came to school after going through several schools and repeating third year. "I live with my grandparents and there are times that I have problems because they are old people. I feel a lot of pressure," confesses this young man and adds: "When I come in distress, I can tell my things to the teacher, that is what I most like, the attention it gives you. "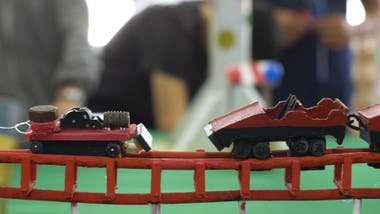 This made Nicolás change his attitude and today he attends school with more enthusiasm and enthusiasm. "If the teacher cares about me, I am not going to fail him. I think the school is something to be broken because every sacrifice has its reward," he concludes, dreaming of a better future.
The Fisimática project was one of the three winners of the
Community Education Award, aimed at those who carry out innovative projects to improve the educational quality of their students in schools in vulnerable contexts. Organized by
La Nacion Foundation together with Banco Galicia and Osde – and with the support of Latam Airlines Argentina, Cimientos, Project Educar 2050, VIACOM and the University of San Andrés – this year the prize was attended by 97 schools from different provinces of the country. Last Thursday they received their distinction at the awards event that took place in the auditorium of LA NACION.
Learn about the other winning projects and special mentions

Project "Beyond the classroom and us", Secondary School No. 5 Sergeant Cabral in
Sail, Buenos Aires. The main purpose is the use of renewable resources, such as organic waste generated in homes and in the local agricultural activity, to obtain biogas. From the construction of a biodigester for domestic use, it is sought that the families of the community who do not have access to the natural gas network or have limited resources for their purchase can obtain energy using organic waste.
"Eco Arte: Plazoleta, murals and ecological sculptures" project of Secondary School No. 5040 in
Oran, Jump. The low performance of students in arts education, technology and biology, together with the lack of materials for work in art and the location of the institution in an area surrounded by micro dumps, converge in this service learning project that integrates education Environmental and art. It consists of transforming micro garbage dumps into recreational and artistic spaces that beautify the city, while carrying out actions aimed at creating environmental awareness in both students and citizens.
Special mentions

Project "Protagonists of their own changes" at the UOCRA Falkland Islands Technical School in
Currents capital. The proposal focuses on achieving education without exclusions, promoting equal opportunities. It is structured in the creation of alternative formative trajectories, which favor the permanence and promotion of the students in the school, contributing to decrease the dropout and repetition of the school. It covers pedagogical and community-based activities that materialize in various workshops for students and complementary spaces to achieve the reintegration of those who have dropped out of secondary education, offering alternatives for personal and social improvement.
"Theater with everyone" project of the school Secondary School No. 10 in
General Rodriguez, Buenos Aires. It consists of the assembly of theater plays of a traditional line, interpreted by students and teachers of the institution. The constructive principle for working with young people is to assess the potential of each student and their cultural capital in the construction of characters, based on their idiosyncrasy and attending to the diversity of origins, customs and ways of life of the community in which it is Insert the school. The works are adapted to the local reality so that the spectator, who is mostly the first time he attends the theater, appropriates them and feels part.
Project "Stories from here and there: a book unites us" of the Integral Provincial Center N ° 1 in
Cutral – Có, Neuquén. This initiative is related to the resocialization process that students who are in confinement context are going through. As part of a larger project to create inter-institutional solidarity and collaborative networks, it emphasizes nonprofit tasks benefiting other local institutions through the creation of teaching materials for vulnerable schools. In this case, the students participate in writing workshops in which they rescue and illustrate local and provincial stories that they collect in books of their own production. These books are given on loan to primary schools in the area.
(tagsToTranslate) The amusement park that made many kids not leave school – LA NACION


Publicado en el diario La Nación