More than one will have dreamed, at some time, of the possibility of working from home, close to the family, without the stress of traffic, in pajamas and in slippers. But now that, the fault of the
coronavirus pandemic

, teleworking became the reality of thousands of workers,
the present is far from being that postcard you dreamed of

.
The context does not help, of course. Added to the uncertainty of living a completely exceptional situation such as a pandemic. With teleworking came the suspension of classes for the children and, with it, the sometimes daily requirement to fulfill tasks of the most varied: from building Rapunzel's castle, to learning the multiplication tables.
The discomfort of not having a workspace at home is exacerbated by the forced stay of all family members in the same place: how to fulfill work tasks and even virtual meetings when children are circling? In addition, everyone's stay at home also requires an extra time and energy to keep it clean, cook, do the shopping and, above all, live in peace and harmony.
The feeling is one:
you work all day

, even if it starts earlier and ends later than before. And women, in most cases, end up being the depositaries of this extra burden. What can be done to prevent that dreamy postcard from becoming a nightmare with dire consequences for mental health?
Mails at two in the morning
Paola Gómez is an accountant and works in the Finance area of ​​a company that sells medical instruments. She is married to Marcos, they have two children: Mateo, 4 and Uma, 9, and they live in an apartment in Villa Pueyrredón. Although, prior to quarantine, he had two monthly days of
home office

Used for special occasions such as acts at the boys' school or parent meetings, daily teleworking has been, for her, a resounding change.
"As the boys go to a part-time school late shift and I work from 9 in the morning, a lady takes care of them when I leave and stays with them until I get home from work. Also, another person helps me with the cleaning once a week, because as in the week I work, I try to make Saturdays and Sundays to be enjoyed as a family. Now everything has changed. My husband also works from home and helps me, but for some demands, the boys' first word She is still a mom, "says Paola, who has become the manager of family purchases, since her husband is one of the risk groups.
Due to the nature of their work, these weeks are already difficult. Although each day imposes its own rhythm, it tries to start the day as early as possible and take advantage to work when the boys are still asleep. "When they start, there is also the challenge of doing the homework, for both the baby and the boy in room 5. We have two computers but we both work. It is difficult." Adds Paola, who tells of having met sending emails at two in the morning. "I work with numbers, and sometimes concentration becomes difficult during the chaos of the day. So I wait for them to fall asleep to do certain tasks. They are gum days, eternal.", He reflects.
Working on the terrace
Mariana Mancuso also exploded the routine she had managed to achieve with her two daughters Franchesca and Valentina, 1 and 9 years old, respectively, a husband, a house, a dog, a cat and two jobs. Since the quarantine began, she works from home and has been left without the help of the person who helped care for her daughters. She is administrative in Sadaic and also community manager of some schools. "It has happened to me from exchanging messages with principals and teachers at 11 at night," says Mariana as an example of how disorganized her life is these days.
Before quarantine, he worked from 9.30 to 16.30. "Now I start 7 or 7.30 to take advantage of everything possible while they sleep. Once they start, I have to stop to make them food, so that Franchesca takes a nap. I start working in the kitchen, but in the afternoon I go up with them some time to the terrace so that they can clear themselves and work from there. The amount of homework that they are giving Valentina is also an issue. In the week I can't handle everything, so it usually happens that there are things left for Saturday Although teaching is not my forte, I have zero patience, "explains Mariana, who acknowledges being in pajamas all day.
An abrupt change
For the graduate in Psychology Luz Lanza, we must not lose sight of the fact that we are facing an atypical and abrupt situation. "It is one thing when one chooses to telework to be at home, closer to the children or for whatever reasons. Another very different thing is to have an armed routine outside the home, with children who go to school and, suddenly, you have to enter a dynamic that was not chosen. An abrupt change from one day to the next. Anguish is inevitable ", considers the specialist.
Such is the case of Alejandra Seminara, separated and mother of Jazmín, 9, who lives in Villa del Parque. "I am a commercial employee and since the quarantine began I found the challenge of online sales and the creation of virtual catalogs," she says.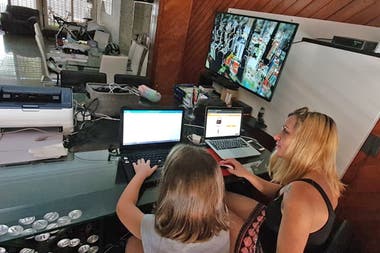 In addition to the need to train in record time in a new discipline and master unknown virtual platforms, Jazmin's school demands are added. "I find myself acting as a teaching assistant. Having to explain topics. It is very difficult for me because it is not my strength and patience runs out at some point," he admits.
Alejandra does not have a workspace in her apartment. "Now the home has been transformed into a virtual office. But I can't neglect everything else either. I keep cleaning everything because they say that hygiene is essential at this time. And also containing my daughter, who some days takes them better than others Sometimes she refuses to do the tasks she is asked to do if she does not like the subject. And for everything I am alone, "she laments.
Demands without hours
But even in cases where teleworking was the job choice of choice before the pandemic, current circumstances impose a completely new and unknown scenario.
Such is the case of María Paula Sosa, who has been a remote accounting firm employee for years, who lives in Villa Urquiza with her husband and three children, the twins Manuel and Maximiliano, 16, and Candelaria, 9.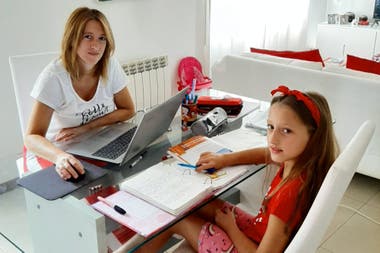 "Before the quarantine, the girl's school ordered me. We started early, left her at school, came back, made me a coffee and started working without pause until the moment I went to pick her up. We arrived, prepared her lunch , I would help her with some of the homework and I would put in a few more hours. Sometimes demands arise, obviously, because she is still a baby. But I tried to get comfortable, "says María Paula.
Even for her, structured and organized to cope with everything, including cleaning her house, the mandatory quarantine turned everything upside down. "I no longer start 6.30 as before because the days are longer and also sometimes, with everything that is happening, I find it difficult to fall asleep. Then I start the day later and it usually happens that I lose track of time. The other day we had lunch at 5 in the afternoon, "he laments.
María Paula appreciates that her boys are older and more independent and that her husband at home helps her, for example, with the task of Candelaria. "Even so, sometimes it happens that they lose sight of the fact that I am working. They see me and ask me for things. It is also difficult to put a limit on my work. It has happened to me that some client sent me at 8 at night, when I am stirring the noodles, an intimation that had come earlier. And I go after dinner, turn on the computer and start. When you don't telework, your departure time is done and you leave, work is pending until the next day. Yes You work from home is different, it is difficult to cut what was pending is done at night or the next day, even if it is Saturday, "he admits.
Excessive overload
Ms. Lanza believes that teleworking in times of pandemic came with a very high level of overload. "It is necessary to comply, at the same time, with different types of demands: those of the boss, the boys' task, the cleaning and organization of the house and also it is necessary to try that the children are well, that they carry out recreational activities and that don't be too much with technology. It's asking too much, "he says.
This work, physical, intellectual and family overload is not without risks. "Feeling that we cannot meet all this demand well ends up generating guilt, either because we have less patience or because we are not making muffins with the boys as the neighbor does. This causes us to put the bar even higher and the excessive demand is greater, generating greater exhaustion, as well as an excessive increase in anxiety and anguish, "adds Lanza.
"We have to learn to differentiate what is important from what is urgent. Is it urgent to read the book to the child now? No, it is urgent if he falls or gets hurt. The book can wait if we are in something more important. The same applies with the work, in case our boss begins to demand more of us. We must learn to set limits when necessary, "recommends the specialist, who provides some keys to successfully go through this quarantine:
The assembly of a routine is essential
Have the ability to adapt to this new routine, even if it is not the usual one
If there is a partner in the home, or older children capable of helping, the tasks are more democratic
Try to keep schedules, like lunch at noon
Allow more flexible roles
Understand that we are facing an abrupt situation and face it as lovingly as possible with ourselves and with others
.


Publicado en el diario La Nación
(Visitado 9 veces, 1 visitas hoy)