Marta and Javier Beltrán found out that their son Rodrigo (10) had Down Syndrome the day he was born. Beyond the uncertainty and initial fears, they had as a couple one single certainty: that they wanted to raise her just like their eldest son, Ignacio, who was 4 years old at the time. For them, full inclusion began in the family itself. "Thanks to that reaction and the support we received, Rodrigo is today an autonomous child," says Marta proudly.
In order to fulfill this purpose, they joined the talks for parents of the Down Syndrome Association of the Argentine Republic (Asdra). There, a sentence finished setting the course for them: "You are going to look at your son with the eyes with which you look at her." And Marta and Javier assure that it was.
"I was wrong because I didn't know which school to send him to or if I should look for a special garden," recalls Marta. But when he spoke with the director of the "La Asunción" school, where Ignacio was going, his doubts were cleared: he explained that Rodrigo had the right to study in a regular school and they offered him a vacancy.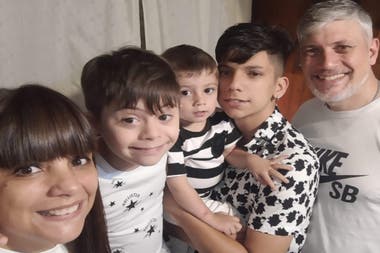 Unlike what happened to the Beltrán family, and although the law establishes that all institutions have the duty to adopt the necessary measures to guarantee that students with disabilities learn and participate in equal conditions, the stories of exclusion are repeated by thousands.
Today Rodrigo is in fifth grade and taking distance classes, like the rest of his classmates. His mother says that he manages to pay attention during the 40 minutes that the meetings last and that he sits alone. "The teachers knew how to adapt to the situation, they are being very accessible and they explain the issues through riddles or short interactive stories," explains Marta. In addition, he has Belén, his REDAT therapeutic companion.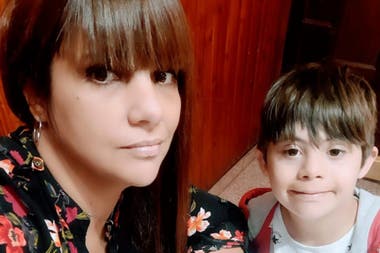 For Rodrigo's mother, the way in which the institution where her children attend addresses inclusive education is very important, since it has more than 10 children with disabilities among its students. "Many times they invite Magician Alex, who also has Down Syndrome, to events," says Marta.
Last month, Marta and Javier had coronavirus, but Ignacio, Rodrigo and Bautista (3) remained asymptomatic or even without the disease. With all the necessary hygiene care, the five of them were able to continue living together in the same place.
"Rodri, like any pre-adolescent, likes to imitate his older brother in everything and is very rebellious when bathing," describes Marta. She affirms that "disability is necessary to travel accompanied, and Rodrigo always had love left over and it is reflected in him."
In order to share their experience, Marta and Javier formed a Facebook Group "Asociación Contá Conmigo". There they meet parents in the same situation to be able to provide them with helpful information. And always, to parents who are traveling the same path, they advise: "When a child with a disability is born, don't pay attention to that, focus on your child and get their full potential."
.


Publicado en el diario La Nación
(Visitado 10 veces, 1 visitas hoy)