LN – Social organizations ask for more donations to be able to function
The economic crisis is felt in all sectors and many social organizations face a crossroads: they have increasingly limited resources that yield less, while the demand of the vulnerable sectors that they attend grows. And although small NGOs are the most affected by the decline in donations, larger and more consolidated entities must also adapt to a context that limits their projects and even forces them to cease activities.
A witness case is that of
Cáritas Argentina, which this year, for example, could not sustain the volume of its scholarships for students. "The increase in the value of small educational scholarships does not accompany inflation, so when a young person is received, that vacancy is not being replaced, although they are very important to support families and prevent school dropouts" , explained María Lagos, head of Resource Development of this entity.
In addition, they had to prioritize certain courses of action and, after a context analysis, resolved to reinforce assistance to basic needs. "Cáritas faces with pain not being able to respond to a greater demand", lamented Lagos.
As in other NGOs consulted, they also pointed out that donations from individuals "are sustained", but that they did not increase "as planned" and that there was a change in behavior: people collaborate through contributions only once, because "He has uncertainty," explained Lagos, "about how his family economy will be in the coming months." In this scenario, Caritas will play a lot in its annual collection next June: "the immediate need of our poorest brothers forces us to ask for help more directly".
For
Potenciar Solidario, an entity that accompanies the management of 150 NGOs, the diagnosis is clear: "The expenses of social organizations are strongly affected by inflation, which is well above the increase in income", summarized Juan Thomas, its founder , so the roads are to develop new donors, generate other sources of income or do what nobody wants: reduce social assistance.
Virgilio Gregorini, Executive Director of
Techo Argentina, said that "unless there are donations in foreign currency, inflationary situations like this are dramatic." In his case, the blow was hard. "We had a reserve policy that made us survive, but we are very complicated: we have lost purchasing power, the equipment has been reduced, the salary has been adjusted," said the official.
A week ago, he sent a letter to Dante Sica, Minister of Production and Labor, asking him to find a way to help civil society organizations, with mechanisms similar to those that exist for companies, such as credits or preventive processes. crisis. "The legal framework of civil society that replaces a service that the State fails to provide should be discussed," Gregorini said.
A few days ago, Techo Argentina had its annual collection, where it raised $ 5,581,002.04, a figure similar to that of 2018. In any case, the Executive Director recalled that "money is worth almost 55% less." Among the strategies that this NGO launched is giving more strength to the sale of products from its social factory to be able to finance itself, using the leftover wood from the construction of the emergency homes.
In the case of
Open Hands Buenos Aires, the adjustment reached its very structure. "Today we do not have an Executive Director in Buenos Aires and we are covering it without replacement, when someone leaves office, we try to go to volunteers," said Sebastian Gonzales Chaves, its president. "It is becoming more and more difficult to cover the difference between the exit budget and the income budget, maintain the works and continue with the programs, we have to go out and ask for salvages to continue accompanying those who need it most," said Gonzales Chaves, which highlighted the importance of its more than 500 volunteers in its 12 works in the province of Buenos Aires.
In the 27 years that it has been operating, private donors are the basis of Open Hands: "We have 2964, an important number, although so far this year there were many cancellations due to economic problems, which were 51 in 2019, when we did not pass years earlier. of five ", graficó his president, who does not doubt the solidarity at all scale:" With a small contribution we can change many things ".
Redouble efforts

A different case is of
Dignified Housing Foundation. Although they had to see how to maintain the income, for the moment there was no reduction of programs. "The crisis is seen, it shows, it feels, but we do not sit idly by," said director Alejandro Besuschio. "We are lucky," he said, "to have a way to raise funds constantly through the sale of recycled furniture."
To achieve this, they put emphasis on their campaign "Donate is the new release", where they invite to give furniture and construction materials that are no longer used. In addition, when planning 2019, they sought to anticipate the crisis. "Our organization is 40 years old and we already live situations of this style," explained Besuschio.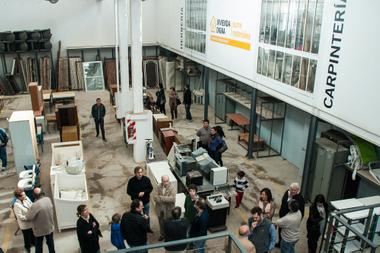 The
Virreyes Rugby Club not only offers sports, recreational and educational activities to the families of San Fernando, but it is a space of contention for more than 600 children in a situation of vulnerability. Marcos Julianes, his co-founder and treasurer, diagnosed a critical picture: "The real inflation of the club is above 50% and the people who help us raised their contribution, at most, 30%, we have a lot of anguish. we will close nothing, we still do not cut activities, but the situation is that ".
Anyway, Julianes stressed that they still have a lot of help and that they are in an advantageous scenario with respect to other NGOs and neighborhood clubs that live on the quota that members pay with difficulty. "We have 500 contributors and we also receive State aid," he added.
Precisely, small organizations but with high maintenance costs, such as neighborhood clubs, canteens, child or women care centers, are the most complicated. One of them is the Gargantitas dining room, located in Villa Zavaleta, Barracas, which had to change its headquarters and that needs all kinds of help to start working this week in the new house of its founder, Mirta Ortega.
"Although we receive donations from some foundations and 300 food rations from the Buenos Aires Ministry of Social Development, we need non-perishable food because it does not reach us," Ortega said. In addition, he asked for "urgent" donations of pots, kitchen utensils, tables and chairs. Today, the dining room provides 900 food dishes to 70 families, and "since the morning, there are those who come to drink cocido mate or a cup of milk," explained Ortega, who has the help of two groups of 15 volunteers who work morning and afternoon.
A similar trance is experienced by the Uguet Mondaca shelter in Burzaco, where women and children are victims of violence. "We are going through a very difficult situation, we depend exclusively on solidarity," explained Nancy Uguet, its founder. "People help us but not in the same way as before because they can not, and we are receiving a lot of referrals," he said.
At the same time, the sales of the American shelter fair decreased, its only firm income. "With my pension I try to cover the fixed expenses but every time it costs more and the truth that some taxes are not being paid because we prioritize the food", explained Uguet. Therefore, they ask for all kinds of non-perishable and fresh foods, and clothes in good condition that can be sold at the fair.
Lack of funds is also the school's main problem
Las Lomas Oral, a non-profit civil association in the Buenos Aires province of Martínez, that teaches deaf children to listen and to speak. It has 60% of its scholarship students and can now work thanks to donations from individuals and companies. "We do not have enough with the payment of benefits, the nomenclator increased 2% since October 2017, while teaching salaries 53%", warned its president, Mariela Perkins, and said: "We had to restructure and generate new services to be able to sustain ourselves , we need to add donations to cover the expenses. "
In this complex context, from Solidarity Potenciar believe that another challenge is to ensure that organizations are not discouraged: "They will have to play more doors than other years, but knowing that there are people and companies with desire and possibilities to collaborate, It's worth the effort, because your social task, silent and wonderful, you have to move forward, "concluded Thomas.
Social Organizations: