It was 6:45 and, like every day, Natalia Laba (41) got in the car and started the trip from her home, in
Lomas de zamora

, until the
health center in Retiro

where she works as a pediatric doctor. He believed that, amid the context of mandatory isolation from the coronavirus, traffic would be light and arrive before eight in the morning. However, that did not happen: the controls of the security forces at the Pueyrredón Bridge kept it
five hours in the car, unable to move forward.

"Time passed and I was still in front of the same building, surrounded by the same cars.
When it was 1pm, my boss called me and told me to come home, "

in dialogue with
THE NATION

.
As health personnel, Natalia is part of the group of people exempt from complying with the mandatory quarantine, since she performs essential tasks to combat the pandemic. "It is ironic that when doctors are most needed, we have difficulties getting to work," says the pediatrician.
In addition to his particular case, several of his colleagues from the Center for Health and Community Action No. 21 (CESAC) also suffered delays in

twelve other accesses to enter the city of Buenos Aires that are still open

: "Most of us who live in the province had a difficult time. The only ones who took it easier were those who reside in the City," he says.
Ironically, when doctors are needed most, we have a hard time getting to work.
Natalia Laba, pediatrician.
The controls of the National Gendarmerie and the Argentine Naval Prefecture on private vehicles began on Friday, March 20. Since then, following the instructions of the National Security Minister, Sabina Frederic, 106,331 cars were inspected, of which 600 were hijacked. People who have permission to remain on public roads despite the quarantine are
those who work in the national government, in activities related to health, in the security forces, in the media and in food production, among other activities.

Until this afternoon, 2,226 people were detained and 41,346 were apprehended (that is, delayed and then told to return home) for failing to comply with the mandatory quarantine. This was reported by the Minister of Security, Sabina Frederic.
The long lines of cars at the entrances to the City surprise after a weekend where traffic gradually fell. In any case, according to data from Autopistas Urbanas SA (AUSA) on the Buenos Aires motorways, there was a 69% drop in the circulation of automobiles, compared to the circulation registered last Wednesday.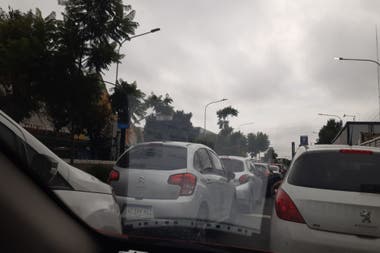 After what she had to live, Natalia does not know what time to leave her house to get to work on time. The same thing happens to your partner:

"My husband, who is also a doctor, has to arrive at his guard at eight in the morning and it is important that he arrives on time to relieve his colleagues. The same thing can not happen to him as to me," says the pediatrician. One of the solutions he proposes is that circulation times be assigned to those who carry out essential tasks, in order to reduce the flow of traffic: "Doctors and security forces have to get to work, yes or yes, but if they intend to stop each car we will not be able to carry out our activities.
I understand that it is difficult, but they should give priority to all essentials, "he concludes

.
.


Publicado en el diario La Nación
(Visitado 2 veces, 1 visitas hoy)