LN – Sex and disability: the two taboos that nobody wants to talk about
"And now, what will happen to my sexuality?" Martín Arregui was 24 years old the day that question was asked for the first time. It was in 1995 when, while returning home by car, he overturned and suffered a spinal cord injury that left him in a wheelchair. Like many other people with acquired disability, he thought he could no longer enjoy his sex life as he did before.
Currently, he understands that he was wrong and that his uncertainty was mainly due to the myths that circulate about the sexuality of people with disabilities.
Disability and sex are, even today and according to specialists, two great taboos. Many prefer to deny their connection and, as a consequence, beliefs arise that are far from reality: "they are not attracted to others", "nobody wants them" or "cannot have and raise children" are some of the prejudices installed.
Marianela Cicero, psychologist and clinical sexologist with orientation in sexuality and functional diversity, ensures that these thoughts come from the tendency to "infantilize or demonize" the figure of people with disabilities.
"Usually, those who have motor disabilities are dressed as children, they do not give them a voice or vote because the decisions are made by doctors or family and do not have any privacy. This whole set does not even consider their sex life." , Cicero argues. And continues:
"In the case of people with intellectual disabilities, they are also infantilized because they are described as very affectionate 'little angels', but without sexual desires and they are also demonized because it is considered that if they develop their sexuality they can become unbridled people or even , risky".
The specialist in Sexuality and Functional Diversity considers that there is a tendency to infantilize or demonize the figure of people with disabilities.
Another reason why Cicero believes that the sexual life of people with disabilities is neglected is because they believe they do not need privacy. "In their environment they are overprotected and end up appropriating the person's life. They prefer an open door policy and do not even consider the sexual environment," explains the sexologist. However, he believes that, given this problem, "the place of people with disabilities must be restored to take their voice." To do this, it encourages them to talk freely about their sexuality: "you have to accompany them as at any other stage of your life, with the needs and resources they require. They can approach a trusted therapist or a family member who accompanies them in the search of sexual pleasure, "he recommends.
You have to accompany them (in sexuality) as at any other stage of your life, with the needs and resources they require.
Lic. Marianela Cicero
Time after his accident, Martín created Alas Desarrollos, a company that manufactures products to improve the autonomy of people with reduced mobility.
Recently, he presented his latest invention: two technical supports – a chair and a cot – that seek to help people with disabilities to have a higher quality sex life and that allows them to function more actively. Both devices have disposable or washable hygiene items and are safe to use. "These resources led me to positions, feelings and movements that I did not experience 24 years ago. All human beings have the right to full sexuality," he said.
All human beings have the right to full sexuality.
Martín Arregui, director of ALAS.
The objects developed by Alas were presented in the framework of the talk "Sexuality and Motor Disability", which was held at the National Technological University (UTN) and was attended by Dr. Juan Carlos Kusnetzoff, Marianela Cicero, Martín Arregui and Natali Falcone, a woman with motor disabilities.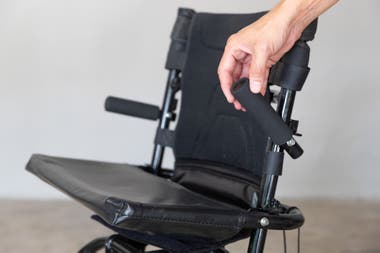 Cicero thinks that today society is in a position to overcome these two great taboos that are sex and disability. While recognizing that there is still discrimination and social obstacles for people with disabilities, it perceives a greater acceptance of the "diversity of the human world." "There is more openness, lots of resources and supports that can enrich your sexual experiences. We cannot continue living in a fantasy and deny your desires," concludes the specialist in Sexuality and Functional Diversity.
We cannot continue to live in a fantasy and deny their wishes.
Lic. Marianela Cicero