In Argentina of the melting pot "There are first and second category migrants". For our society, it does not matter if whoever seeks to develop in these lands comes from Europe or Latin America. This is how it is felt by those who came from other latitudes but from this same region, from neighboring countries and closer to ours.
Of this group of nations, the communities from Bolivia, Paraguay and Peru carry stigmas and prejudices more typical of racism than xenophobia. The discrimination suffered by its members is based on unfounded myths, such as "they come to get us work" or "they saturate our health system." Almost traced, they are the same prejudices suffered by many other groups of migrants in the world. But, in addition, Bolivians, Peruvians and Paraguayans weigh a rejection his features, his skin color and his worldview, according to specialists and the communities themselves.
It was the early 1990s when Sandra Condori Mamani (Chana) arrived from Bolivia with her parents and became the first foreign student in a public school in Floresta. She says that she was ready to start third grade, but the directors of the institution decided to place her in second grade. "They did it simply because I was foreign, not because there were problems with my level of learning, "he assures. He still remembers that, in those years, he carried his dictionary of porteñismos because "integration" was, then, synonymous with "homogenization". There was no room for differences. Even if they were the children of Bolivians born in Argentina, as was the case with their brothers.
"Ours is carrying a body and a surname that refers to a indigenous ancestryThat which is precisely not wanted to be seen in Argentine society, which is rejected because of structural racism. So one is also rejected. It is not the same if you are European, because in Argentina there are first-rate and second-rate migrants. And when you are part of a racialized community, the opportunities are not the same. And to access certain spaces, be it work or educational, you have to prove your credentials more than the rest, because there is always a doubt, "says Condori Mamani, social worker (UBA), who is doing a master's degree in Political Studies of Gender in the Untref Also, it is part of the Identidad Marrón collective.
According to Gabriela Lliguori, executive director of the Argentine Commission for Refugees and Migrants (Caref), we could say that the racist logic that operates on this migrant population was translated along the history in discriminatory practices that excluded her in various ways. "Due to the very migration policies that took place in the country, historically and until 2004, it was especially difficult for the regional population to access the documentation in Argentina. That involved them greater exclusion social policies such as education and health, access to jobs in the most informal and precarious sector and also difficulties in accessing housing ", he analyzes.
"We can't breathe here either." How racism operates in Argentina

In an excerpt from his essay "Structural racism (susceptibility, veracity or what?)", Condori Mamani talks about the doubt about migrants, their potential and capacities: "We naturalize so much that it can happen to confuse 'client with lawyer', 'patient with medicx', because it operates racialization of bodies, work and relationships. It is more likely that the poor (which it is but it is the structure) is 'darker' and is the historical 'assisted'. And this poor man is a danger or a suspicion if he carries indigenous traits and to the touch we suppose that it is from another country, but that country is bordering and Andean ".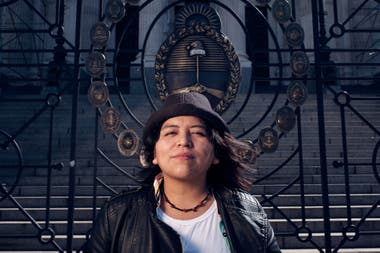 Interculturality, still a challenge
"Prejudices, stigmas and discrimination produce a lot of suffering in migrant families. For children in many cases it is difficult to go through schools without suffering disqualification and mistreatment from peers," adds Lliguori, from Caref, who assures that there is some ignorance or confusion on the part of the school community to properly address the issue.
The specialist also maintains that not only access to housing or work is affected by these prejudices, but also access to health. "Not only are they denied shifts because they do not have a DNI (which should not happen according to our legislation), but they also suffer mistreatment derived from this negative view of migrants, which has led to delays in consultations and consultations in many cases. stages of disease that could have been preventable, "he warns.
Flora Alvarado: "In audiovisual culture we appear as criminals or domestic workers"

According to the 2010 census, of the total immigrant population of American origin (1,471,399), 84.6% corresponds to that of the countries that, from a geographical point of view, border Argentina. This population is made up of 36.4% Paraguayans, 23.5% Bolivians, 13% Chileans, 7.9% Uruguayans and 2.8% Brazilians; while Peruvians represent 10.6% of all American immigrants.
"International migrations to Argentina have been a fundamental component in the history of this country, and border immigration, with a presence in the territory since before the formation of the State, has historically circulated across borders, developing commercial activities on both sides of them ", describes Gabriela Fernández, head of the office of the International Organization for Migration Argentina. And she explains that, currently, migrants represent 5% with respect to the total Argentine population, and that the majority of migrants are bordering (80%). "Their percentage it has never varied in a relevant way ", clarifies Fernández.
Sources of this organism recognize that, over time, the phenotypic traits of a person, gender, social sector and their mother tongue or even the regional variety of a language, have generally been reasons for exclusion. "Hence the importance of being able to adopt an approach intercultural, promoting the encounter between people and the construction of equitable relationships beyond their national, ethnic and religious origins ", they added.
But that is, so far, a pending matter. Between 2008 and 2019, 7.9% of the total complaints received by the Inadi were originated by some type of discrimination due to being a migrant. Of that total, the vast majority came from Latin American countries. Likewise, a recent study on prejudice and discrimination carried out by the Applied Social Policy Observatory of the Faculty of Psychology of the UBA concludes that the highest levels of prejudice of Argentines towards different social groups were observed against Latin American migrants.
Stigmata that weigh
Natividad Obeso still remembers that legend painted on a wall, which he came across once in Once. She had arrived in the country in 1994 fleeing her native Peru to avoid being a political prisoner or, worse still, being killed. And there it was, before her eyes, the worst face of local contempt towards her and hers stamped on a wall: "Make a country. Kill a Peruvian."
Determined to bring her four children, she had to forget about the company she ran in her country and the employees under her charge to work as a street vendor and domestic worker. "I worked from sunrise to sunset. It took me five years to see the Obelisk," recalls this 59-year-old woman.
From those early days, accumulate memories of bad treatments of his employers and an episode with the police. "They had told me never to carry my documents on me, because if they were stolen I would have problems. One day, walking into the supermarket, someone took me roughly by the arm. It was a policeman. He asked me for documents and I explained why. which I didn't have on top of me. They took me late, inventing that I was causing disturbances on the public highway, "Obeso recalls, in dialogue with LA NACION.
What followed was, he says, almost twenty-four hours in a cell. Only the next day did they let her out, after fulfilling an order. "They told me that in order to leave, I first had to clean up the whole police station. And so I had to do it, "says Obeso, leader of the Association of United Women, Migrants and Refugees in Argentina (Amumra), which accompanies women and their families to achieve true integration in our country. The organization has also actively participated in the enactment of laws and documents that have been improving the quality of life of those who come to the country seeking a better life.
"There are still many prejudices and stereotypes to overcome. We Peruvians are called 'perucas' and it is believed that we are all in the drug trafficking or crime. Bolivians are the 'little balls' and are believed to be submissive. Those who come from Paraguay are called 'umbrellas' and it is argued that women are dedicated to prostitution. All fake. I know it because I walk the territory, I talk to people, "he says.
However, the fate that all this accumulation of contempt and discrimination can have in the security forces is what hurts and worries him the most. "At the political level it is still difficult – he laments -. Governments treat us as collectivities, they summon us for the parties they organize, they are interested in our culture and our customs for entertainment, but not much more. And our rights? "
Sources:
Telephone interviews with the protagonists of the stories.
Consultation via email to the International Organization of Argentine Migration and the Argentine Commission for Refugees and Migrants
Reference material:
Report: Prejudice and discrimination in Argentina. Buenos Aires, Argentina 2020), from the Observatory of Applied Social Psychology, Faculty of Psychology, University of Buenos Aires: http://www.psi.uba.ar/opsa/#informes
Complaints received by INADI: a report for the 2008-2019 period: https://www.argentina.gob.ar/noticias/denuncias-recibidas-por-el-inadi-un-informe-historico-del-periodo-2008- 2019
Essay: Structural racism (susceptibility, veracity or what?) By Sandra Condori Mamani (Chana) provided by the author but accessible here: https://latfem.org/racismo-estructural-susceptibilidad-veracidad-o-que/
According to the criteria of
More information

.


Publicado en el diario La Nación
(Visitado 27 veces, 1 visitas hoy)