LN – Salta: after the death of another wichi child, they will declare the socio-health emergency
Again the tragedy bears the face of a wichi boy. He was one year and ten months old and died last weekend.
He lived in the community of Traffic, in the town of Embarcación, in the north of Salta. Although the
provincial government did not talk about the causes, decided to declare the socio-health emergency in three departments of the area involved. According to reconstructed different local sources, the death of the child was the product of extreme conditions of malnutrition and dehydration. With his case, so far this year there would be at least five boys and girls who lost their lives in that region of Salta for this reason.
The action taken by the Salteño Executive came after an emergency meeting with envoys of the Minister of Social Development of the Nation, Daniel Arroyo. On Sunday, when the news spread, the official of the Casa Rosada had written on his Twitter account: "The death of another child of the Wichi community and the serious state in which other children are moved us all. Socio-sanitary situation in northern Salta is critical and @MDSNacion has been working for several weeks on urgent actions. "
"I convened the formation of a multisectoral table with all the actors of civil and political society; national and provincial legislators, mayors," Governor Gustavo Sáenz announced. Also through his Twitter account, he added: "In search of overcoming solutions we must all work together. We are facing a painful and sad reality that has been in the province for decades."
Yesterday, after the meeting that took place from 19 and almost until 22 in the House of Government of Salta, Sáenz announced that he will declare by decree the socio-sanitary emergency in the departments Orán, San Martín and Rivadavia, with a validity of 180 days and with powers so that the local Executive can extend the term. "We will direct our greatest efforts to immediately assist the most vulnerable sectors, with priority actions and actions," said the governor. And he said: "I am not ashamed to show reality, it saddens me and this situation hurts. There is a deep north that hurts and strikes, we have many people suffering, without water, without health services in conditions."
On the other hand, from the Ministry of Social Development of the Nation they stressed that 40,000 food modules will be distributed per month, before the agreement signed with the provincial government. "A team made up of different areas of the ministry will be working in the field, to collaborate in the implementation of short-term actions, which are comprehensive and point to access to water, food and health services from an intercultural perspective" , they affirmed from that portfolio. In addition, it was assured that 330,000,000 pesos will be dumped from February 10 with the food card throughout the province.
The social organizations that work in the territory informed LA NACION that the situation is critical and of very long drag. A reference of the Wichi community Chaqueña Mission, in Embarcacion, which prefers to reserve their identity, confirmed the deaths of Wichi children due to malnutrition and dehydration. "Our main problem is access to water. In our community we have a single pump for 500 families and we don't even know if what comes out is suitable for human consumption," he said. He even had two of his children hospitalized for dehydration.
Martín De Dios, of Lewet Wichi, an organization that works to foster respect for the original communities, said that in the Chaqueña Mission community they are very beaten, because "for them it was a succession of tragic events very often." However, he clarified that "it is not new for boys to die of malnutrition."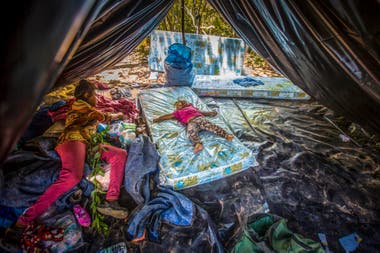 For De Dios, "there is a diagnosis, knowing the communities, their needs, and that is where we have to focus, because without information public policies fail. Many of these children are undocumented, so, for example, they cannot receive Universal Assignment by Son (AUH) ".
Since the first cases of children who died from malnutrition in early January were known, the Ministry of Social Development of the Nation, in response, explained that they are working in the area, arranged the distribution of bottled water and expanded the distribution of modules food throughout the region. In addition, two water treatment trucks were added to the land, which are already distributing safe water at 18 critical points, taking into account that it is one of the most urgent needs.
The referents highlighted the critical situation in which the Wichis communities live submerged: in structural poverty, without access to safe water, overcrowded in ranches with poor hygiene conditions, isolated and with very little chance of accessing health services.
Silvia Molina has been working for 30 years in the Aboriginal Ministry of the Diocese of Nueva Orán and in the Tepeyac civil association, which mainly accompanies Wichis communities in claiming their lands and resources and in recognition of their rights. "All the beginning of the year there are deaths due to dehydration and malnutrition, a situation that is now sharpening all year with a habitat that is gradually degraded, due to the extension of the agricultural frontier and the extractive industries, which are dismantling the mountain : that is, the natural habitat of these communities is being degraded, "Molina said.

"I would be encouraged to say that every two months we have a case of a child who dies. However, as malnutrition is the context and not the diagnosis of death, because they die of different diseases, other causes appear in death certificates"said Diego Bustamante, president and CEO of Pata Pila, days ago to LA NACION. Since they started working in 2015, they have attended more than 800 boys and girls at nutritional risk: 200 were discharged and another 600 They continue in weekly treatment.
Molina said that, in summer, when the thermal sensation rises above 45 degrees, cases of dehydration become more frequent. "These days we register a lot of heat and there are climatic realities and factors in the area, but also systems that collapse, such as health. We must look for different ways to address the problem and the State should sit together with the referents of the communities and in ground, because many times the solutions are given from the capitals, "he said.
No access to health

Although the boy who died on Sunday was from the El Traffic community, as rebuilt by local media he had traveled with his parents to visit relatives to Los Blancos, in the department of Rivadavia, about 400 kilometers from Embarcación. He had been admitted to the hospital in that town, where he was discharged. However, in the health room of Los Blancos, seeing that the child's situation was critical, an ambulance was requested from Colonel Juan Solá de Morillo Hospital, the main city of Rivadavia Banda Norte, to transfer it back to Embarcation. The ambulance broke down on the road and the boy died.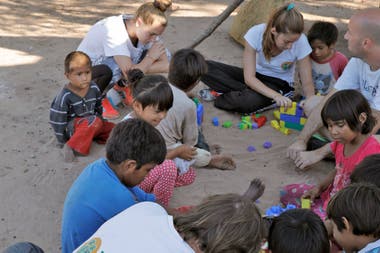 Molina lives in Morillo – about 150 kilometers from Embarcación-, which is located in the municipality of Rivadavia Banda Norte, where there are more than 26 Wichis communities: a total of 5500 people, one third of the municipality's population. "If one looks at the statistics over the years, in a year we have had up to nine deceased boys causes of malnutrition and dehydration. I think a key issue is that, beyond the numbers and how many boys have died in recent years days – which is a reality that hurts and goes through all of us – we also have to see what emerges from this situation: we must solve the underlying problem, "Molina reflected.
In that line, he explained that "there is a health system that collapses due to lack of professionals and resources, and a lack of attention to vulnerable populations, which is often done only in a welfare way and without a look that is inclusive of communities and their realities. "
The referent put his finger on an open sore: "In the Rivadavia North Band area there are six doctors for almost 12,000 inhabitants. Professionals are missing and with an intercultural look. There are some communities that are on the route and can be accessed through a vehicle to the hospital in Murillo. But there are others that are 20, 70 or 80 kilometers away, with dirt roads. " In addition to the heat, the rains usually make them impassable, which increases the isolation: "There are communities that have their health center, but do not have staff, are not equipped. Murillo hospital has an ambulance and a half, because many times they do not It works, "Molina described.
The difficulty of accessing safe water is a central issue for all the referees consulted: "Some communities have wells of more than 100 meters, others with less than 30 meters; in others there are reservoirs and the municipality brings them water. Others have salt water, "Murillo said. And he added that, in Los Blancos, in whose health room the child would have been treated on the weekend, "the water is intomable."
Artesanal job

In Santa Victoria Este, one of the most critical regions in northern Salta, Pata Pila has a presence in La Puntana, on the border with Bolivia, and in La Paz Mission, on the border with Paraguay. There, nutritionist Elizabeth Torres works, one of the 38 professionals that make up the interdisciplinary team of the NGO, which does a craft work, "melee", with each family.
"Nutrition encompasses many factors that not only has to do with food, but also with the environment. There is a lot of lack of hygiene in general, in addition the water is not drinkable and contains a lot of minerals such as arsenic," said Torres.
On the other hand, as Molina emphasizes the scarcity of resources. "The hospital in Santa Victoria has very few doctors, about five, to cover an operational area that is very large. There is a nutritionist who does not supply. La Puntana has a health center, just like Mission La Paz, but La Puntana was a few months ago without a doctor, "he said.
For her, the cases of the last days were no surprise. "We are always in touch with the communities and these realities. Month it seems important that at the national level we know and become aware of this reality," he concluded.
How to collaborate

The objective of the civil association
Pata Pila is to expand its program of godparents and godmothers, to be able to accompany more and more families. All contribution adds up. To help, you can enter their website and make a monthly contribution. 100% of the contributions are destined to cover the nutritional treatments of children up to 5 years old that the Pata Pila team attends and monitors weekly in its Centers for the Prevention of Child Malnutrition and Human Promotion and its Itinerant Care Programs, reaching those most vulnerable and hard-to-reach communities in the north of the province of Salta. More information:
[email protected]

Lewet wichí is an initiative of young alumni of the Florida Day School to promote cultural vindication and respect for native communities.

Tepyac Association:
[email protected]
(tagsToTranslate) Jumps: after the death of another wichi child (t) they will declare the socio-health emergency – LA NACION


Publicado en el diario La Nación