After the death of nine children due to malnutrition in northern Salta, one of the organizations that added to provide humanitarian aid is the
Argentine Red Cross To devise an action plan, in the last weeks they made a survey in 18 indigenous communities of the departments declared in socio-sanitary emergency, such as San Martín and Rivadavia.
They determined that in the last month, 84% of the children suffered periods of prolonged diarrhea for 48 hours. With this data they confirmed that the lack of drinking water is a determining factor in the health of the original communities and, especially, of the children.
Currently, there are 9600 people who have disabled access to safe water in that area.
75% of indigenous communities do not access sources of safe water for consumption.
More than 60% of the containers where water is stored are contaminated.
During the study, Red Cross members also paid special attention to nutrition, sanitation, hygiene and food safety. In addition, they conducted interviews with the inhabitants to understand their cultural peculiarities.
The first step will be
urgently install a water treatment plant, from Spain, which
will provide more than 2,000,000 liters of safe water in two months, reaching all of the affected people. Diego Tipping, president of the organization, explained: "The operation will be set up through a base camp that will work for 12 months with more than 400 highly trained volunteers who will instruct the inhabitants."
The operation will be set up through a base camp that will work for 12 months with more than 400 highly trained volunteers who will instruct the inhabitants.
Diego Tipping, president of the Argentine Red Cross.
In a second stage, they provide for the distribution of 1200 portable family filters and 12 community filters in schools and health centers. In addition to this, they will deliver 1200 personal hygiene kits to contribute to disease reduction. Rodrigo Cuba, director of Human Development of the organization, said that there are communities that have "naturalized diarrhea and that, instead of relating it to water quality, they attribute it to heat." Therefore, he considers it essential that the community be a "protagonist" of the change that will improve their quality of life:
"The solutions we propose are long-term and involve awareness work so that they begin to associate their health problems with water and lack of hygiene."
Family filters are portable devices that purify up to 20 liters of water per day from rivers or rains. On the other hand, community filters are capable of generating up to 120 liters of water daily, which is enough for about 20 people.
In addition, the Argentine Red Cross team will deliver 4,800 jerricans to families. These are 25-liter collapsible containers for safe storage of water for consumption.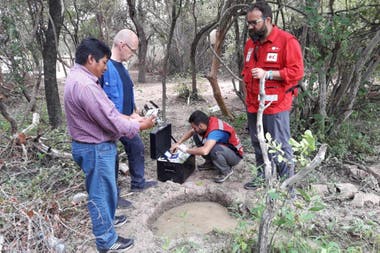 How to collaborate

To carry out the installation of the water treatment plant, the mass distribution system and the training in the installation and maintenance of filters,
Argentine Red Cross needs to raise $ 850,000.
As of today, they have 50% of that budget. Therefore, they ask for the support of the national government, the business sector and civil society: "In the midst of this extreme situation, it is essential that we all make our contribution," says Tipping. To colaborate:
www.cruzroja.org.ar/dona.