Camila Brusco is 22 years old and a few days ago
donated blood for the first time in his life.

He did it three blocks from his house, in the Buenos Aires neighborhood of San Cristóbal, in a party room where he once went to a 15th birthday. He says that before the quarantine the idea had never crossed his mind. It was in a story of
Instagram

where a flyer captured his full attention: "It was from DonARG and I was surprised that the initiative was from
boys and girls my age

. There was a phrase that said that if 5% of the country's population donated twice a year, the total demand for blood would be covered, "says the young woman, who is a chemical engineering student. What finally convinced her was the possibility to donate for
outside a hospital

. "That gave me a lot of security, especially in this context," he details.
DonARG's proposal to donate blood easily and safely
01:24
DonARG

It is a solidarity project that seeks to promote through social networks the donation of blood in the extraction centers that the Buenos Aires government enabled in places outside hospitals, such as
schools or party rooms

-today, in disuse-, generating a
safe and friendly environment

. Motivated by
alarming decrease in donors during the pandemic

, the initiative was born from the hand of a group of young medical and engineering students from different universities, who met virtually and decided to get down to work by joining forces with the Transfusion Medicine Network. This network, which is part of the Ministry of Health of the City, is responsible for enabling, together with the Ministry of Education, the spaces that are used today for donation.
"In
our web

We offer shifts to avoid crowding and we also send circulation permits so that those who sign up can go to donate, "explains Gabriela D'Aversa, who is 23 years old, is an industrial engineering student at ITBA and was one of the promoters of the project.
Currently, there are four donation posts operating in the city of Buenos Aires: three are schools authorized by the Ministry of Education for this purpose in the neighborhoods of Barracas, Belgrano and Caballito, and the fourth is the party hall in which Camila donated. in San Cristóbal. So far 1803 donors have passed.
"In the context of the pandemic, there was
an 80% reduction in blood donors

who went to hospitals. For this reason, the need to think about clinics outside these institutions before the numbers continued to drop was essential, "explains Noemí Lena, a medical specialist in hemotherapy and coordinator of the Transfusion Medicine Network, a network made up of 25 services haemotherapy of the hospitals that depend on the Buenos Aires Ministry of Health and responsible for providing logistics, supplies and medical personnel to DonARG.
"In the City, per day,
we need to receive between 230 and 250 donors

. What usually happens is that not all people who come to donate can finally do it: it is essential that at least 176 to 190 actually do so to meet the needs of red blood cells that the system has today and have a stock of al minus eight days, "says the doctor. Since the quarantine began, there were days when they received, for example, only 65 units of blood.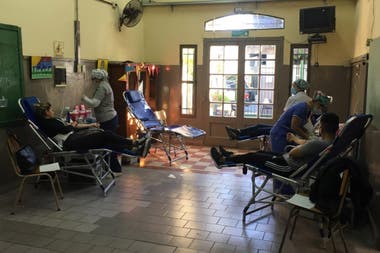 We need donors of all blood types and factors, but particularly 0+: it is the most common and the one that is most needed
Noemí Lena, Transfusion Medicine Network
Innovative proposal
For the students, the seed of what would become DonARG was planted by a contest, the Fiubaton 2020 "Quarantine Challenge", organized for the Faculty of Engineering of the University of Buenos Aires. There, the initiative won first place among more than 100 projects submitted. "The proposal was for the teams to develop a theme with an innovative solution. Five students got together and thought of this idea to bring the donation closer to the donors. When we won, the organizers of the challenge wanted to help us bring it to reality, several joined of them and
today we are 14

Gabriela assures.
Lena stresses that the ideal would be to remove blood banks from hospitals and have a regional hemotherapy center independent of any structure, something that today the City, on a public level, does not have. "What we are looking for is to increase the safety of the donor. There are many healthy people who do not like to enter a hospital, even before Covid-19," says the doctor.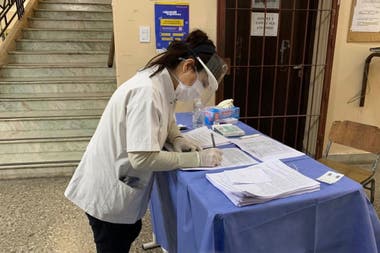 Raise awareness
"In a survey we did, 2 out of 3 of the people who meet the requirements answered that they do not donate blood simply because they never thought of or presented the opportunity. Therefore, we believe that much emphasis must be placed on dissemination," he says. Gabriela.
Lena believes that society still needs to become aware of the
need to "naturalize the donation"

as one more aspect of life. "It should not even be considered. Blood cannot be replaced: the only way to obtain it is through donation," emphasizes the doctor. And he gives just one example, that of the Ramos Mejía Hospital, where chronic hematological patients who permanently require transfusions are cared for. "Only that institution needs 50 units of blood every month for thalassemic patients. To that, we must add the emergencies," he details.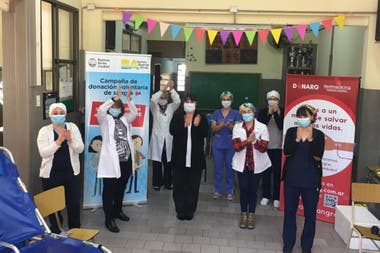 The posts work
Monday to Friday

, from 8 to 12, requesting
previously turn in DonARG

. In addition, the page has an "online filter" where potential donors complete a series of questions to see if they meet the requirements. Once the date and time are confirmed, the same platform issues a "Personalized" certificate to allow circulation on public roads. "The attention capacity is 45 donors per day in each post and until now it has not been filled," says Lena. Next Friday, June 12, in anticipation of World Blood Donor Day, those who come to donate will be honored with a special snack. "We hope that many people will come," invites the specialist.
On the other hand, in San Isidro, the
First Steps Foundation

Next to the
Sarmiento Hematological Foundation

(Fuhesa) launched a similar initiative, which also seeks to bring donation closer to donors. They have a bone marrow donor registration and blood donation center in which, since March 31, when it began operating in the context of quarantine, so far, they have donated 500 people. Those interested can register by
social networks

or WhatsApp (11-6465-3164), then they receive a call to coordinate the shift and they are sent the requirements for the donation, the movement permit and the security protocols by Covid-19.
What caught Camila's attention the most from her first experience donating blood was how quickly the whole process was. She says that her experience led her to
debunk myths

. "The extraction lasted five minutes and I felt nothing. They tell you that with your donation you can help save the lives of three people and make you feel like a heroine," she admits with a smile.
More information
.


Publicado en el diario La Nación
(Visitado 1 veces, 1 visitas hoy)