He was 18 years old and had to leave his parents' house in Lima, Peru, to elbow his way to life. "My family is very conservative: they are Jehovah's Witnesses.
When I told them I was a trans girl, my dad told me I had the devil inside

: 'For me you have died, I don't want to see you here anymore', "recalls Marisol, who is 47 today." I wanted to be who I am. I grabbed my things and left. All the doors were closed to me, "he adds.
He arrived at the Retiro terminal in April 2008, with nothing.
The need to eat and pay a piece, led her to prostitution.

Today, with what he earns in private apartments – he tries to do as little as possible – and a subsidy, he pays the rent for a room in a hotel in Balvanera and the food. Nothing else.
With the quarantine to prevent the spread of COVID-19, his situation became even more critical

: "Many girls stopped being on the street: their income was cut. As a risk population and the last link in the chain, we are a very vulnerable group. The help we received gave us great joy," says Marisol.
The help he is talking about is the food and cleaning products kit he received as part of the solidarity campaign
"Coronavirus: We take care of each other"

. It is an initiative coordinated by the
National Network 100% Diversity and Rights

, which involves more than 30 civil society organizations, including the movement
Pride and Struggle

, the
La Rosa Naranja civil association

and the
Argentine Homosexual Community (CHA).

During the quarantine, different projects such as this arose to respond to the multiple violations of rights that cross the group of trans people -an umbrella that covers transvestite, transsexual and transgender identities-, mainly, to women.
Different reports shed light on the historical and daily marginalization of this group:
his life expectancy is 35 years

;
six out of 10 drop out of high school due to discrimination

; 83% were victims of serious acts of violence and police discrimination;
46% live in housing deficits

, and 34% have HIV and difficulties in accessing antiretroviral treatments.
"It is a structural problem that is even more exposed in the context of the pandemic

"emphasizes Greta Pena, director of 100% Diversity and Rights.
Prostitution is killing trans and transvestites
Marcela Tobaldi, The Orange Rose
According to the referents consulted by LA NACION, the current context only exacerbated this situation, among other issues, because many trans women live daily. Most of them, due to the barriers they find in seeking formal employment, find prostitution their only form of subsistence. "Making the street" are exposed to multiple dangers:
sexually transmitted diseases, clandestine surgery circuits, sexist violence.

"Prostitution is killing trans and transvestites", summarizes Marcela Tobaldi, a trans woman who works in the Public Ministry of Defense of the city of Buenos Aires and is president of La Rosa Naranja.
The objective of the initiatives that have been launched in recent weeks -like others that have been unfolding from the collective for years-, is
build mutual assistance networks

. "The campaign is not only about donations, but also advice and accompaniment to carry out different procedures, such as registering for social programs and regulating documentation," Pena details.
We attend to extremely vulnerable realities such as very serious street or health situations, complaints of institutional violence, among others

"
In fact, in the first days of this month, the Government included a new exception to comply with social, preventive and compulsory isolation and the prohibition to move. These are women and people from the LGTBIQ + collective who must make complaints "regarding acts of violence or who seek help, assistance or protection due to the situation of violence they are experiencing."
With federal scope
In a month, "We take care of each other"
raised 400,000 pesos in donations and reached 15 provinces with 1,270 food kits and cleaning products

. The campaign has the support of the United Nations High Commissioner for Refugees (UNHCR) and the International Organization for Migration (IOM), since one of the groups most at risk is migrants and refugees. In recent weeks, they assisted 170 lesbian, gay, bisexual, and transvestite and trans migrants.
Another inactive that emerged almost as a reflex act to the situation, is Teje Solidario

, a proposal of the
Trans Mocha Celis Popular Baccalaureate

. The trigger was the hundreds of messages asking for help that, during the quarantine, began to reach the cell phone of Francisco Quiñones, the high school director, as well as the rest of the teaching team.
We all have trans neighbors with whom we can forge bonds of friendship. It is not giving what we have left over: everyone needs everyone and plays a role, which tomorrow may be the other way around
Francisco Quiñones, Trans Mocha Celis Popular Baccalaureate
"It was necessary to organize the response because the demands were many.
We made an open call to those who would like to contact a trans person and help them. So we started to make the matches

"Francisco says. He clarifies that the network is not based on the logic that" one gives and the other receives ", but on mutual care:" We all have trans neighbors with whom we can forge bonds of friendship. It is not giving what we have left over: everyone needs everyone and plays a role, which may be the other way around tomorrow, "says the director of Mocha Celis.
There are two ways to collaborate with the proposal:
making a one-time donation

(the suggested amount is 100 pesos)
or joining as godfather or godmother to make a purchase close to your home and bring it closer to a trans person

live within a ten block radius. For this, the Teje team marked on a map of the CABA and the province of Buenos Aires the location of the trans people they are seeking to reach (today there are 600) and the godmothers and godparents (200).
The third leg of the solidarity triangle is made up of donors

who make their contributions to the organization's account: with that money, the volunteers pay for the purchases.
"I have to confess that I always thought I was self-sufficient, of those people who say: 'I can do it alone.' But I was wrong." Claudia Falcón's voice comes from the other side of the phone, from the apartment she shares in Belgrano with her husband, Martín, and her mother-in-law. She is 42 years old and is a redhead with big eyes and an easy laugh.
Like many trans women, the quarantine cut off any possibility of entry.

It was in a WhastApp group that a friend contacted her with Francisco. A few days later, Juan Manuel (40) and Abril (23) appeared, a couple who lives in the same neighborhood and who
and they became their godfather and godmother. Claudia calls them her "Guardian Angels".

"They are part of a solidarity network where many excellent people work for the good of every trans woman who suffers from food, medication and even eviction problems," sums up Claudia, who cannot find the words to say thank you. She grew up in Corrientes and at nine years old she had already discovered her gender identity. "My parents always knew it and accepted my change without problems. I cannot complain: they gave me a lot of love and support," she says. However, she stresses that this is not the reality of many trans women.
In 1996, Claudia was the first trans girl to participate in the official Corrientes carnival, opening the way for those who followed.
The artistic world was always his thing.

Among other things, she studied drawing, painting, singing, harmony and composition, and worked as an announcer on various radio stations. In 2002, already settled in Buenos Aires, she produced her first album, "La intuición", and adopted the stage name of
However, he says that today his economic situation is more than tight and he is not currently working

. "With this problem of the pandemic everything stopped, seriously affecting me. My partner, who is also an artist and teacher, is out of a job, and my mother-in-law receives the minimum retirement," says Claudia.
In moments like this, where the virus drives us away, locks us up, individualizes us, a collective and supportive response seems more than important to us.
Juan Manuel and Abril, godfather and godmother of Claudia
When Juan Manuel and Abril found out about the network, they felt it was an opportunity to participate from their place. "We are concerned about all the people for whom the quarantine, more than a moment to watch series,
means the anguish and uncertainty of how to sustain yourself day by day

"says the couple." At times like this, where the virus drives us away, locks us up, individualizes us, a collective and supportive response seems more than important to us. From where we are, there are always possibilities to build networks ", they assure.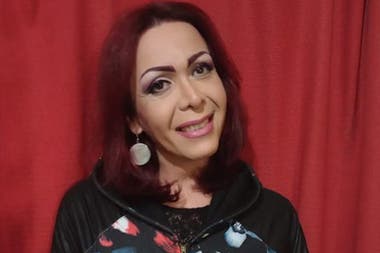 Although in recent years there have been advances in the regulations, such as the gender identity law (passed in 2012),
trans women continue to be one of the most violent and marginalized groups.

One of the main claims of the group is the
implementation of law 14,783 on the trans labor quota

(known as the Diana Sacayán law), of the province of Buenos Aires, recently regulated. In addition, the sanction of a standard is being promoted at the national level.
"
The trans and transvestite collective has always been socially isolated due to the lack of access to work and basic rights. What the pandemic did was deepen it

"Tobaldi points out. Among other projects, today La Rosa Naranja accompanies in the Public Ministry of Defense a Literacy, Basic Education and Work Program (Paebyt). In addition, they advise on registry changes, court cases and offer job training workshops.
The housing emergency that many trans women experience is alarming. Many share rooms in hotels in Constitución, Once or Congreso. "The bathrooms do not have good drains, the rooms are raining, there are no fitted kitchens. The conditions are appalling and it is naturalized because women have no other option. Furthermore, they pay dearly because they have no guarantees and nobody wants to rent them," Quiñones points out. .
For Marisol, the expulsion from her home was the first of many. As it dominated, the rest of the institutions did no more than replicate this form of violence: it was excluded from education, health, the possibility of having a blank job, of accessing decent housing. She remembers that she had to leave her family's house, she lost her job as a pharmacy assistant, something she loved. When he fell into prostitution, he said it was a job.
Today, like many other abolitionists, she considers it to be the result of poverty, marginality, and a meat grinder.

The different work categories should give us a place where we can grow, live and grow old feeling safe, and being able to enjoy a life without prostitution.
Claudia
It was a colleague who first invited her to La Roja Naranja. There he met Marcela Tobaldi: "I met a person who cared about the rights of transgender women. We decided to have a space to summon companions and meet to fight for our rights, empower ourselves and get ahead demanding public policies," says Marisol. Her dream is to get a decent job, as a pharmacy assistant or receptionist. "
When I earn my blank salary, to prostitution I say 'bye', to stay in a past that I no longer want to know

"says Marisol.
For Claudia, the social and economic inclusion of trans women continues to be the main challenge. "We continue to be vulnerable in infinite aspects. The different work categories should give us a place where we can grow, live and grow old, feeling safe, and being able to enjoy a life without prostitution, integrated into society where we can reach old age," he maintains. Her desire is to live from what she loves the most: music, acting and art.
"I wish I could say, 'I did it, I forged my future.'"

concludes.
.


Publicado en el diario La Nación
(Visitado 10 veces, 1 visitas hoy)