When Soledad Cocini was 19 years old, she was imprisoned in the Ezeiza prison for a drug trafficking case. In addition to the pain of confinement, he was the victim of an attempted murder that left deep marks on his body and had to mourn the death of his father, from whom he could not say goodbye. Today, eight months after being released, this young woman managed to turn the page and study to become a teacher of Physical Education. Finding the right direction and getting ahead was possible, to a large extent, thanks to a group of people he met while in prison: the volunteers of the foundation
Returning home.
This organization, which works for the inclusion of those who are deprived of liberty or graduates from prison, contained it in the most difficult moments and gave it tools to design a more solid life project, far from crime. Currently, Soledad (22) feels an enormous appreciation for the foundation that accompanied her to survive "the worst hell", and assures that although "many people who go through jail goes off", she did not lose her essence.
During the three years she was imprisoned, Soledad concurred "religiously" to the spaces of personal development and psychological containment that she organizes 22 years ago Returning Home, both inside and outside the prison, with a reach of 190 people per week. In addition to the IV Women's Complex where Soledad was, they are present in the Federal No. 1 and Unit No. 31 of Ezeiza.
There, every Friday, a group of counselors offers group workshops with focus on dialogue. Through creative activities such as stories, songs, mandalas, meditations and other playful proposals, they work to make the inmates aware of the causes that led them to the current situation, discover their strengths and find reasons for change. Those who participate in this space describe it as "a place where the madness of the prison disappears".
One of the great results of Returning Home is that it managed to reduce to a minimum the level of recidivism of the people it accompanies. Of those who have already gone through their workshops, only 9% returned to commit a crime, while according to estimates of the Red Creer – formed by organizations that work with people deprived of freedom and released – recidivism is 54.4%.
Mabel Carrera (63), counselor and volunteer, explains: "We breathe and meditate with a Tibetan bowl, everyone enjoys it since it helps to lower the level of violence and generates greater openness". For her, inmates and graduates of penalties are a priority "full time", and is always attentive to any of their needs, from celebrating their birthdays to get school supplies for their children or the remedy of a family member. The support they provide is personalized and transcends the workshops.
"The most important thing is to help them recognize themselves as people, because many of them, due to their painful stories, lost that possibility." We dealt with different topics such as resilience, respect, family re-association, addictions and acceptance. what is needed, there are spaces for individual containment, "says Mabel.
"Feeling so alone but knowing that someone cares about you, changes you, because for the system you are a number more," says Soledad, who is from Corrientes and returned to her hometown to reunite with her family. "After being in prison, you think that society is going to discriminate against you and they give you hope that you can improve yourself, channel your life and that there are no obstacles to what you propose," he adds.
Outside doors

In addition to intramural work, the NGO continues with the workshops on the outside, to accompany them in the reintegration process. They fight to fight the causes for which many fall again, among them the return to vulnerable contexts, social stigmatization, the difficulty to get a job, non-existent or worn out family ties and addictions.
At first this accompaniment was done by hand, but then systematized the task. "Although the context of confinement is very hard, they have their needs met, leaving them facing a difficult reality: having to support themselves, and many have no place to live or lost their bond with their families. ", they maintain from the foundation.
As they did with Lorena Núñez Romero (39) who remembers exactly the time she was imprisoned for theft: two years, seven months and 21 days. For her, "someone who goes through jail is broken," that's why it's important to give opportunities. "You blur as a person and activate defense mechanisms that lead you to cut with laughter and affection, but in the workshops is different, because they see you as a person," says this woman who is finishing high school, dreams of continuing straight criminal and is the mother of three children.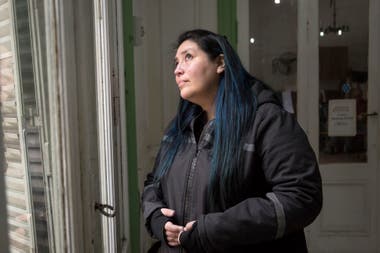 In 2012, after being released, he had to face an operation for a brain tumor that involved a long recovery. The volunteers helped her get a home near the hospital and became an unconditional support. "During the entire month that I was hospitalized, there was not a single day that they did not visit me, they are part of my family," she expresses with emotion.
In the groups outside the jail, Lorena found the necessary help to adapt to the new life. Today, six years later, he returns to this space from time to time, when he feels the need to do "a spiritual service". There, in addition to psychological containment, occupational therapists offer career guidance. In turn, the groups are open to relatives and serve as a "mirror" of those who have already had the same experience.
For her the level of recidivism of those who are assisted by Returning Home is low because "they show you that you have possibilities and accompany your desire to change". In this sense he confesses: "If you have the will, but nobody accompanies you, you start throwing handfuls of drowning, it becomes very difficult without a network of restraint."
Lorena reveals what led her to do the click: "At one point I said to myself: 'What do I do? Do I feel like crying or building something based on what happened to me?' And then I thought: I already destroyed several things, I will not have gone through this in vain, no matter how old or how long it takes, I will achieve it. "
The recipe for group spaces

Spaces of personal development and psychological containment through the power of speech and listening in community
Use of didactic resources such as stories and songs to deal with different themes and values
Meditations and breathing exercises to reduce the level of stress and violence
Construction of a life project away from crime, which allows them to become aware of the reasons that led them to the current situation
Family re-association of worn or non-existent relationships
Listening among peers to learn from the experience of others
Development of skills that help them to know their strengths
Personal accompaniment both inside and outside the prison
Orientation for training and work release
Accomplishments of Coming Home

They managed to reduce to 9% the criminal recidivism of the people they accompany. "Recidivism does not only have to do with economic opportunities, if you do not do deep work from the inside out, focused on personal transformation, it is impossible to sustain change"
Personal accompaniment to 190 people per week. "We build a very strong bond that starts in jail and continues outside, it's like a hand-to-hand brand, they know we're present and we care about them"
Violence decreases in penal. "Improvement of the climate and thanks to the workshops, they become agents of change, a person who learns not to be violent, when they provoke it does not respond aggressively but uses the word, and that generates another climate in the coexistence within the prison"
Red BELIEVE

The
Red CREER is a collaborative and multi-stakeholder space made up of more than 30 organizations from the public, private and social sectors, for the design, implementation and evaluation of different initiatives of collective impact aimed at the socioeconomic inclusion of people deprived of their liberty. released and their direct environments.
Through an articulated strategy, it works to visualize the problem and achieve a change of cultural paradigm, promoting social and labor inclusion and the development of inclusive businesses. Currently, it carries out pilot projects of associated management in Unit 54 – Florencio Varela (SPB) and Complex IV that have as recipients those people who are close to being released.