LN – Only one in 10 Argentines believes they have to do something to eradicate poverty
In times of crisis such as 2001, the floods of La Plata or the growth of poverty,
an "emergency solidarity" arises in Argentines that translates into large manifestations of aid and donations. The visibility of these engagement spasms is installing the idea that "we Argentines are supportive". In fact, according to the study "Poverty in the eyes of Argentines" prepared by the consulting firm Voices! In April of this year exclusively for the National Invisible Networks project, the vast majority of Argentines (eight out of 10) declare that they feel a supportive person.
"I tend to think that when Argentines evaluate their own solidarity, they do so thinking about their actions with their family and friends, which tend to be quite numerous, powerful reference groups in the country and source of great satisfaction. And from that perspective they have reason. On the other hand,
they think about their reaction to catastrophes or tragic events, moments in which people tend to mobilize a lot to collect goods and move them. These passionate and unsystematic reactions are very typically Argentine and it is real that they are part of the solidarity being, " explains Constance Cilley, director of Voices!
Eight out of 10 Argentines declare they feel supportive people.
But is this commitment sustained on a day-to-day basis? International comparative studies in general show that when concrete variables of solidarity are measured, such as the index of volunteers and donations, Argentina does not rank at the top of the list. The study of Voices! reflects this trend:
only 7% of Argentines declare to collaborate in an NGO.
"There is low channeling of this solidarity through institutions and one of the central reasons is that we suffer from a crisis of visceral distrust that not only includes institutions but also occurs at an interpersonal level. Taking out family and friends, Argentines do not trust .
And this is an important barrier to solidarity"adds Cilley.
40% of Argentines feel sad at the question of what feeling poverty causes them; followed: concern (38%), the desire to do something (28%), impotence (27%), anger (20) and empathy (11%).
For Juan Pablo Gasme, coordinator of the Institutional Development Area of ​​Cáritas, the challenge is to re-educate the solidarity look and generate new devices to channel social change.
"We see that in Argentina there is a lot of solidarity potential but that at times it is anesthetized.
We stay in theoretical or crack discussions, which are more about commenting on reality than on intervening in it. I refer to the crack understood as the narratives that society is making to explain why what happens to us happens. Believing that humble people are vague is not true, in my building there are also vague people, "says Gasme.
We stay in theoretical discussions of the crack.
Juan Pablo Gasme
It is interesting to analyze what happens to the social commitment of citizens when we are not already talking about "putting out a fire" but about helping other people to get out of structural poverty. To achieve this goal,
It is not enough to make sporadic donations of money or species, but it requires direct and sustained contact with the beneficiary.
"I think that the emotional commitment that requires listening to someone who needs is something for which not everyone is prepared. Emotional capital can be asymmetric against economic capital. Donating money is valuable, but it has the characteristic of being blind. The donation of time and personal support, along with money, requires opening your eyes and perhaps not being able to close them anymore, "says Enrique Valiente Noailles, philosopher and executive director of the Navarro Viola Foundation.
77% of Argentines recognize that the poor are discriminated against, but in parallel there are deeply installed prejudices: 58% of the population thinks that the majority of young poor people consume drugs and alcohol in excess and are violent.
Indec reported that in the first half of 2019 the number of people below the poverty line grew to 35.4%.
The figure represents some 15,9,000,000 people across the country – about 3,800,000 more than the previous year – whose income is not enough to cover basic services.
There are many who need help. And beyond the undeniable responsibility of the State in the task of reducing poverty,
What role does each of the citizens have? It seems that little. According to the same survey, only one in 10 Argentines feels they have to do something – on a personal level – so that there are fewer people in poverty. The State, with 80%, is designated as the main responsible for solving this scourge, followed by society in general (30%) and companies (17%).
The ways to help

"There is a feeling that everything that is built in the micro effort, sometimes for years, can be disrupted by macroeconomic decisions or macro policies.
The solidary anthill that takes effort to build is sometimes trodden in an instant by the bestial trace of errors or bad government measures. That creates a priori discouragement, "says Valiente Noailles.
One of the possible explanations for the inaction of Argentines is that
They see poverty as something immense, and when the problems are so great it is sometimes more difficult to address them. "When faced with poverty, many Argentines feel fear. Fear related to insecurity, fear of the person in poverty stealing or harming them. But also a deeper fear of becoming poor. When faced with someone in their situation they project their personal nightmares and freeze, "adds Cilley.
When Argentines face someone in poverty they project their personal nightmares and immobilize.
Cilley
Another of the variables to analyze is the type of help that Argentineans provide.
According to this study, what might be called "welfare" predominates. Although 89% declare that they carried out some action to help alleviate poverty, the main actions are more linked to the donation of goods or money than to a long-term commitment. 73% of people said they donated clothes, toys, food, medicines and supplies; 49% have brought food to a person in a street situation and 36% have given money to a person in a street situation.
11% of Argentines believe they must do something so that there are fewer people in poverty. "I, from my place," received one in 10 mentions. The vast majority of Argentines point to the state as the main responsible.
Although from Cáritas they confirm a growth in volunteering, Gasme points out that in general
People prefer to make monetary contributions, or donations of clothing or food rather than approaching neighborhoods. The 2019 collection of this entity was better than last year under the message that "sharing transforms lives".
"We aim to make volunteering grow, with a more humane look towards poor people and with specific projects. In any voluntary experience we seek to question people. In order not to be merely sensitized, it is necessary to leave ourselves to leave Touch for the other.
When you really generate a link with the poorest, I think that is transformative. "says Gasme.
89% of citizens said they had taken some solidarity action: donations of material goods such as clothing or toys appear as the most popular, they continue to give food and / or money to people in street situations.
Unfortunately, this contact between disparate worlds happens less than necessary.
Only 20% of people said they had a long-term commitment to help a low-income person study or get a job. This is, perhaps, the best bet so that they can break with the circle of poverty, which in general is transmitted from generation to generation.
"The generic overwhelms, and leads to both distance and inaction. That's why
you have to bet on the concrete, the bounded and direct link, which has the value, in addition, of breaking down prejudices and building trust ", concludes Brave Noailles.
Narrow the gaps

One of the ways to denaturalize poverty and break prejudices towards people with fewer resources is through empathy. The worrying thing is that only 11% of respondents said they had that feeling. "With empathy, cultural prejudices dissolve, the presence of a poor person is perceived as less threatening, the perception of cultural, social and even economic distances is reduced, and a more egalitarian interaction is promoted," Cilley explains.
Not everything is lost. There is an invisible tide of Argentines who feel responsible for narrowing the social gap and
They roll up their sleeves every day to give people with less resources more opportunities.
This is the case of the sisters
Carolina and Marina Reymundo Roberts, who along with their families and friends travel every Christmas to Santiago del Estero to
distribute donations and share the holidays with the inhabitants of the most vulnerable places. Or that of
Carlos Huguet, who is 96 years old and
He doesn't want to die without having done something to solve poverty.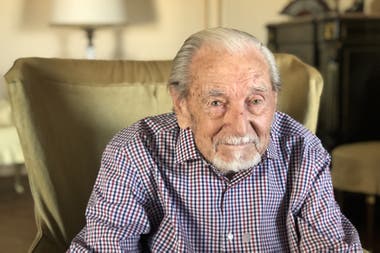 "I am one of the 10 Argentines who feel they have to compromise. I want to find the other nine to convince them of the obligation we have as Argentines to do something to reduce poverty, which is not just a humanitarian gesture,
but an action to recover the Republic "sums up Huguet.
(tagsToTranslate) Only one in 10 Argentines believes they have to do something to eradicate poverty – LA NACION


Publicado en el diario La Nación