LN – Married friends: they founded a center that already attended more than 100 malnourished boys
"Transform the lives of our neighbors"That is the motto that united two years ago a group of nine friendly couples from the northern part of Greater Buenos Aires. Most of them live in private neighborhoods such as Santa Bárbara, Pacheco Golf Club and El Encuentro and when they passed through the Bancalari corridor every day to take their children to school, they could not turn a deaf ear to a reality that stunned them: difference between their quality of life and that of their neighbors,
where one of the main problems was the severe food deficit and its consequences.
Then, they set to work and founded the civil association Nutriendo, with a center that already served more than 100 undernourished children.
In mid-2016, at a weekly women's prayer meeting, Rosario Naón was encouraged to express aloud a wish she had long ago: to establish a center with the Conín methodology – devised by Dr. Abel Albino – to fight against malnutrition Children in the town of Bancalari. "I was working in the playroom in the neighborhood and I saw all the needs they had. As my sister founded a center in San Antonio de Areco, I was convinced that that was what was needed here too," he says.
To his surprise, everyone present gave him a blunt "Yes" and was in charge of summoning their husbands as well: "They immediately turned on, formed a management commission and we began to take care of everything operational," explains Rosario.
In November of that same year, three of the members of the group left for Mendoza to train. Also for that date, they were in charge of getting a place where the center could be located. A neighborhood priest heard about his project and offered them to settle in a kindergarten that was out of operation. "We were barbaric because it is large and everyone is close. In February 2017 we began to refurbish it," recalls Rosario.
After a month, the group of friends was already doing surveys and inviting mothers and children under five to weigh and measure themselves with a pediatrician from the center. "Those first days I was very surprised that they called themselves. They heard that there was a doctor here and they came without hesitation," says the volunteer.
The first few days I was very surprised that they called themselves. They heard that there was a doctor here and they came without hesitation.
Rosario Naón, volunteer.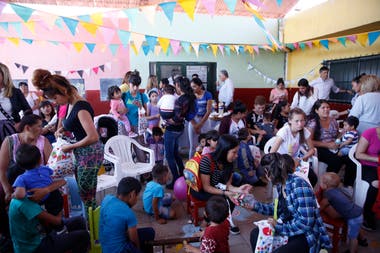 "The first day, the mothers of the boys did not greet us. They were distrustful and marked a distance with us," said Florencia Bianchi, who is part of the founding marriages of Nutriendonos and also serves as an early stimulator in downtown Bancalari. Nevertheless,
As time progressed and professionals in pediatrics, nutrition, social work and psychopedagogy were attending to the needs of the children and mothers who approached, they managed to generate "an environment of equality." "We realized that we all have the same concerns: we are tired, we take great care of our children and we are always on the run," says Florencia.
The center operates on Tuesday and Thursday mornings. While the boys remain in the stimulation room and games with their teachers, the mothers participate in workshops for human promotion, health education, literacy and craft workshops. "All this dignifies them, because they learn how to take care of their family and also become more responsible, they have to comply with certain schedules," says Rosario. In addition, health professionals develop a treatment, monitoring and stimulation plan according to the needs of their children:
"The idea is that moms can continue their care from home." To do this, every week they are handed a bag of basic foods (oil, sugar, milk, tuna, noodles, rice) together with a food model.
The center operates on Tuesday and Thursday mornings. It has workshops on human promotion, health education, literacy and workshops.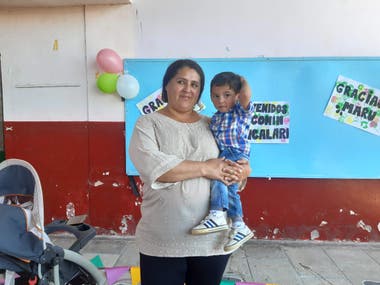 Nourishing us has served 139 boys from the Bancalari corridor, along with four pregnant mothers.
In addition, last year they expanded their doors and in October they created a center in Benavídez, Tigre party, where 19 children and a pregnant woman attend, and at the end of November they opened another one in La Merced, San Isidro party, where they serve 12 boys .
Most of the boys arrive at the center with a diagnosis of chronic or acute malnutrition and some of them, due to social risk.
"It's amazing to see the boys change. 75% of them arrive malnourished and leave here with solutions to develop throughout their lives," says Florencia. As for mothers, when they finish the treatment, many of them become referents in a certain area and continue to collaborate in the center, such as Vanesa, who was discharged from her children Jesus and Ines in early November but continues to attend the Center cuisine on Tuesdays and feel that not only did they help her but
"that reached my heart".
For more information on Nutrition, go to: http://www.nutriendonos.org/. If you want to add your help to this project, do not hesitate to write to them: [email protected]

. (tagsToTranslate) Friendly marriages: they founded a center that already attended more than 100 malnourished boys – LA NACION


Publicado en el diario La Nación