Omar Gutiérrez gets up every day in a Flores pension with an obsession: to become the first lawyer of Misión Chaqueña, the wichi community in which he was born 25 years ago. The 5000 inhabitants of this Salta village, located almost on the border with Bolivia, need it with their title under their arms, with knowledge and tools, because they have no voice.
"I am studying law because I see a lot of injustice against us, the State does not arrive and we are more vulnerable," explains Omar, who knows a lot about trampled rights. That is why he put on the "prodigal son" costume and had the courage to leave everything he knew – the mountain, nature, his family, his customs, his language – to go to a maddening Buenos Aires that reminds him every day that "it is not from here".
Omar was born on an adobe ranch, amid the smell of wet earth and the river. It is the third male child of a marriage who always went through them making crafts and furniture to feed their children. When there was no other option, they went out to hunt an animal or fish in the river.
"We boys played with clay, making dolls, because we did not know the toys, our parents did not have much economy and we used wooden sticks as weapons to play war," recalls his brother Livio, a few years older, in the visit that he made LA NACION together with Omar for this note.
Theirs is a very small world in which families lack everything: food, drinking water, asphalt roads, gas, health, tertiary education and work. But what is most needed is hope and better options for the future.
From wichi to "porteño". Meet the story of Omar
05:12
Omar's dream of knowing "the outside" to go to college was only possible thanks to an unthinkable friend: Martin de Dios – a boy who appeared one day in the community on a solidarity trip with his school, the Florida Day School – and a group of companions and people who joined to give him the support he needed to face uprooting.
This story of perseverance and resilience integrates the third installment of
Invisible Networks, a project of LA NACION that aims to show how prejudices limit the opportunities of the most vulnerable youth, and reinforce their situation of poverty.
Omar is a born fighter. His way contradicts the belief – shared by 54% of Argentines, according to the study that Voices! It was exclusively for LA NACION- that if poor people worked harder, they could escape poverty.
He learned by stumbling blocks that he could not reach only with his will. We also need resources, contacts, a helping hand, advice and many other things. And even with all that guaranteed, it is still difficult for him to make ends meet or understand what teachers say.
"I just could not have, luckily I found good people who never left me," adds Omar.
At some point in high school, Omar, who was a standard-bearer, he realized that he did not want to be a carpenter like his father and that education was the way to rebel against a system that he felt, and feels, oppressive. "Omar always wanted to study and to progress in life beyond the difficulties that were presented," says Víctor Hugo González, the director of his high school who always encouraged him to bet on a better future.
The priority was to eat and that is why all the Gutiérrez children started working as teenagers. Omar's family had set up a system so that they did not have to sacrifice books: everyone worked so that one could continue studying; when this was received, "the scholarship" went to the next.
"When my older brother studied, the two youngest boys had to work, when he received a bilingual teacher, he started to study the middle one while the others worked, now it's my turn, the difference is that I came to Buenos Aires and the costs are very high, "explains Omar, who had to ask his parents for permission to leave the community.
The logical thing would have been to be told no. There they feel safe, they help each other, they share the same values ​​and beliefs. But they decided to bet on him.
"I let it go because Omar has a development in his head that can be useful for us, we do not have good advisers who are from the community, who fight for us and our rights," says Martín Gutiérrez, his father. Her mother, Tercilia Palacios, adds: "Here there is no progress, we want at least one child to be able to study because we are tired, we do not have studies, there are many people who suffer and always pass us by".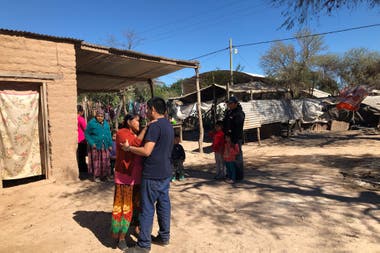 Against all the forecasts (only 0.6% of the young people of the marginal working class finish their university studies according to the Observatory of the Argentine Social Debt of the UCA), Omar made several attempts to start the university in Embarcación, in Salta capital , in Córdoba and in La Plata. But I did not have a network, I did not get scholarships or work and I did not know who else to turn to.
Only when Martín and his schoolmates armed the NGO
Lewet Wichi to help guys like him, those difficulties that seemed unapproachable, were unlocking. "I was very impressed by Omar's dream, because it was very easy for me to study, I only had to take a vocational course and choose a career, and for him it was not just a vocation, but a financial one, housing and barriers of discrimination, and it got into my head that I wanted to give Omar the same opportunities that I had, "recalls Martín De Dios, still surprised by Omar's determination.
Martín activated his entire network of contacts in order to give Omar the opportunity he deserved. His mother works at the University of Flores, and got him a scholarship within the program that the university has within the framework of its social responsibility. Victoria Pol, a former classmate of the school, gave her work during the first months in her company and chose a pension close to the faculty.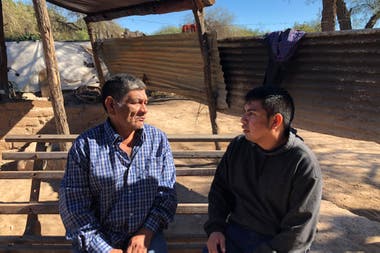 Buenos Aires, a jungle

The basics (home, food and work) so that you could go to study in Buenos Aires was solved. Omar took the first plane in his life, towards Aeroparque, in September 2016. The impact was brutal. The cultural gap was so great that it cost him everything – and it costs him – three times.
Omar is a blend of his wichi identity – he has a natural time of his own, he is shy, he laughs, covering his mouth, he has an enormous ability to listen – and what he is incorporating from the "creole" world. "They are two different worlds, we speak softly and everything is done in slow motion, arriving in Buenos Aires was like entering a jungle, everything happens in a fast camera, people talk, eat and walk fast, it was a sudden change. everything and I'm still here, "he says.
The most difficult thing is to be away from yours. In wichi culture family and tradition are the most important. Omar misses them every day and can only visit them once a year.
"It is very difficult to be away from the family, it is a sacrifice that is made, every time I return it is like I recharge the batteries to continue fighting and studying," says Omar after hugging his mother for five minutes in farewell the city of Buenos Aires. When she left, she is the one who called him every day to help him wake up to go to work. "I stayed until 1 in the morning studying and I got up at 5:10 to get to take the collective," Omar explains to put his sacrifice into words.
While they are with them they squeeze it to the maximum and everyone listens to it: Omar tells them about his new life, his difficulties, that he is happy because he approved the last partials. He is also a magnet for all his nephews who fight to be at his side and play.
"My mother taught me that we have to follow dreams, that we should not leave, if I left now I can not go back empty-handed, my parents will not be able to work anymore and they have faith in me. I hope I can have a job to keep them, "says Omar.
During the first year of the faculty, it was very difficult to follow the classes. I was overwhelmed. Spanish is his second language and he had to translate into his head every sentence that was said to him. He recorded the lessons and he listened to them later more calmly in his house. "It's a great effort for me to handle myself in Spanish, I finish exhausted, and in the second I decided to start raising my hand and asking, here you have to scream because if nobody listens to you, if you're introverted, you're a ghost," he says. an Omar more empowered and that at his pace was approving some subjects.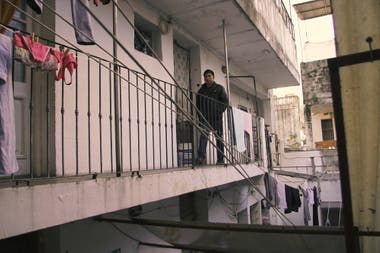 Substitute family

Two and a half years ago that Omar lives in Flores, far from his own. It is still adapting to the constant noise, the traffic lights, the language and the rhythm of the city. Here, he found another substitute family that accompanies him and guides him in each step he takes.
"As soon as I heard that Omar was looking for a job, I asked my father if he had a factory if we could use it, I knew that he would be in good condition and that he would be treated well," says this young woman who had also traveled. Chaqueña Mission and had been impacted by the needs of the place. Today she is a friend who took Omar to the theater for the first time and brings him closer to the world of culture.
The support network was also joined by Juan Carlos Carretero, the director of the career of Advocacy at the University of Flores and who gave him a new job in his legal and accounting firm. "We are in contact every day beyond the employment relationship, the idea is to contain it, to be present, not to feel alone and to know that there is someone for anything you need," explains his boss, who gradually gave him more responsibility.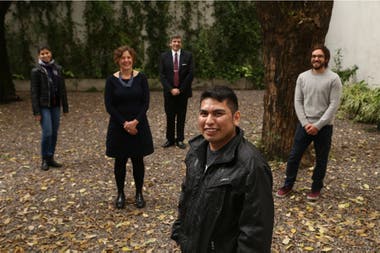 Omar does not have a free second: he works in the morning, he studies in the afternoon and in the evening he goes to the university. All his salary goes to pay for the family hotel where he lives. The rest of his expenses are covered by some "padrinos" that he added, like María Laura Tinelli, an Argentine living in London who knew her story thanks to a friend.
"Omar inspired me because he wanted to study so he could change the trajectory of his community, so investing in it is the best option that can be done so that throughout his life he can change the reality of his people. to support catalytic agents like Omar, "says María Laura, who at a distance is dedicated to finding more tutors and sponsors to support this cause.
Omar and Martín are the same age. They come from different worlds but that did not stop them from becoming great friends and having a bond of brothers. "His mother is like a second mother to me, he always invites me to play ball or eat barbecue with his friends." Martín also helped me a lot at the beginning of the race because he is a lawyer, he lends me the books and I have a group of His companions who give me private lessons, they are holding me back because if one is alone, he can not, "says Omar, moved.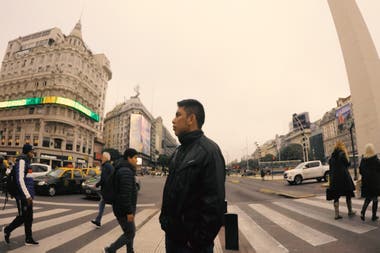 His life story is an example for other kids in the community who want to follow in his footsteps: there are already two young people from the community who, thanks to Lewet Wichi, settled in Buenos Aires to study and work.
"It's like I have two lives, I have to live the life of Buenos Aires while I forget about the mission, and when I'm there, I forget about the one I'm in. I know I should not let it go. I do not do it for me, but for my community, "concludes Omar convinced.
JOIN INVISIBLE NETWORKS

Omar needs a lot of support. You can help by joining as a sponsor to cover your daily expenses, as a tutor in academic subjects, getting a place to live or being a reference in Buenos Aires. If you are interested, get in touch with Martín de Dios, founder of the NGO
Lewet Wichi, at 54911-6045-3266 or visit his Instagram page: @ lewet.wichi
.



Publicado en el diario La Nación
(Visitado 1 veces, 1 visitas hoy)