LN – "Hunger can't wait." How is the situation of the boys in El Impenetrable
"We have nothing, neither flour nor sugar. Today we don't have lunch," said Gisela Martínez, of the Wichi ethnic group, a 14-year-old skinny teenager, in Lot 48, in the heart of El Impenetrable, when LA NACION visited the year past. It was a weekend, and he hadn't been to school, which assured them breakfast and lunch Monday through Friday.
Dressed in blue tights, a black T-shirt, with drops of sweat running down her forehead from the unbearable heat and the hair ruffled by the dry wind, she said she was in the care of her grandmother, and they lived in a house of material piled up with her uncle and his cousins. His mother, Norma, slept in a sheet metal container, located 20 meters away, with her new partner. "We have no light, no water, no bathroom," he said.
Gisela was one of the protagonists of
Hunger for the Future, a LA NACION project that during 2018 put the issue of child poverty on the agenda and showed, in the first person, how children are in the most vulnerable places in the country.
Like many of the boys in the area, Gisela was late in her educational career, and that's why she was just in 6th grade at school No. 1034, annex lot 58. "I like letters and numbers. When I grow up I want to be teacher, "he said. His brother Daniel, 20, was finishing high school and had the dream of starting to study to be a bilingual intercultural teacher in the city of Juan José Castelli.
They survived with their grandmother's pension, raising some animals and what her mother, Norma Martinez, could sell by making handicrafts such as wallets and cassava backpacks. On the future of his children, he said: "I always advise you to continue studying so that one day you can be teachers and be better than us."

A year later, LA NACION returned to Lot 48 and found that its reality remains equally precarious. The family income remains lean, they have neither electricity, nor water nor bath and there are days when they barely have enough to eat.
"There is a lot of need here, especially in relation to electrification, housing and health. When we ask for water, the municipality takes up to three weeks to bring it and we have to go looking for it at a dam that we have here in our field. Today we have a single tank and we need another to save more water. We made several requests to the government for the issue of light, and there was no case so far. We could have light through a solar panel but it costs $ 10,000 and then $ 2000 per month "complains Daniel Martínez, his brother.
Thanks to the published notes they received donations of food, beds and mattresses for the family. But the lack of substance continues to limit its future.
"The situation is worse than before. We are waiting for help but it does not appear. We need a little house for me because I am living in the sheet metal container but it is very hot. I don't know until when I will stand there," says Norma.
Today it rains and that leaves the community adrift of everything. Teachers cannot arrive and the school does not open its doors. That means that the boys go hungry. "When we are not there, they do not eat. When there are stoppages or it rains, it is a day that they do not eat. These children are malnourished from the belly. We arrive at lunchtime and you do not see movement of pots or someone who is cooking something. Time goes by and they still don't eat, "says Adriana Craniolini, director of the school.
Los Martínez – a large composite family scattered in eight homes – are already tired of waiting for some day to connect them with electricity or light. The only hope for them is education. Gisela – taller and with all blond hair faded – is in the last grade of elementary school. "What we want with Gisela is that she can finish high school and can start with the tertiary level, make something of her life. But it is more difficult with the woman because as soon as they develop they are already destined to be a mother and ready. a more patriarchal culture, man is the most provider and is the one who can study and work, "Craniolini explains.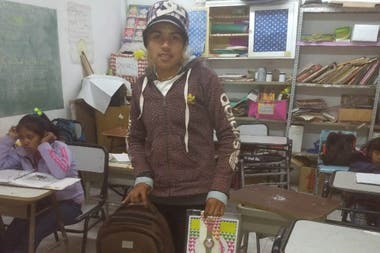 Daniel has already started that path and is in the first year of the tertiary to become a bilingual teacher, in Juan José Castelli, which lasts four years. He really wants to and is very applied, but he plays against isolation and roads. Last week it rained a lot and he couldn't get to the institute. "As I ride a motorcycle and a bus, it is impossible for me to get there. It makes me very angry to miss school days. When I can start working, it will be one more income for the family," says this 21-year-old who dreams of day with being able to work in some community school, to educate the youngest children in the Wichi culture and customs.
His goal of maxim is to encourage him to study law to defend the rights of his people and give them a voice. "Today there is a lot of discrimination. If you are going for a walk, the police stop you, blame you for many things and make you touch papers. We cannot defend ourselves because they have the power. They treat us as lazy people, as crotos. If we have Some health problem we go to the Miraflores hospital but sometimes they do not treat us well.In the waiting room you may have to wait more than 2 hours, they do not check you and give you pills that I do not know if they serve for the pain you have. they don't give you treatment, "summarizes Daniel.
Both brothers are awarded from the
Civil Association Godparents of Students and Rural Schools (APAER) and receive the accompaniment of the Puentes del Alma organization that helps them with everything they need. "We aim first at the school canteen so that the children do not lack food. Our task is to improve the malnutrition we saw as soon as we arrived. And the children are much better. We do a joint work to be able to attend all the families of the community, "explains Patricia Bonadeo, president of Puentes del Alma.
People who want to help Gisela and the Lot 48 community can contact Patricia Bonadeo de Puentes del Alma at + 549-346-266-3154.
. (tagsToTranslate) "Hunger can't wait." How is the situation of the boys in El Impenetrable – LA NACION


Publicado en el diario La Nación