Gustavo feels happy to have been able to "restart his life". In 2007, he suffered an outbreak of schizophrenia followed by severe depression. He was admitted to psychiatric treatment at the Agudo Ávila Regional Mental Health Center, in the city of Rosario, province of Santa Fe, and he thought he had hit rock bottom. Nothing made much sense to him: he had recently returned to Argentina from Spain, where he had left a young daughter whom he missed and did not know much about, and could not get a job. Loneliness had devastated him.
When she talks about her recovery, the first thing she relives with emotion is the moment of reuniting with her 12-year-old daughter, in Spain, after more than a decade without seeing her; then, on the day of 2011 when he met Casa del Paraná, a space for people with mental illnesses such as bipolarity, schizophrenia or depression, where he managed to get ahead. "I remember that the director approached me and said: 'You will not be alone anymore'", says Gustavo (47) today, who thanks to regaining his autonomy, could return to work in a company that sells printers and, with the money you earn there, travel to see your daughter.
The
Casa del Paraná was born in 2007 in an old house south of the city of Rosario, with the aim of helping people with mental illness to reintegrate labor and socially. Follow the model called Casaclub, which emerged in 1948 in the United States, when a group of patients from a psychiatric hospital opened the first house, known as Fountain House, in New York. The goal was to end the social and economic isolation of people living with this type of disease.
Years later, in 1990, it was created
Clubhouse International, an organization that groups and supervises the 320 houses that are located in 34 countries, impacting approximately 100,000 people each year.
"All houses must comply with international standards and are reviewed every two years," says Rita Larrañaga, director of the Casa del Paraná, the first in Latin America, which since its foundation received 155 members, all over 18 years. "The assistance is voluntary, the members go through the house and rearming their life project, with all those who participated, we have communication, although they no longer go to the club, because there is a follow-up of membership," adds Larrañaga.
Currently, the Casa del Paraná group consists of 35 active members. "Of these, 17% are going through paid work experiences, the idea is that members who did not have previous work experiences or had them many years ago, can resume working and build their CV," says the director.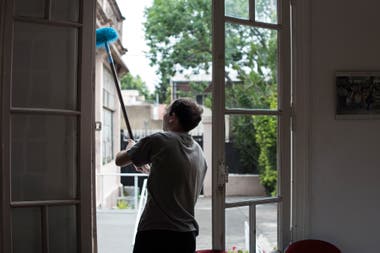 Larrañaga explains that the Casaclub does not provide psychiatric treatment, but rather, through a free membership, it seeks to help in the recovery of men and women through a participatory and joint work methodology. It is based on a daily workday inside the house, where the strengths and abilities of each one stand out and the construction of relationships is encouraged. In addition, members – as the people who are part of it are called to avoid the word "patients" – receive help to re-enter the working world.
"We support ourselves thanks to the contribution of the Directorate of Mental Health of the Municipality of Rosario, an international foundation, a campaign of monthly donors and three fundraising events that we do every year," says Larrañaga.
Jorge Baldarenas, president of Casa del Paraná, says: "Our mission is that these people can reach their maximum potential and be respected as work colleagues, neighbors and friends." In addition, it ensures that the diagnosis does not define or determine a person, but is only a part of it.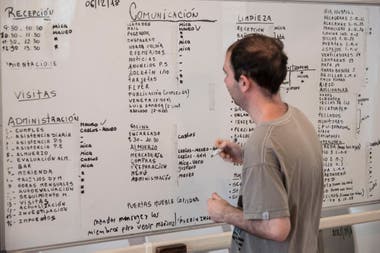 Both Gustavo and Baldarenas argue that the first thing that a person with any psychic suffering loses is autonomy. Therefore, from the association, they ensure that they can reacquire it and that staying or leaving the house is only their decision.
Among the programs offered by the Casa del Paraná are the Social Program, with recreational outings and celebration of the holidays, the Educational -with workshops of spelling, music, mathematics and computing- and Jobs in transition, which proposes to the members the opportunity to resume a paid job with the guarantee of being able to continue participating in the activities of the house.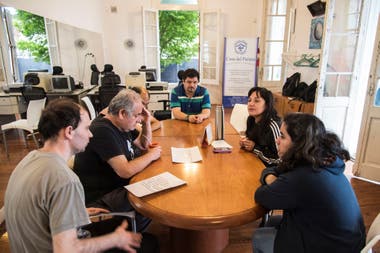 "When the house gets a job, it is available to everyone to decide who will take it", emphasizes the director and explains that, in addition, each member has a coordinator to help him in everything he needs.
Larrañaga highlights the importance of routine. Members arrive at the house at nine in the morning, meet and divide the tasks that each will perform during the day: one will be at the reception, another will be responsible for maintenance, another kitchen and one last cleaning. "We work on everyday habits and social skills, which are often lost," says the director.
Beyond having returned to work and being proud of having regained his autonomy, Gustavo emphasizes that the best thing about having been part of the Casa del Paraná were the friendships. "They are an engine for me, they are the ones who raise me when I'm about to fall," he concludes.
A new house in Buenos Aires

Based on the model of the Casa del Paraná de Rosario, a group of professionals from different disciplines created the Casaclub Foundation and will shortly begin the pilot experience of a casaclub in the Federal Capital. The initial group will be composed of between five and eight patients who will be the potential members. In this framework, in October, the first course called Family to Family – peer education – is planned and the support community will be created as a pilot experience. Those interested in consulting or supporting the service (non-profit) can be reached at 341 – 5002563/4665444 /
[email protected]