LN – He stole service stations and now works as a beachman: "It is possible to change"
It could be the script of a novel or a Hollywood movie, but it happened in the province of Buenos Aires.
Nine years ago, Matías "El Colo" was stealing armed service stations and now, after having spent seven years in prison, he works as a beachman in San Miguel, near the place where he was arrested and arrested in 2010. "I knew that I was going to change, but I never thought that I would end here and that I would like my laburo so much," he says.
In 2013, Matías Neusch Lanchi (32) was transferred from the Olmos prison, where he was serving a sentence for having committed eight robberies in the attempt, to the San Martin Penal Unit No. 48. There he joined the rugby team of the Espartanos Foundation and his life perspective changed completely:
"Before crossing with them I thought about going out and continuing to do evil things, the jail was like a school of criminals. But when I arrived at his pavilion I felt that I had entered a kindergarten. Everyone was willing to give you a hand," he says. The Colo".
When I reached the Spartans' pavilion I felt that I had entered a kindergarten.
The mission of Spartans is clear: lower the rate of criminal recidivism through rugby, education, work and the spirituality of people deprived of their liberty. When Matías finished his sentence in January 2017, he wanted to contribute his grain of sand to the cause and left "to look for work everywhere so as not to commit a crime again."
At one time, he kept three trades to take care of his two children, Lucas and Ailén, and build his house in Tortuguitas. "I was an administrator in the Ministry of Labor of the province, in a hamburger and as an intern in YPF thanks to an agreement they have with Spartans," he explains. "But as soon as they offered me an effective position at the service station, I accepted and left two others. "
"El Colo" is one of three Spartans who participated in the first edition of the Employability Program for Socio-Labor Insertion in YPF. The alliance, which is already in its third edition, has hired 17 workers who were deprived of their liberty and who participated in the activities of the Espartanos Foundation in the San Martín prison.
This program obtained a special mention in the Obrar 2019 Awards under the heading "Communication in own media or channels, Volunteering and / or sustainability or Purpose actions".
When he was released from prison, Matías "El Colo" held three jobs at the same time to take care of his children, Lucas and Ailén.
On his beginnings as a beachman, he remembers: "They put me a tutor who taught me from serving coffee, to accommodate gondolas, to load gas and gasoline. He never judged me." Although the duties of the trade were simple to learn what cost him the most was to achieve a bond with the rest of his companions:
"At the beginning, there was a lot of prejudice. Everyone believed that the bosses were crazy and had made a mistake when hiring me," Matías reveals. "But with effort, I covered my mouth and now they became part of my family. We have a very good bond." .
"First they do a kind of internship of 20 hours per week and evaluate to hire them effectively or not. The only thing they ask from YPF is to finish high school," explains Eduardo "Coco" Oderigo, founder of Los Espartanos. Currently, there are Spartans working in this alliance in nine provinces of the country.
Andrés Mosteiro, Manager of Employability and Linking of Human Resources of YPF, says that several companies have approached them in order to incorporate an alliance similar to yours with Espartanos. "They asked us fundamentally how we carried it out and what our challenges were.
We are flattered and committed to accompany other sectors because we understand that just one is not enough, "he says..
Mosteiro believes that hiring Los Espartanos in the company was beneficial as "all worked their predisposition to be better intramuro, with the accompaniment of the foundation's volunteers." And add: "
We want to look forward and not backward. We bet that the person responds to what we propose for their own good, that of their families and that of society as a whole. "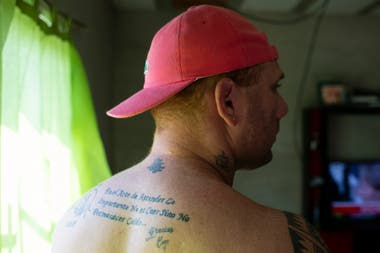 Today, two years after its effective incorporation, Matías enjoys his employment very much. He works on the night shift and in the middle of his day, always
He takes a moment to "look at the sky and the stars" and remembers when he had the same view from the San Martin prison. "It helps me a lot to value my freedom," he says.
"The Colo" managed to finish his house and buy his own car: "Nor stealing would have succeeded," he says with a laugh.
One of his desires is to be an example for his children, because he doesn't want them to "go through the same thing." His great desire: "I want them to finish school and, with effort, do things well."
I want my children to finish school and, with effort, do things right.
Anyway, "El Colo" states that his time in jail was not in vain: "You can go out, change and do a lot of things with your life," he continues. "It's hard, it takes time and costs, but it may.
Today nobody gives you anything, but you can earn it by working".
"Coco" explains that many of the Spartans are the first time they get a formal job. "They are grateful again, before they broke the cashiers and now they take out money every month from there," he describes.
"We want to provide them with job opportunities for two reasons: an altruist, to help them, and another selfish one, because if they are working you make sure that they will not commit more crimes," he concludes.
Before they broke the cashiers and now they take out money every month from there.
Obrar Awards 2019

For 10 years, the Argentine Advertising Council (CPA) has recognized with
Obrar Awards
to communicational actions that give visibility to relevant social causes, that spread positive values ​​for the community and that promote sustainable initiatives. Agencies, producers, large companies, media, SMEs, NGOs, public bodies and institutions and university students of Argentina, had the possibility of presenting their Public Good communications to the jury of 16 people.
At the ceremony, in addition to mentioning the program that YPF has with Spartans, "Coco" Oderigo obtained the Special Recognition to the Personality of the Public Goodness 2019.
Eduardo "Coco" Oderigo at the 2019 Obrar Awards.
01:13
Among the winners,
La Nación Foundation
obtained the bronze in the category "Contents of Public Good", for the multi-format research project "Hunger of the Future", which sought to put this structural problem on the agenda, focusing on children: their reality, needs and dreams.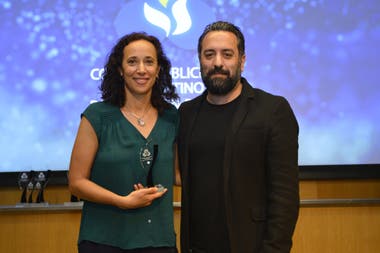 . (tagsToTranslate) He stole service stations and now works as a beachman: "It is possible to change" – LA NACION


Publicado en el diario La Nación