LN – He is 3 years old and has a rare disease: what is it like to live with SMA in Argentina?
From February to May 2018, the life of the Rodríguez Lozano family revolved around a single question: "What does Antonia have?" The 18-month-old girl began to have difficulties in her mobility and way of walking. They do not remember exactly how many doctors they consulted. "More than eight neurologists, sure," says Maria Ballestrin, the mother. Until they found a specialist who told them to do a molecular genetic analysis.
The result was decisive: the little girl had Spinal Muscular Atrophy (SMA) type III, a genetic disease that only 400 people have in the country and that has no cure.
They had the first answer, now a new question arose: "What is the AME and how is it treated?".
Spinal Muscular Atrophy (SMA) is a genetic disease that attacks the nerve cells found in the spinal cord, weakening the muscles of those who suffer from it. It can affect the ability to walk, crawl, swallow and control the head and neck.
It can even make it difficult for patients to breathe. While medicine and physiotherapy help treat symptoms, there is no cure yet. And, depending on the type of SMA, it can be fatal: some patients do not reach one year of life. Antonia (3), the daughter of María and Álvaro, has type III. It is the least serious of the diagnoses and the one with the highest life expectancy, but that does not mean that every day presents multiple challenges for the family.
One in every 6,000 babies in the world is born with AME, and 50% die before reaching two years.
Maria says that nothing about the pregnancy or the first months of her daughter's life caught her attention. Antonia was crawling and behaving like any baby her age.
However, at 18 months, the Rodriguez Lozano noticed that he was walking "weird": when he took a step forward, his hip accompanied the entire movement. "We went to a traumatologist who told us that it was something maturative and that we would return in six months," he explains. Soon, the family went on vacation with some friends and their children, who were the same age as Antonia. There, when compared to the other boys, Maria allowed herself to doubt that first diagnosis: "Call it mother's instinct or whatever you want, but I knew there was something wrong. It was not a difficulty in the hip," he recalls.
Then, when they returned from their vacations, they began the "tour of neurologists":
They consulted several specialists until finally finding the one indicated, Dr. Soledad Monges, who recommended them to carry out a molecular genetic analysis to rule out that it was SMA. "As soon as he told us what it could be, I started to googling without stopping, but my husband didn't want to know anything until he was sure," says María.
In Argentina, there are about 400 cases of SMA and it is estimated that only 120 people can access the only medicine available: Nurinersen Spinraza.
Call it mother's instinct or whatever you want, but I knew there was something wrong.
María Ballestrin, mother of Antonia.
Once they received the mail from the laboratory confirming the diagnosis of AME, the Rodríguez Lozano returned to the office of Monges, who prescribed the medication
Nurinersen Spinraza. It is the only one in the world that not only slows the weakening of the muscles but also, in patients who use it from an early age, as in the case of Antonia, can reverse the symptoms of the disease. While it is complicated for most families, Maria explains that for them it was a relatively quick process: "Like everyone else, we had to do the protection before the Justice to obtain it but our social work behaved very well with us and we they paid. "
In addition, he assures that the medication was a before and after in the treatment of his daughter: "Before taking it, I could not get up alone from the floor and today yes. Also now you can stand longer and walk up to 60 meters," specific.
The drug, whose price is around $ 45,000, is applied every four months by an injection into the spinal cord. Despite being more "cancheros" with the surgical procedure, every time the time comes to go to the sanatorium for a new application, María and Álvaro feel that it is the first time and they cannot avoid the nerves. But Antonia, yes. "She knows everything: she knows that she has to draw blood and do urine tests before going. And once in the hospital, she likes to wait for her turn while playing in the waiting room and she is called dressed in the operating room's nightgown. No he suffers because he understands that he will be able to walk faster later, "describes Maria. In addition to the medication, Antonia performs other therapies that make your daily life easier: kinesiology, hydrotherapy and occupational therapy. In addition, inside his house he moves with a tricycle and when they go to a birthday or on vacation, Maria takes a stroller with her so she won't be carrying it all day:
"We want to achieve greater independence and improve your lifestyle."
Nurinersen Spinraza, which costs about $ 45,000, is the only medication that slows muscle weakening and can reverse the symptoms of the disease.
Despite having gone through so many doctors since she was so young, Antonia continues to have the spark and joy of every three-year-old girl. He loves to play, be with friends and make up: "He liked to try on high heels and how we realized that he could not stand well, now we buy a shoe taco more low and resistant."
Since Antonia was diagnosed, everything was learning for Rodríguez Lozano. They had to consult with legal specialists, various doctors and therapists. On the other hand, they also found a space for containment and information that was fundamental to them: the non-profit organization
AME Argentina families.
Thanks to the association, which brings together relatives of patients with SMA and that organizes mobilizations to claim for the treatment of patients with muscular atrophy, they were able to know the realities of other children: "We understand that within everything, we were blessed because he has the least serious type and we grab him in time. Now we try to live day by day, enjoy and not get anxious about what will come when Antonia grows up," Maria reflects.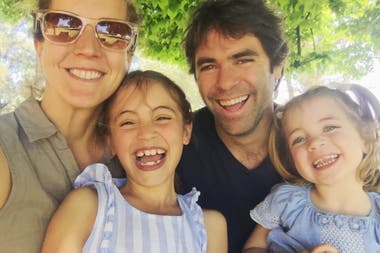 We try to live day to day, enjoy and not be anxious about what will come when Antonia grows up.
María Bellestrin, mother of Antonia
What is the current situation of the drug in Argentina?

While Nusinersen Spinraza is already part of the Mandatory Medical Program (PMO), to achieve it
The families must make an amparo so that the Justice orders the delivery of the medicines to the social work or to the Ministry of Health.
Vanina Sánchez, director of Families AME Argentina, says that there are about 400 patients in the country and that only 120 of them receive treatment: "Now with the change of government, there are a lot of files that were waiting.
It is the duty of the social work or the State to cover the cost of the drug, but many are without treatment because it is impossible to finance it"he says.
After two years of waiting and complaints, the Nusinersen drug was registered in the country by the National Administration of Medicines, Food and Medical Technology (Anmat) in March last year.
From the entity they assure that it was approved with the regime of special medicines and that, from that moment, the patients should have the possibility of using it.
Families AME Argentina needs funds to carry out, for the first time in the country, a Spinal Muscular Atrophy Research project.
02:10
How to collaborate

The FAME association is promoting and solving for the first time in our country, a Spinal Muscular Atrophy Research project. The project will be part of an academic collaboration between the Conicet Laboratory – which will provide salaries, reagents, technical and administrative assistance – and the Cold Spring Harbor Laboratory in the United States.
For its part,
FAME must collect the sum of 9,000,000 pesos to cover the other research inputs.
To collaborate, enter
here
and if you have any questions, contact: [email protected]
(tagsToTranslate) He is 3 years old and has a rare disease: what is it like to live with SMA in Argentina? – THE NATION


Publicado en el diario La Nación