LN – He has a disability, wrote more than 2000 poems and dreams of publishing his book
Georgie Etcheverry (43) is not one of those writers who take a certain moment of the day, sit in a chair and begin to write down, cross out and delete sentences until they achieve the perfect text. According to his friends, it seems that someone is dictating the words while writing:
He does it at an incredible speed and in just one day he can write more than 50 poems. Those who know him believe that one of the explanations for his talent is that he carries it in his blood: his great-grandmother was the acclaimed Rosalía de Castro, considered one of the great poets of nineteenth-century Spanish literature.
Although he has an intellectual disability, Georgie never felt it as an impediment when writing: "I don't think I'm damned and I always knew I could do many things." Today, he wants to compile his more than 2000 poems in a book to inspire others.
Georgie arrives walking to Our Lady of Loreto Parish in Palermo, where she has been attending since childhood and where she asked for the interview to be,
with a bag full of the poems he found (he says he has many more at home) and, with a smile, he says: "It's heavy." He grabs a wooden chair, takes it to the inner courtyard of the Church, sits down and, while unfolding the writings on the grass, begins to talk about his childhood and shows the photos of his relatives on his cell phone.
Georgie is part of 10.2% of the population that has a disability and 7.5% that has cognitive mental disability.
Despite being born with a disability, he says that his parents always treated him the same as his younger siblings and encouraged him to "not drop." Of his mother, who passed away four years ago, says he inherited all his "light and strength."
In fact, against all odds and thanks to his daily effort, he managed to move from a special school to the Common Elementary School No. 18 Dr. Rafael Herrera Vegas, where he finished elementary school at age 19. Soon, although he did not study in high school, he began working as an administrator in the legal study of his grandfather and at 22 he joined as an employee at Mc Donald's, a job he retains to this day.
Although the employment rate of people with disabilities is low, since only 32% have a job, Georgie has worked at Mc Donald's since he was 22 years old.
It was during adolescence, in the middle of a family getaway to the countryside, that he discovered his passion for writing: in it
He found a channel to express his feelings. Although he sat down to write frequently, although without an established day or time, he used to keep his compositions for himself. He wrote about everything he experienced in his own flesh and about what he observed in others: stories of love, pain, loneliness and joy and only sometimes, was he encouraged to share his reflections at school.
He just managed to overcome his shyness at age 31 when he met who he now considers his best friend, Jorge Vega (40), journalist and founder of the organization
Lumen Cor
that helps people in street situations get ahead.
It was 2008 and Georgie was helping in the santeria of Our Lady of Loreto. When Vega entered the place, "his sixth sense" made him approach him and say: "You are not well."
Given these words, Vega, who was indeed carrying a lot of anguish, broke down in tears and to reassure him, Georgie invited him to write poetry. "I underestimated him and to please him, I said yes- Vega remembers- He gave me a sheet and pen and started dictating me.
After a minute, we were done"The poem they wrote was called" Be true to yourself "and today, it continues to be the poet's favorite.
Among its lines, messages of overcoming emerge: "Do not be afraid to make mistakes and fail, all that is learning in your life. Get over it. Do not show your claws, show your love."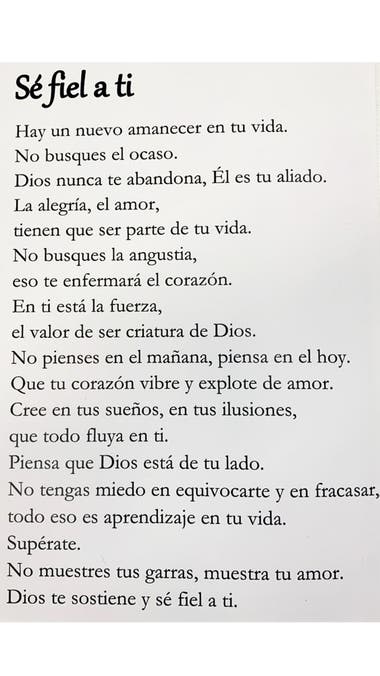 I underestimated him and to please him, I sat down to write a poem with him. After a minute, we were done.
Jorge Vega, friend of Georgie.
This first meeting between the two was the kick for the beginning of their friendship:
that one of them had intellectual disability and the other did not, at all conditioned them. In fact, Vega was so surprised by Georgie's "transparency and sensitivity" that he said he changed his eyes on people with disabilities and
He was able to tear down many of the prejudices he had before: "They have the ability to pierce you and look inside. They have the gift of empathy," he says.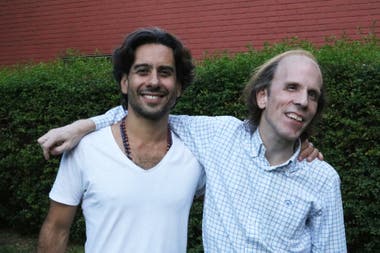 Soon after writing "Be true to yourself," the weekly meetings began. Every Sunday, friends gathered in a bar to share a coffee and write poetry. Progressively, Georgie became fundamental in Vega's life and when he founded the Lumen Cor organization, he did not hesitate to involve him.
"I felt that in his poems there was something transcendental and that he could serve many of the people we help daily. I believed in his potential and began to print them on Christmas cards, in brochures and notebooks of the foundation," says Vega. Just as he encouraged Georgie to share his thoughts, the poet encouraged him to devote himself to music: "It's a constant inspiration," says Vega.
Vega encourages Gergie to publish his poems and Georgie, encourages him to devote himself to music.
The special thing about Georgie's poetry is that it directly appeals to minorities who are excluded and made invisible every day: "I want to help them be stronger in spirit, to have more opportunities and spaces where they can enhance their abilities". One of the favorites by those who are assisted by Lumen Cor is "An angel entered my life", a composition that deals with the poet's nephews and to which Vega put music and returned song. "In general, the little ones like them and who are going through difficult situations," explains Vega, who is also a singer.
(embed) https://www.youtube.com/watch?v=hoWY3uXMlpk (/ embed)
The song is about my nephews, who are the angels that entered my life.
Georgie
Georgie's dream is that her poems reach many more people, in order to communicate about "self-improvement, adaptation and self-love."
"It's my greatest desire and pride, it would mean a lot of satisfaction for me and help others," he concludes with the same smile that remained intact throughout the interview.
(tagsToTranslate) You have a disability (t) wrote more than 2000 poems and dreams of publishing his book – LA NACION


Publicado en el diario La Nación