A few days ago, Aníbal Vecchio understood, in his own flesh, that the common name by which dengue is known is not random. "Now I know why they tell you
bone breaker fever

"In early April, both he and his girlfriend Renata contracted the virus in their own apartment, located in the Villa Crespo neighborhood. As if it were an irony of fate, both
became infected while quarantining

established throughout the country to prevent the spread of the new coronavirus.
"I spent the first week with
very high fever, extreme weakness and severe pain

: in the bones, in the muscles, in the head and behind the eyes. For the first three days, he didn't like food, or rather, he liked plastic in everything he tried to eat, "recalls Vecchio, 33.
Virus
dengue

it is one of the many endemic diseases that continue to plague our country while the health system redoubles all its efforts so that COVID-19 does not wreak havoc in its wake. With a relatively stable number of cases – in the first two months of this year 2,134 were confirmed, according to a Buenos Aires epidemiological report – peaks are registered every two or three years.
We are going through one of those years

.
In the absence of a vaccine against the virus, the head of Infectology at the Santojanni Hospital, Pablo Scapellato, maintains that, also in this case,
the best weapon to face dengue is not fumigation but prevention

. "If the mosquito has nowhere to lay the eggs, there is no mosquito. The responsibility for not contracting dengue is social.
Females lay eggs in calm, dark, clean water

. A vase, a toy that is thrown away and accumulates water, a covered gutter, a plate that collects water or a can can be reservoirs, "explains the specialist, who adds that it is not enough to empty the containers if they are left in the same place .
"If the water dries up,
eggs can remain stuck to the walls of that container for weeks or months

. If it fills up again, for example, because it rains again, the stuck egg completes the cycle, "warns Scapellato.
A few days ago, Vecchio entered the page of the City Government to register his case and that of his girlfriend. He was very surprised. "I found that, just on my apple, there was
five more cases

"he says between indignant and amazed. Although he lives three blocks from Centennial Park, his suspicions are directed towards a
construction site located diagonally to his department, and paralyzed with quarantine

.
In this sense, Scapellato is as graphic as it is categorical: "You don't get dengue from walking around the Palermo lakes.
The dengue that I get is from my block, at most, from the sidewalk opposite

. The responsibility is mine. It is, rather, an obligation. I can use repellents or put spirals, but they are palliative to a mosquito that at some point will find someone to bite because it needs to feed. No matter how much the State fumigates, it cannot enter my house. And ultimately,
fumigations attack the mosquito that is currently flying, but does nothing against the eggs

"he adds.
Aníbal had the first symptoms on April 3, and Renata the day after. After a doctor visited them at home, ruled out coronavirus, spoke to them about the possibility that it was dengue and recommended that they approach a sanatorium, the couple went to the San Camilo clinic.
They had 38.5 fever

so, once there, the protocol to discard COVID-19 was activated first. They had no respiratory problems or throat discomfort, one of the main symptom differences between these two diseases. Then, the results of a battery of analyzes that included plaque, ultrasound and blood studies, led the doctor to agree with her colleague.
"The doctor explained to us that the analysis that could confirm the presence of the virus took several days, but that there were no doubts about the symptoms. I had started to see red spots on my body, which can sometimes appear. They sent us home with the indication to take paracetamol for fever, which we were already doing on the advice of my mother, who is a doctor at the Gutiérrez hospital, and to return 48 hours for new controls, "adds Aníbal, who is a free visual producer throw.
By then, fever in both was high and persistent despite medication. "
We couldn't take care of each other

So we went to my mom's house in Once and we are still here, "he says.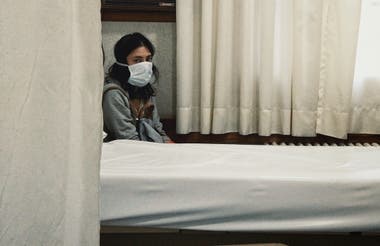 What also follow, since then, are blood tests. From that first visit to the guard, others followed, every 24 or 48 hours, depending on how the blood tests were given. "
In just over ten days, we were jabbed about eight times

. The first times,
the studies always gave worse than the previous ones

. Now we are better, although something called
'dengue hepatitis'

, which are symptoms similar to those of hepatitis and liver values ​​through the roof. So I am also following up on this issue, "explains the young man, who admits feeling a little fear of going home.
"I consider myself a responsible and cautious guy. But I know that
in these things it is enough that my neighbor has neglected

your dog's water tank or that there is a paralyzed construction site near my house. My old man had dengue two years ago. So i know that
I'm going to have to take good care of myself

, so that a different type of dengue does not bite me again, because that can complicate things, "Aníbal acknowledges.
Scapellato explains that there are four serotypes of the virus and that each one has specific immunological characteristics. "If I get infected with a variety, I will be immunized for life in the event that the same variety bites me again. But if I get bitten by another, that same immunity,
instead of protecting me, it can increase the severity of the disease

"he assures.
In any case, the doctor, also a member of the Argentine Society of Infectious Diseases, maintains that dengue is a disease that
usually not serious

. "In the case of reinfection, the symptoms are the same, but in addition others can be added that can lead to a serious case. For example, difficulties in maintaining blood pressure, vomiting or lethargy.
The crucial thing is to act on time and monitor the patient

. Take care that you do not become dehydrated and that your blood pressure does not suffer alterations, "he concludes.
.


Publicado en el diario La Nación
(Visitado 8 veces, 1 visitas hoy)