LN – From the ranch to the house itself. There were 18 people sleeping in 7 beds
"What we need most is a house," said Nolasco "Palito" Santillán looking straight at the camera, with eyes of despair. He was not ashamed to show the precarious situation in which he lived with his wife Norma and their 16 children and grandchildren, in the deepest indigence. I wanted everyone to know that there were people in a corner of the country – Los Tigres, on the Santiago mountain range – who lived like this: crowded together, on a ranch raised with bricks, plastics and sticks. "I just want some help for the materials and then I pick it up alone," Nolasco promised.
On the ground floor, without doors or windows, his family spent his days exposed to heat, cold, spider and snake bites, Chagas and all the diseases of poverty. There were almost twenty people sleeping on seven beds in an indomitable jumble of bedspreads, with clothes hanging on hooks on the ceiling because they had no closets.
"I did not give up any children. I raised them all with what I could," said "Palito," the father of the family who was still working today – to make charcoal and wooden posts for what he was paid crumbs.
His story was part of the project
Hunger for the Future, which during 2018 put the problem of child poverty on the agenda and showed, in the first person, how children are in the most vulnerable places in the country.
The enormous impact that its history had bothered many, especially the provincial government that ordered that the housing situation of the Santillán be resolved. "The first ones who came were the Pampa de los Guanacos commissioner to see the documents of the boys and an officer from Santiago who got us merchandise and slippers. They also sent us 10 bunk beds, with mattresses, two tables with chairs and everything from Santiago capital, "says Santillán, who is 64 years old and a body punished for heavy work.
But the substantive claim took almost a year to answer. Only two months ago, the Santillán managed to be beneficiaries of the Ranch Eradication Plan, which consists in the construction of a house of material to throw theirs down.
It has four environments, the roof is made of sheet metal and they are waiting for it to finish painting in the next few days to be able to move permanently. Now, they only use it when it's too hot or too cold to protect themselves. "We see this house and we cannot believe it. We never thought that our dream was going to come true," says Nolasco, as he walks through the three rooms, the living room and the bathroom of his new home.
"With the bathroom we are going to feel comfortable and calm to bathe. Now with a plastic we make a little house to be able to bathe with a fuentón", says Santillán.
Thanks to donations made by the audience of LA NACION through the NGO Making Way, the Santillán were also able to buy a refrigerator, a kitchen, a carafe, all the electricity connection and the pillar of light. So far they are handled with a lighter that they put in a glass jar and light with diesel.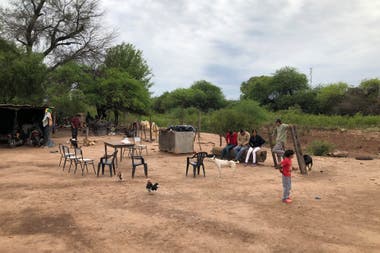 The dream of being able to connect to the power grid seems to have several difficulties, as a result of isolation. "The Energy company of Monte Quemado, EDESE SA explained to us that it is very complex to be able to install the light to the Santillán because they do not have any low or medium voltage transformer nearby and that corresponds to the province," laments Caren Plencovich, Regional Coordinator Monte Quemado in Making Way. And he adds: "The only option that exists for now is to buy some solar panels."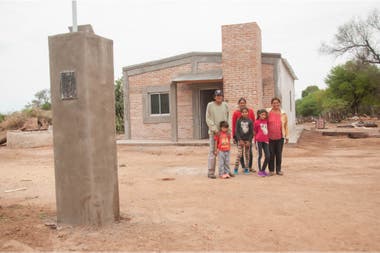 Nolasco fulfilled his promise and actively participated in the construction of his house and even made the blind well for the bathroom. His goal was clear: finish the house as soon as possible. "I collaborate since they started to make us the house until now. It helped to pass the mixture or to make the well so that they could work more calmly," he says.
With some leftover bricks, they also built a cistern to store rainwater and not have to depend on the trucks of the municipality that filled the drums they have. "We disassemble part of a box we had to do it. The channel is missing to fill with rainwater and we never lack water. When there is no water in the canal or in the dam, we suffer and we also suffer animals," he says Nolasco
All of his sons go to school and his oldest daughters work. At noon, they all go to a community dining room and at night they cook what they have. "Here you eat what you have, everyone even. If you have to have a cup of stew, we all do it," Santillán sums up.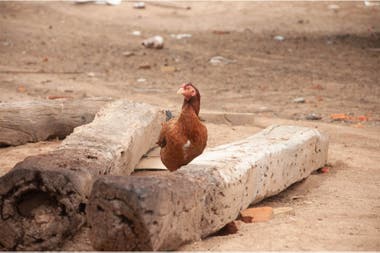 His wife Norma receives the pension for the mother of 7 children, they have some animals and Palito works the coal. Those are all family income. Since they have some empty land, they are thinking of building a large garden. "I want to start planting some vegetables, some corn, some zucchini and some alfalfa to sell. That would be a great help for me. We are clearing the ground and we must burn all the branches and pass the machine again to level it," says Nolasco .
The situation of the Santillán became an exception. All the rest of the families in the area continue to go hungry and live in ranches that flood when it rains.
"Today we see that there is more poverty, there are people who arrive with a plate of food a day and now we are doing pure assistance, giving pockets of food. There are our children who go to sleep with an empty belly. It is not enough," Plencovich explains.
Most families in this region receive some plan or AUH. Women are heads of household, the only ones with a fixed income and men changas in the field with coal or woodcutting. "The families that suffer the most access to water are those who live in the countryside, in the rural area and we have a great obstacle that is the deterioration of the roads, the lack of care is enormous, the National Route N16 is impassable," he concludes Plencovich, showing everything that still needs to be done so that families can live with dignity.
People who want to help Palito and his family to buy solar panels to be able to have light or collaborate with Making Way, can contact Caren Plencovich of Making Way at + 549-341-247-1447.
(tagsToTranslate) From the ranch to the house itself. There were 18 people sleeping in 7 beds – LA NACION


Publicado en el diario La Nación