LN – From living in poverty in Calculate to paint pictures in Trenque Lauquen
In Trenque Lauquen everyone knows him. "He's more famous than the mayor," jokes his friends.
Badel Das (33) was born in India and for 13 years lives with Toto, his adoptive father, in that city in the southwest of the province of Buenas Aires, where he won a very special place.
The native of Calcula suffered an accident at age 10, when he was hit by a cricket ball. Poverty and marginality condemned him to be quadriplegic. Although his body is small, what attracts the most attention is his huge smile that, white and luminous, radiates happiness. Today, he uses his mouth to handle his wheelchair and his brush: in painting, he found a motivation to move on.
His life was not easy. Together with his mother and two brothers, Badel spent his days in a very precarious mud ranch, without services and without access to any kind of medical attention or treatment, until the Missionary Sisters of Charity (the congregation founded by the Mother Teresa of Calcutta to help the poorest) took him to Prem Dan, one of their reception centers.
When two years after arriving at home, a group of Argentine volunteers met him, they quickly began to think about how to help him. "When I saw him he glared at me with his eyes and smile: he pierced me body and soul," says Toto (50), his father. "We started looking for doctors, kinesiologists and treatments. We had two years of back and forth, until in 2005 we tried to operate it in a clinic in Calcutta. On the fifth day of hospitalization, the surgeon decided to cancel the operation because it was unfeasible and the world came down, "he adds.
The biological mother of Badel gave Toto the idea of ​​trying it in Argentina and, then, decided to bring him to Buenos Aires for two months. After all the medical studies, the result was the same: "We were told that the operation was not going to reverse his disability, we took him back to India and since he was not well, he told me he wanted to return to Buenos Aires. I answered: 'If you come back to stay,' "says Toto, who made the decision to adopt him.
"The process was slow: with the help of a missionary friend, I wrote a letter to the nuns and waited for their response for six months, and they all thought that the sisters would not allow it," says Toto, adding: "When they finally accepted, We could not believe it! Then a friend helped me with the passport process, Badel had no birth certificate: in fact, his age is approximate. "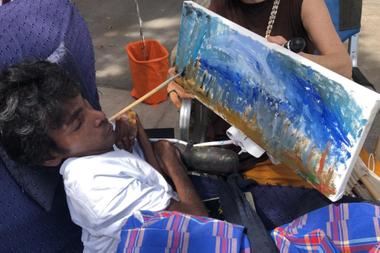 Toto, who is single, did not think so much about the future or how he would manage to take care of Badel, but to improve their quality of life. "At the beginning, when it arrived, it was my total occupation, then I started looking for help and today I have Flora, an 85-year-old lady who is like her mother, almost a Mother Teresa," she confesses.
Life change

Currently, Badel is an Argentinean: he not only learned to speak Spanish, but is fully adapted. Although his disability is irreversible, in Trenque Lauquen he began to have a new life, surrounded by affection and containment.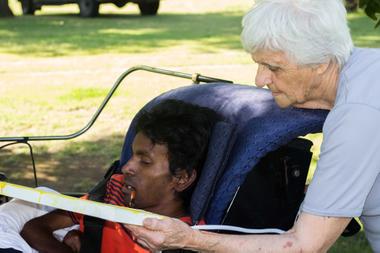 In those payments, moreover, he discovered his love for art. Badel, who speaks with great difficulty, remembers: "Jime, the occupational therapist who took care of me when I arrived, taught me to paint with my mouth." I started drawing in black and white with a pencil and then went on to make pictures with a brush and to use many I love to paint birds, flowers and beaches. "
Although painting requires a lot of effort and pain, because he uses the muscles of the neck, it is his great passion: his paintings overflow with color. Every two years, in Pilar, she exhibits her productions and went on to sell more than 20 paintings. The proceeds went to travel to India, to help his biological mother and to buy the electric wheelchair. In it he moves by Trenque Lauque: he enjoys walking through its streets, visiting his friends, and on weekends he does not miss the opportunity to go dancing when they invite him.
Jorge, one of his friends, reflects on the first days he met Badel: "I noticed that when you looked at him, he smiled as if he was grateful that you looked at him and paid attention to him. it was happening to him, to see his daily problems that are very different from those that anybody can have, and that makes you start to see your own with another perspective ".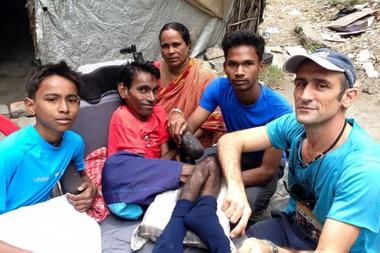 When talking about Badel everyone gets excited: from his wheelchair and with very limited movements, the young man leaves his mark. Mercedes, another of her friends, describes him: "He has such a great sensitivity that he immediately realizes when you're wrong and asks you, it's a few words, because he hears everything, it's pure generosity and kindness and he's always happy. the world wants it. "
Badel admits that when he is sad, he prefers to remain silent and in solitude. "Then it happens to me – he says with the optimism that characterizes it – I can not change anything about my disability: I accept it that way and it's not something that angers me. I focus on everything I can do and I'm passionate about, like painting" .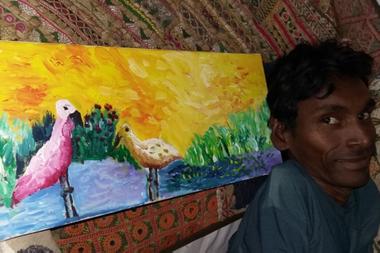 More information: