Why can drinking a juice with sorbet on the beach be so harmful to the environment? What is the impact of using a teaspoon only three seconds to taste an ice cream taste? These are some of the questions that motivate many – and especially the youngest – to join the fight to stop the pollution generated by the misuse of plastic.
Your choice is not casual.
Vida Silvestre warns that since 2000 the same amount of plastic was produced as in the last 50 years, and it is estimated that 8,000,000 tons of this material are thrown into the sea annually. They also explain that almost half of all the plastic produced is used to create single-use products or have a shelf life of less than three years.
"I say that this is the Plastic Age and that this is the main battle to be fought", says Máximo Mazzocco, member of the organization
Eco House, a group of young volunteers who believe "fervently" that "if we all do small individual actions to prevent macro problems, we will help solve them".
This global concern led to the launch of the # boicotalplastic campaign this week, a viral challenge "to save the planet" proposed by Zero Waste Spain, under the slogan "A week without plastic", and which invites consumers to avoid disposable products of plastic for everyday use from today until June 9.
"It is difficult for us to stop using plastic because it is so practical, light and perfect for storing food … that hinders our ability to realize the real impact it has on our lives," says Martina De Marco, who at the beginning of 2018, He undertook his own campaign, Cleaning the World and gives talks in different parts of Latin America, with the idea of ​​encouraging changes in habits towards a more environmentally friendly model.
For Dafna Nudelman, sustainability specialist and activist for responsible consumption, it is hard for us to become aware because we are "disintegrated" from the process that each object implies. "We do not know what there is before, behind and after a product that reaches our hands," he warns, "that distance makes us naturalize that everything comes from the supermarket."
In this line of awareness and also, act, there are also those who the key is to return to feel part of nature, as Gastón Caminata, volunteer president of Big Human Wave, which in the workshops that dictates in schools, has that goal. "We tell them all that process since that plastic starts and until it ends up in our own food chain and we give them the best advice: 'live simple'," he says.
In this process of achieving a collective transformation, Clarisa Perullini, co-founder of
Maggacup (an Argentine company that manufactures menstrual cups), emphasizes the development of the loving conscience. "We have to work on empathy for the environment and re-establish the community register," he says, "so that awareness is ever greater and more effective."
On World Environment Day, five concrete proposals to influence change and implement in everyday life.
Avoid sorbets

Gastón Caminata, founder of Big Human Wave (
@yoamomiplayaok)
"We have to get out of the culture of discarding: single-use plastics and, especially, sorbets are tons of garbage that end up in the sea and on beaches." The summer before the ban on the use of straws in Pinamar, when I went out for a walk with my dog, 500 in one round, this year, already with the restriction, in two months I put together 100. The issue of the prohibition is very important, because it raised awareness, but it also made the wastebasket not sell them , that the trade does not give them, an exit was found for a serious problem, in the environmental emergency that we live there is no time to wait for the changes of habits and, although it is necessary to continue teaching and showing what causes the discarding of tons of plastic, more laws are needed, and in the country they have already restricted the use of sorbets and other disposables Pinamar, Villa Gesell, Mar del Plata, Mar Chiquita and Ushuaia. "
Yes to thermal cups and reusable containers

Martina de Marcos, marine scientist (
@cleaning the world)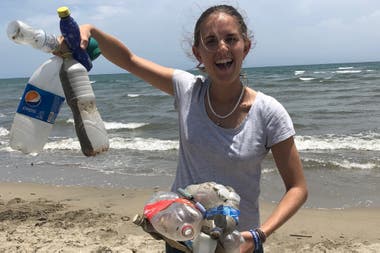 "It is important to stop consuming bottled disposable beverages, first because they are made of oil, a finite resource that took millions of years to form, only to use once and contaminate the earth for hundreds of years. all the plastic we produce only recycles 13%, so there is no way to make sure that our bottle is going to be recycled.The disposable bottle is not necessary.It is just a matter of habit and to get more free filtered water in many points of the cities, so we can all load reusable bottles without problem, a good example of this is Antigua, in Guatemala, which has free filters everywhere, or the Galapagos Islands, where the sale of bottled water is prohibited ".
Use menstrual cup

Clarisa Perullini, co-founder of Cyclic Maggacup (@maggacupoficial)
"When we stop using wipes and tampons, and replace them with the menstrual cup, we avoid generating a large amount of garbage that is not biodegradable and can not be recycled.Another benefit is for the body, because it is made of hypoallergenic silicone, it is not harmful, it is also reusable and can be used for an average of five years.It is no coincidence that the cup that sells the most is size one, which is for women up to 35. They are the ones who are putting a vote in these transformations Since 2013, we have sold 70,000 units and we have not used about 18,000,000 wipes and tampons in Argentina.We have to try, explore, and prioritize women in something as intimate and sacred as menstrual bleeding. those who do not dare, there are other ecological alternatives such as reusable pants and washable cloth wipes ".
Buy in bulk and use more tuppers

Dafna Nudelman, activist for responsible consumption (
@lalocadeltaper)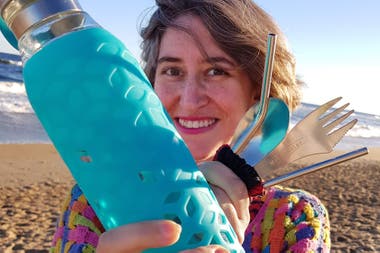 "Some time ago I started to take my tupper everywhere and I realized that I could get a little bit of the spirit of my conscious consumption practices, although it seems incredible, there are people who use disposables in their house, use it for everything and, In addition, it covers all the food with film, you have to go back to the tupper with a lid to store the food in the fridge, and look for a light and comfortable one that can be carried in the wallet and another to leave in the office. when you go to buy loose products in bulk to the dieticians, you can make reusable bags for food with disused fabrics.What we need to understand is that with everything we discard – plastics and other materials – we are making an inefficient use of resources, It does not matter if it's recyclable, it takes energy, water, a lot of work and a lot of carbon emissions to move things from one place to another. Recycling is a good place to start, but a bad place to end. "
No to bags or packaging

Máximo Mazzocco, member of Eco House (
@ eco.house)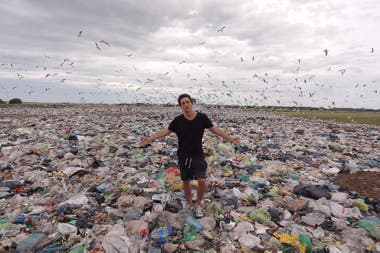 "The bags continue to have a huge environmental impact, this week I went to four grocery stores and all of them with each fruit or vegetable that I asked for, if it was not for my refusal, they would try to bag it, not to mention the supermarkets. In addition to going out with the cloth bag, you have to understand the impact of those other bags that spend a minute in our hands and throw away: they will continue to exist for six or seven generations, they break down in microplastics that are impossible to recover and affect the entire trophic chain, even phytoplankton have plastic waste! Then it passes to the fish, which eat it and ends, arriving at our table.The problem is not of plastic, but of evil We are using it, it is necessary only for some products, it is in us to say no ".