The basketball team of the United States, full of NBA stars, lost their second consecutive preparation game to Australia 91-83 on Monday Heading to the 2020 Tokyo Olympics. The US team, which came from a surprise loss to Nigeria on Saturday (90-87), suffered a new fiasco on Monday in the friendly homerun in Las Vegas (Nevada).
The base Patty millsSan Antonio Spurs' top scorer for Australia with 22 points, while Damian Lillard (Portland Trail Blazers) had 22 points and Kevin Durant (Brooklyn Nets) another 17 for the United States.
That's tough, @Patty_Mills 👀

USA vs. Australia – NOW on NBCSN! pic.twitter.com/Chkw6BG6Pg

– San Antonio Spurs (@spurs) July 13, 2021
The Dream Team, which closes the home run on Tuesday against Argentina, recruited a powerful team for the Games with the goal of revalidating the Olympic gold and leaving behind the disappointing performance of the 2019 World Cup in China, in which he was eliminated in the quarterfinals. However, the veteran coach Gregg Popovich is having serious trouble solidifying chemistry in a group of players who are top stars in their franchises and must adapt to the FIBA ​​basketball rules.
Bradley Beal, with trouble passing between Aron Baynes and Jock Landale (Ethan Miller /)
"We have been better tonight. We've only been together for a short time, "Popovich tried to reassure. "In the first half we defended as we have to defend (…) In the second we were tired and it was not the same. But it is totally understandable. We have to be better every game ", he stressed.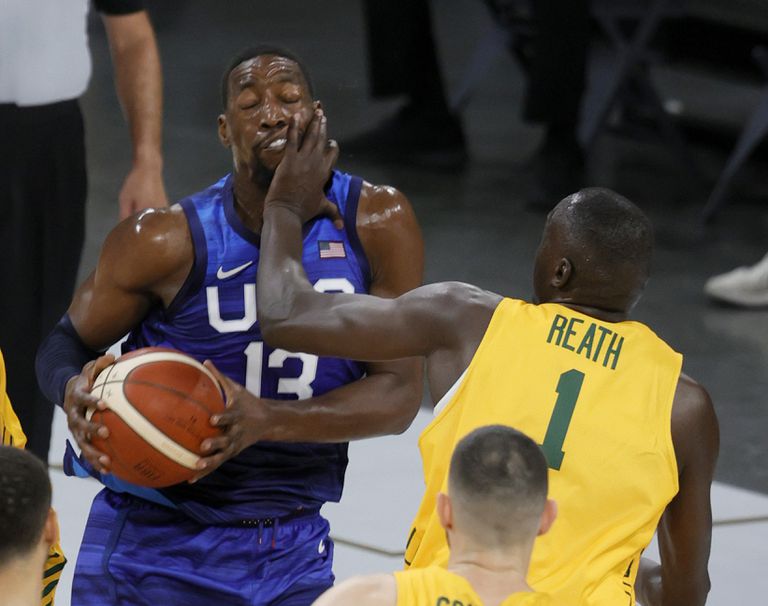 Duop Reath brakes with a slap to Bam Adebayo (Ethan Miller /)
Point guard Damian Lillard held the United States in the early game with four 3-pointers in the first quarter. Australia, whose main core has been playing together for years, soon lost one of their mainstays, center Aron Baynes (Toronto Raptors), to a knee injury when he collided with Bradley Beal (12 points).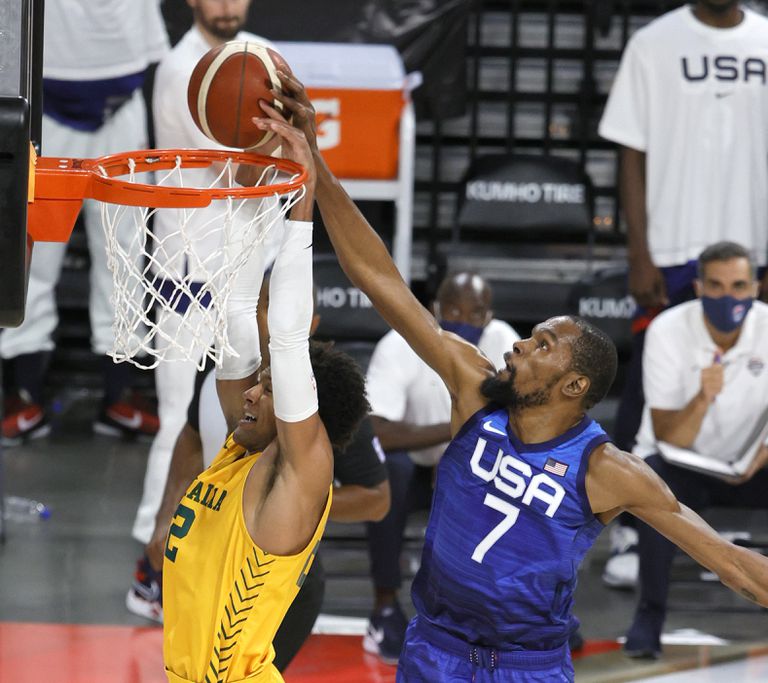 Kevin Durant blocks Matisse Thybulle's attempt; The United States does not raise its head towards Tokyo (Ethan Miller /)
The pair of Patty Mills, who always raises his level when playing with his national team, and Utah Jazz forward Joe Ingles (17 points) commanded an Australian team that was not intimidated by the physical superiority of their rival. "It was an impressive victory, but we are not satisfied with this, we have a long way to go," said Mills, author of the decisive triple in Saturday's victory against Argentina.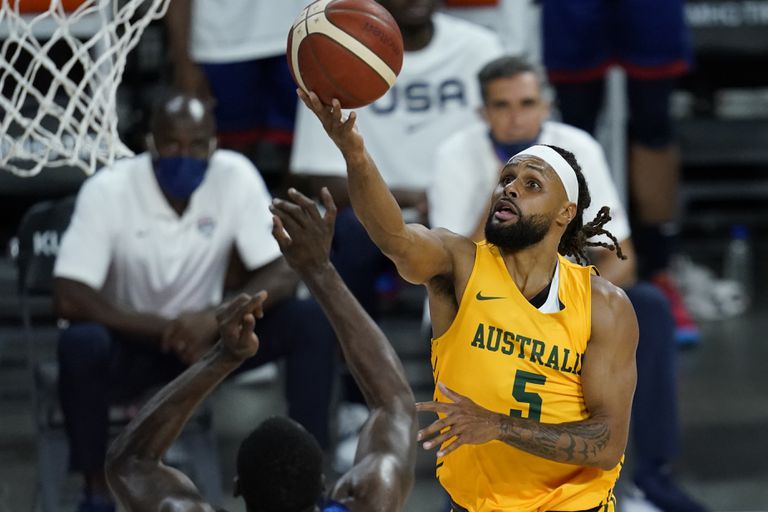 Patty Mills and another hit on Las Vegas night; the Spurs player was featured against the US national team (John Locher /)
Kevin Durant, with another four triples, drove the United States to reach the final stretch with a tight score, in which the Australian team prevailed. Three straight errors from the 3-point line by Durant, Lillard and Jayson Tatum condemned the United States against Australia, a semi-finalist in China and always competitive internationally.
"We're still working on being a team and getting our legs ready, that's what we're doing (…) If we don't, they can beat us," acknowledged Lillard, who is having his first experience with the national team. "They are different rules and we have to get used to it," he acknowledged. "There have been several times that we have looked at each other without knowing what was happening."



Publicado en el diario La Nación
(Visitado 3 veces, 1 visitas hoy)