LN – Diverse families: prejudices are left behind and on Christmas Eve they celebrate that they are happy
There are multiple ways to have children: stories of homes that, thanks to new legislation and social change,
naturally enjoy situations that until a few years ago were questioned
The concept of "model family" was becoming obsolete and instead we now talk about the different models or types of family, that although they always existed, some time ago they began to be visible much more.
In recent years, with the enormous legislative transformation in Argentina that meant the Law called Equal Marriage and the Gender Identity Law, but also with the impulse given by the activism of different groups struggling to expand their rights, the horizon change.
The different family groups were finding their places of belonging in a society much more connected with the ideas of gender and diversity, where they put together their family project and be happy.
The enormous legislative transformation and the impulse given by the activism of different groups that fight to extend their rights, helped to change the concept of "model family".
At present, family diversity has a very broad meaning, they are not only couples of the same gender, but they can also be a single parent family, assembled, arising from coparentality, trans, migrant people, grandparents, uncles, etc.
"Whenever we talk about diverse families we do it in relation to an established parameter: a nuclear, conjugal and heterosexual family, which is not a fact of nature. It has been a social, cultural and historical construction. That is why it is so difficult to talk about families in the plural, to be able to understand that there are other very different forms, which in reality have always existed, but were silenced ", says Carla Villalta, PhD in Anthropology at the UBA and researcher at Conicet.
But despite this great protective regulatory framework that exists in our country, and the growing visibility of the different social groups, in practice there is still a long way to go. Andrea Rivas, president of the
Asociación Familias Diversas de Argentina, warns that even these advances are not reflected in institutions such as education and health, and that
On the part of the State, it is necessary to invest a lot in public policy designs and awareness campaigns that really guarantee non-discrimination and the dignity of all people equally.
It is difficult to speak of families in the plural, to understand that there are other very different forms, which in reality have always existed, but were silenced.
Carla Villata
For international organizations that defend the rights of children and adolescents, the family is defined as the area where affection, care and protection are found.
In this context, the genetic or the blood are not determining variables to define what a family is, and thus linking it takes center stage.
"According to several studies, it is ruled out that the genetic link is a condition for developing a sense of belonging and identity in a family.
Neither the genetic relationship with the parents, nor the presence of two parents, nor their sexual orientation affect the psychological development of the individuals, but it was found that what does have a high impact on the quality of the psychological and emotional development of a person is having a stable emotional relationship with at least one adult during childhood ", defines the Degree in Psychology Patricia Martínez, coordinator of the Halitus breeding department.
In these four family stories we tell below, the central role of care is reflected, as well as the desire to start a family beyond everything.
"Of all the paths, we choose the one of adoption"

Dara was born in Avellaneda, was with her family of origin until age 11 and then spent three years in a home in Béccar. There was little left for her 15 and what most excited her was her party, but also get out of there.
It had been a while since she was up for adoption, the girls her age were leaving and she felt her chance was not coming. One afternoon in October 2018, a few days after his long-awaited birthday, he met Tomás and Edgardo. They had prepared a video and a book with photos that were delivered at the first meeting. That night, Dara lay down hugging the book.
Take the step
Tomás (42) always had the idea of ​​being a dad. They have been together with Edgardo (51) for 15 years and little by little they started talking about making it happen. They took into account all the possibilities, including subrogation but ruled it out because in Argentina it is not regulated and they did not have the means to do so abroad.
There was also something they always knew: that they were not convinced by the idea of ​​a baby, they did not look at all with the theme of diapers.
"Most people want a baby, I think, because that way they remain calm that they will grow following a model that one has as the ideal, then one realizes that it is not necessarily so.", clarifies Edgardo. They had also had two very good exchange experiences with German teenagers who lived with them for a year each, through the NGO
Youth for Understanding (YFU) with which Tomás had traveled as a young man and where he later volunteered.
After presenting all the papers and being registered in the national registry, with the help of the court they defined the age range. "We were always very flexible, perhaps because we understood that it is not just a matter of age. They called us from Posadas, Junín, General Sarmiento,
but we did not get to know the boys because we knew our limitations and that we could not link at a distance", says Tomás.
Most people want a baby, because that way they remain calm that they will grow up following a model that one has as the ideal, then one realizes that it is not necessarily.
Edgardo
After that afternoon when they met Dara, they immediately began to build the bond, they saw each other often, when Tomás and Edgardo left their jobs in the center they went to look for her by Beccar to go to the cinema or to eat. Then they authorized them to know their home in Tigre and later to stay asleep.
So they were from October to December, and since Dara had finished school, the Holidays were coming and the judicial fair was close, together with the court they decided to move.
They made him a farewell at home, decorated the room all together, wrote it down in a colony in Benavidez and confirmed the vacancy they had already requested a long time ago at a Waldorf pedagogy school in the area. Tom works in Courts and had three months of paternity leave,
that came in handy to accommodate and share time together.
A year later, Dara has just finished fourth year, she is fascinated with English and very grateful for the school her parents chose. He had many parties of 15, resumed taekwondo, won medals, traveled with the school, for the first time by plane with his new family, likes to dance salsa, wants to be a lawyer and also became, although he already was, an older sister,
because Tomás and Edgardo have just adopted one of Dara's biological sisters, who is 9 years old.
The three agree that it was an intense year, a lot of learning. Among many other things of course, Tomás learned to pass the iron and Edgardo became an expert of accompanying a teenager shopping.
Dara, meanwhile, is learning to retrace a path, in which he had to survive for so long.
"The fact of being two maternal chips is an advantage"

Mel and Cecilia have known each other for a lifetime, both of them are 36 years old and 20 have passed since, while they were in their fourth year of high school, the relationship took another step. The break in its history came with the approval of the Law of Equal Marriage in 2010, which gave them the push and the framework to tell everyone, plan an unforgettable marriage and realize the desire to be mothers.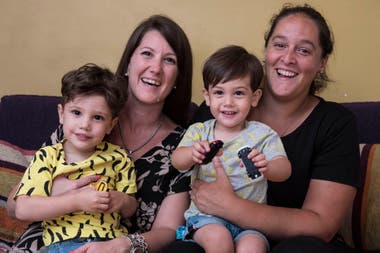 My family has a lot of respect for my decisions

In the department of Villa Ortúzar where Cristina (54) and Liliana (47) live, everything is very organized, the two work as teachers, take turns shopping, take the girls to school and also to cook.
Harmony is only disturbed a little when the five women who live there need a bath in the morning, and the one who loses her turn has no choice but to wait. It happens as in any family when there are so many.
With a previous partner, Cristina has a 19-year-old daughter named Erika and studies Sociology. Liliana is the mother of Alexis (24), Ailén (19) and Ailín (13). The two had April together 11 years ago. They also have two grandchildren from Alexis, aged 1 and 3, who live in Loncopué.
In this small town in Neuquen, Cristina and Liliana met in 2005, when Lili sought the advice of a lawyer because the boys' father did not pass the food quota.
Today Cristina continues to practice the profession independently, now focused on helping trans people in their claims to social works and health issues.
In 2016 Cristina and Liliana were married by church, to reaffirm the immense love they have and also because it had always been Lili's dream. Already in full transition, which took place in 2017, Cristian Carlos Eduardo chose to be called
Cristina Monserrat, for the Virgin of Catalonia, one of the few black virgins, who was hidden for years in a cave and when she left, she sang for seven days.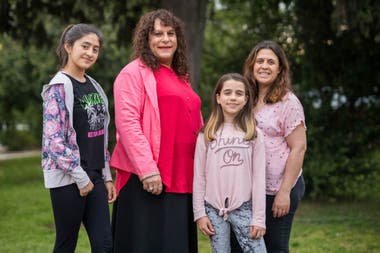 The comparison with his life is evident, after years and years in transition, practically since he has reason and remembers how happy he was in his grandmother's house where he played with his cousin "the ladies" and could use tacos, fans and paint their nails, the metamorphosis cycle was finally completed, as is the case with butterflies.
As a brooch, he processed his new ID thanks to the Gender Identity Law, passed in 2012 and pioneer in the world.
Unconditional support
From Loncopué the family had already moved to Zapala and on the advice of the therapist they visited, it is special thinking about their daughters, they decided to come to the City of Buenos Aires, where they are very happy and feel respect for the whole environment.
"It was not easy at first in the relationship.
It was necessary to grieve for the 'death' of Cristian, but Lili valued the person and not the outward appearance. I told her that if it bothered her I had no problem continuing to be Cristian, who had been for 50 years, but she said it had to be me, "he says.
Lili valued the person and not the outward appearance. I told her that if it bothered her I had no problem remaining Cristian, who had been for 50 years, but she said it had to be me.
Cristina
The concern then was how to tell the girls, but they took it naturally, without asking too many questions and
First of all, Cristina's need to be happy, even Ailén had already interpreted the tracks and was coming, and Erika proudly tells her friends that she has a trans mom.
Although we are moving towards the construction of a more inclusive society, Cristina's case, the acceptance of her family, the support of her loved ones and her job opportunities, is not usually the usual:
Trans women continue to be one of the most violent and marginalized groups. And for many, the first expulsion is from home.
"My family has a lot of respect for my decisions.
Before everyone called me dad, but now they tell me Montse, they don't tell me mom so they don't get confused with Lili "clarifies. For these holidays, they plan to travel to the Coast and spend part of the summer there, all together as a big family together.
"For me, desires go above the mandates"

Pía's dream (51) was always to have twins and as a child she asked if there was a family history. Who was going to say that at 48, Beltrán and Bautista,
the twins he had without a partner from the donation of gametes, were finally going to fulfill his desire to complete the family he already had with his daughter, María Elena (15).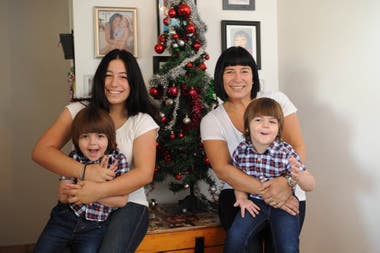 (tagsToTranslate) Diverse families: prejudices are left behind and on Christmas Eve they celebrate they are happy – LA NACION


Publicado en el diario La Nación