For Carolina (50), Marina (45), Guillermina (48) and their children the Christmas tasks no longer go through organizing who cooks the vitel toné, who puts the house for the family celebration or takes care of buying the gifts for the More guys
For them, the preparations started almost a year ago: in January they already began to receive donations, in the middle of the year they already "helped" a truck that can carry bags of food, clothes and toys and now they only have to make sure that the rest of their family starts the Christmas Eve celebration to schedule so that at five in the morning of December 25,
They can get in the car and undertake the solidarity trip they make every year to Santiago del Estero.
It all started in 2013 when Carolina Reymundo Roberts, a fan of folklore, traveled with her mother to the capital of Santiago del Estero "to enjoy music". As he already knew those places and their needs, this time he filled his truck with items to donate and handed them over to the Making Way organization. However, when he repeated the visit the following year, he felt that he was falling "short" because
"I left donations at the foundation and didn't interact first-hand with those who received them." It was then that he met "by chance" Renzo Galeano (32). "We had been driving along Route 92 and I saw that there was a carpentry workshop. I stopped in a rabble, got out of the car and started chatting with one of the carpenters.
He told me about the shortcomings of the people who lived in the places Rubia Paso and Quimilí Paso and handed me his phone number, "Carolina recalls.
In 2015, after meeting the craftsman and carpenter, he began to mobilize to get even more donations. But this time, his idea was different:
I wanted to go alone to know the places Renzo had mentioned and bring "a joy" to its inhabitants. To his surprise, Carolina got a lot of donations from work acquaintances and close friends: "I thought it was a ray of mine, but people love to participate." The impact was such that he could barely load everything in his car. Her sister Marina noticed that she was no longer enough with the amount of objects and one day she looked at her very seriously and said:
"Nothing else comes in. I go with you." His only condition was that he waited until Christmas week: "It was the moment I had free in the laburo and also, it was our opportunity to transform the holidays into something special and get the superficial dye they used to have," explains Marina.
It was the moment I had free in the laburo and also, it was our opportunity to transform the parties into something special and remove the superficial dye they used to have.
Marine
Then, little by little, they were summoning more people from the family environment. The first to say yes were the children of Marina: Candelaria (20), Gastón (19) and Olivia "La Pitu" (12). Then, a friend of both, Guillermina Beccar Varela (48) joined her daughter Florencia (21), and the nephews of the Reymundo, Pedro (22) and Marcos (24). Finally, on December 24 in the morning, one of Carolina's children, Facundo (20), said: "Well, I'm going with you." Four years have passed since the first trip and the group of 10 people remains intact. The rest of the family also accompanies but from another place: "They understand and love it. That is why they support us when planning the holidays.
Especially, our mother Marta is proud of this trip because she lived in Santiago, "says Marina.
Every year they stay at a hotel in Colonia Dora, 38 km from the Rubia Paso area. They wake up "at dawn", about five o'clock in the morning they are already up and ready to tour the ranches indicated by Renzo.
"We bring donations but the material is just an excuse. In truth, we privilege the sharing of a sweet bread, a guitar or a talk", says Marina. In addition, the sisters say that not belonging to an organization or a church helped them build more confidence with the locals:
"We are simply a family that visits other families, last year we came to visit 100 homes."
Last year, they visited 100 homes in the sites of Rubia Paso and Quimilí Paso.
The greatest lack of people living there is the lack of medical services. Last year, they experienced this difficulty at first hand when they had to urgently assist Maria, a lady who had hooked her leg with a wire and as a consequence, could not walk: "We took the medicine cabinet out of the car and did what we could.
There are also many who suffer from diabetes, blindness and malnutrition, "says Carolina. The only medical center in the area is a health post in Quimilí Paso, which means a problem for the locals since many do not have the means to travel and are not used to leaving their ranches: "It costs them socialization" says Carolina.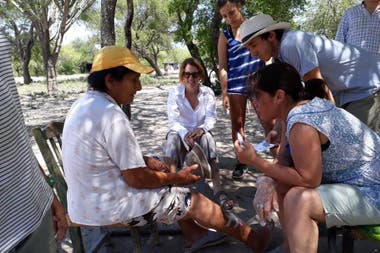 We bring donations but the material is only an excuse. In truth, we favor sharing a sweet bread, a guitar or a chat.
Marine
Once they return from the six-day trip, Carolina and Marina say they have "the happy heart."
"It's something that fills our soul," says Carolina, "we wait all year for this." Also, among the things that surprise them most year after year is the predisposition of the youngest of the group: "We never force them to come, they do it of their own accord, when they could be traveling with their friends or resting." Even, this year they had to advance the date since on the contrary, the children of Marina could not have gone:
"This is the best teaching I could have left them, let them know that there are people with another reality," says his mother.
In the future and, almost as a "utopian aspiration",
Carolina hopes to intensify her solidarity mission: "When I retire I want to travel throughout Argentina doing the same thing we do in Santiago. Likewise, I would never stop coming to Rubia Paso and Quimilí Paso because we already created a bond and are committed to them," he says. Her sister Marina agrees with her and adds: "We still have a lot to know and do elsewhere."
In the future, Carolina wants to expand her solidarity mission and travel to other places in Argentina.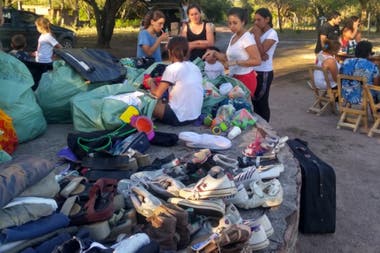 How to collaborate

They need to
footwear, toys and non-perishable food to take the inhabitants of Rubia Paso and Quimilí. To collaborate, contact: [email protected]
. (tagsToTranslate) Christmas different: the family that travels Santiago del Estero for solidarity purposes – LA NACION


Publicado en el diario La Nación
(Visitado 1 veces, 1 visitas hoy)