LN – Daddy Noel Runner: the marathon runner who runs for the boys at Christmas
It was 2016. There were few days left for Christmas and, like so many other boys, Nahuel (3) was hospitalized with his mother at the Elizalde Hospital in the city of Buenos Aires. He had been hospitalized for more than two months and away from his home in Ushuaia and had been operated several times with a cleft lip, which hindered his ability to speak. In the midst of such a complicated situation,
on December 23 he received a visit that made him emit, after a long time without being able to communicate, "cries of joy": the marathon runner Luis Dalle Nogare, better known as "Daddy Noel Runner" appeared in surprise and with toys in his room . A solidarity action that began that year with the idea of ​​bringing a little joy to the interned boys and their families and that is about to be done for the fourth time.
Six years have passed since Luis Dalle Nogare entered the world of running. It all started when he participated in a 10 km race with his son Marco, a world champion ultra marathoner, and due to pain in his twins, he had to leave the competition. "My son grabbed my shoulder and insisted that I start training with him," recalls Luis.
Since then, he incorporated this sport as a lifestyle and now, he has run 22 races of 42 km.
Luis Dalle Nogare ventured into the world of running at age 50 and since 2014, encourages other runners to merge the sport with social assistance.
Anyway, what stands out from other runners are not their achievements or technique, but their solidarity work:
Since 2014 he encourages his fellow runners to merge the sport with social assistance. "We started being seven friends that when we met to run once a month in Puerto Madero, we brought donations of clothes, non-perishable food and toys that we distributed to Iglesias and NGOs," says Luis. Some time later, they opened the call on social networks and organized into three large charitable events: the "utilazo" the week before the start of classes, where they gather school supplies, Children's Day, where they gather toys and the famous
Christmas Runner, which will celebrate its fourth anniversary this Sunday. In summary, Luis describes: "We are linked to a beautiful work, united by running."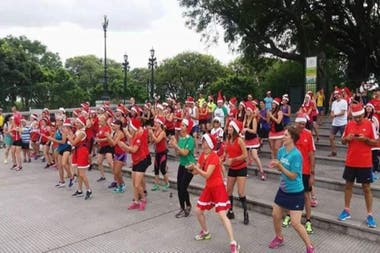 The last of the annual events is its main event and the one that gave Luis a name in the running community. "In a church in Puerto Madero, a lady asked us who we were and one of my classmates said that I was Santa Claus. So as a joke, I got the nickname 'Daddy Noel Runner'," he laughs.
We are linked to a beautiful work, united by running.
Luis Dalle Nogare
Christmas Runner is celebrated the week before the holidays and consists of two parts: first,
an unconventional race, where participants can choose to run, walk, plogging (pick up trash during training) or ride a bike and where they must attend dressed up as "moms and dads noeles" and bring along a toy to donate. While, the second instance consists of distributing donations among children who are hospitalized in the Elizalde Hospital of the city of Buenos Aires, also dressed in red. "Last year we were 70 people who joined together to run in the Costanera Sur Ecological Reserve and 20 who approached Elizalde," says Luis.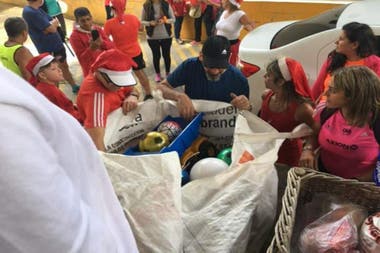 On the methodology they use year after year, Luis clarifies: "We receive the toys already wrapped and with some indication, as to what approximate age they are intended." Before starting the race,
they leave all the packages in a van that they affectionately call "the sled" and then, Gigi Cruces, a nurse from Elizalde approaches the Ecological Reserve and keeps them in a hospital room until the day of delivery.
Christmas Runner is organized with the purpose of collecting toys for children admitted to Elizalde Hospital during the holiday week.
After each race, what most gratifies the solidarity runners when they make the distribution of toys is "the joy of the kids".
"They do not expect us and their little face of surprise is incredible. Most of them, besides being sick, are very vulnerable. Doing this makes us realize that our daily problems are insignificant compared to other realities," says the marathoner, who He says to keep in his heart the names of boys like Nahuel. In fact, although Christmas Runner formally ends with the delivery of toys, most runners return two or three times more to Elizalde, always accompanied by volunteer nurses, and visit the boys: "We want to see how they are and make them smile ".
They don't wait for us and their little face of surprise is amazing.
Luis Dalle Nogare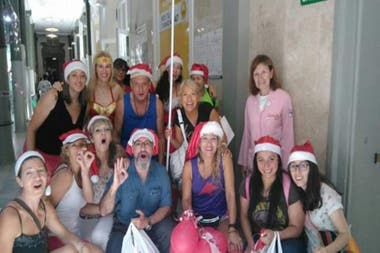 How to participate

Christmas Runner is open, free and no prior registration is required to attend. The only condition is to dress like "dads and moms noeles" and bring a toy to donate to the children of the Elizalde Hospital.
This year, the
Sunday December 15 from 8.30 am at the southern entrance of the Reserve of Costanera Sur (where is the Monumental Fountain of Las Nereidas). At the end of the event, participants will share a meal "to the basket". For any questions, contact: [email protected]
. (tagsToTranslate) Daddy Noel Runner: the marathon runner who runs for the boys in Christmas – LA NACION


Publicado en el diario La Nación